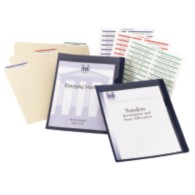 Organize Your Files with Colored Labels

Documents will be easy to access with an organized filing system. Just use colored file labels and assign a color to each of you categories.
Instructions:
Organize your loose documents and paperwork into categories. Separate the documents into two stacks: one for frequently used documents and another that will be filed away.
Instructions:
Print and apply to file folders. Using color can make your filing system more efficient. Keep a key that lists the colors that are assigned to each category.
Instructions:
For frequently used documents that you'll keep at your desk for easy access, protect them and make them last longer by placing them into
Avery Heavy Duty Plastic Sleeves
.