Happier employees, higher productivity, collaborative work— hybrid may bring balance
According to The Economist, the pandemic shifted the workforce from 5% to 60% of Americans working from home. The rapid increase of more time working from home affected nearly all sectors of business in some capacity.
We all learned a few things from working from home during the height of the pandemic:
Employees are more productive and happier at home (despite sometimes working longer hours).
Time for in-person collaboration is still incredibly valuable.
People want to work from home; according to Moz.com analytics, there are currently between 300 thousand and 1.5 million Google searches for "work from home jobs" per month.
On a micro level, here at Avery, we've been working at home for the duration. Many staff members were happy to chime in, providing a snapshot of how employees at one company feel about working from home and the idea of a new hybrid office model.
On a macro level, we'll further explore why working from home is trending, how offices are shifting towards various WFH models and the questions facing business leaders as we move forward.
Why is working from home trending?
The benefits! Despite the challenges of 2020, both employees and businesses report greater productivity and improved morale relating to working from home.
For employees, additional work-from-home benefits include: 1) reduced burnout, 2) the ability to prioritize families, 3) health and wellness and 4) increased flexibility for workers with disabilities or sudden illness that would otherwise make it difficult to work in an office full time.
"Working at home, I can sit outside and work in the fresh air. I'm not stuck inside until the sun goes down so I actually can experience the day, which has been great for mental health." – Laura G., Graphic Designer
"I prefer working from the office. However, when I was sidelined with some medical issues, having the option to work from home gave me the ability to continue working, continue feeling productive and not go on disability." – Elisa O., Senior Software Project Manager
In addition to increased productivity and morale, working from home has several more benefits for businesses, including: 1) attracting a wider talent pool, 2) higher engagement from employees and 3) reduced facility operation costs.
"My daughter is really young and if there was a situation where she needed to be at home I would have to make a hard decision. As someone who is also in the hiring position, I've had access to more candidates to choose from when offering remote work." – Stefanie H., Group Manager, Brand Management & Marketing Communications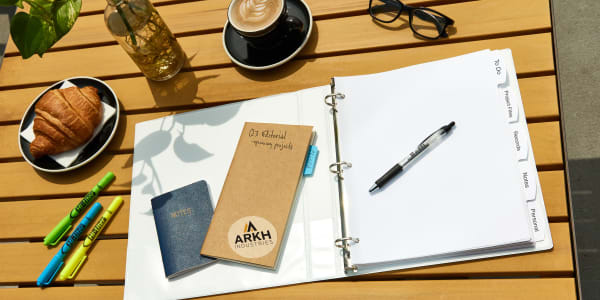 Create your own portable filing system. A durable binder and printable dividers are all you need to keep paperwork organized on the go.
The role of technology in the work-from-home boom
Technology has been instrumental in making working from home a viable solution during the pandemic. With servers, storage, databases, networking, software and analytic services all available via the internet (or the cloud) employees can operate anywhere and anytime.
"Video conferencing will continue to be an important way for us to connect with our colleagues working from home and in our other offices." – Kevin M. Group Manager, Product Content
Collaborative software and apps have been especially influential. In some cases, tools that were already in use became more widespread. In other cases, necessity created just the right ecosystem for new WFH tools to burst onto the scene. Consider Zoom® which became a household name in a very short time.
What is a hybrid office?
In a hybrid office, some employees work from home at least some of the time. For some organizations that could mean splitting staff between WFH and in-office positions. For others, it could mean that all, or most, employees work from home part-time on a more flexible schedule.
In a split hybrid office, employees with less collaborative jobs that require concentration may work from home full time. While others work full-time in-office based on their personal and job-specific needs. For example, collaborative teams or extroverts who need social interaction to recharge their batteries.
"I like working from home because it's great for mental health. However, a hybrid schedule would be more helpful for when I have "hands-on" work where I need to look, touch and feel." – An D., Graphic Designer
In a part-time hybrid office, most employees work from home at least some of the time, but how that time is scheduled varies widely. Some part-time WFH models could include:
"Dark days" where everyone works from home on certain days each week (to reduce facility costs)
Rotating work-from-home shifts so staff is always onsite
Mandatory in-office days for meetings and collaborative work where the rest of the week is flexible
How office spaces are shifting to align with the WFH trend
An office is no longer a place to just clock your hours, people want to return to the workplace to connect, socialize and collaborate. Because of this shift, business decision-makers are considering a wide spectrum of physical office options to better accommodate WFH employees
We all have a need to socially interact with one another to build relationships and create deeper connections. – Kevin M. Group Manager, Product Content
Some companies are extremely downsizing office buildings to "hubs" where there are no cubicles, only collaborative spaces for WFH employees to come in to meet and work together. Others are simply reducing facility operations (heating/cooling, lighting, receptionist, janitorial services, etc.) on "dark days."
In the middle, a hybrid office may condense by hot-desking part-time WFH employees in order to lease extra floors or move to a smaller building. Hot desking can also reduce cubicles to make way for more collaborative spaces that accommodate a range of postures, settings, and the ability to move around.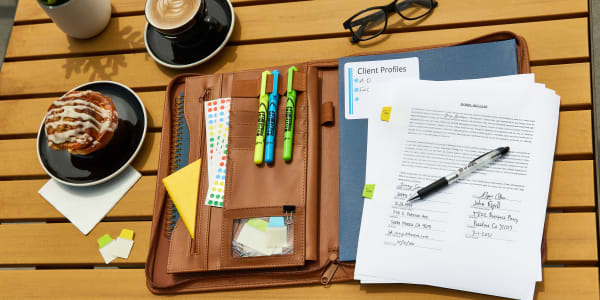 Writing station hack: stock a laptop case or padfolio with all the little office supplies you need like index tabs, color-coding labels and writing instruments. When you're done working, just zip up and go.
How will working from home affect performance management?
Staying connected, communicating, and identifying key performance indicators (KPIs) while working from home are the central issues affecting performance management. Many companies shifted towards a "continuous feedback" model versus annual reviews and focused on work done versus hours worked.
In general, tools and apps that foster communication and track KPIs of work done by individuals have been essential for managers evaluating employee performance. For example, project management software that tracks planned hours, tasks/projects completed, etc., and of course, the ubiquitous Zoom.
"In online meetings, my team is more connected, productive, and efficient. However, I set a clear expectation for video on." Paulina N., Senior Product Manager
While technology has made WFH performance management successful for the most part, there are still some situations that simply require face-to-face interaction. Business leadership must weigh the benefits and decide when WFH works and when it doesn't.
"There are some conversations that are better face to face. In a hybrid office we would be navigating when to require in-office time for those conversations." – Joan P., Senior Director of Marketing Operations
How can employers harness the benefits of the new WFH workforce?
Employee expectations are changing, with a greater emphasis on five key areas: safety, belonging, productivity, comfort, and control. Businesses are rethinking the employee experience, particularly in terms of more flexibility to meet unique needs and attract the best and most diverse talent.
"Now that the spread has slowed and restrictions have lifted, I'm becoming comfortable going into the office again. Nonetheless, I do believe a hybrid office may provide a good balance of effective communication and reducing spread." – Jacob F., Data Engineer
Working at home allows employees a great deal of control, comfort, and safety as well as increased productivity. Time working in-office helps create a sense of belonging, and being around others with shared passion and purpose helps employees feel safer and more secure in their positions. 
What will hybrid work-from-home policies look like?
Creating a solid hybrid WFH policy will be instrumental for businesses looking to capitalize on WFH benefits and support employees. A good hybrid WFH policy may look very different from company to company, but policymakers should start with critical questions such as:
How are people doing and what do they need?
Who will be able to work at home, and who might have to come in? How often?
How do individual personalities shape employee needs? (An introverted employee may thrive with more WFH time, while an extrovert will need socialization to flourish.)
"It was challenging being away from all my friends at work because I'm a social person, but I worried less about my son because I wasn't so far away while at work. I would love to go between the two." – Monique G., Account Services Specialist
A solid hybrid WFH policy should also clearly outline the difference between freelancers and full-time. Especially since laws to protect remote workers currently do not sufficiently address issues such as overtime in many areas. 
So will WFH be permanent? Short answer: yes, in some form
It's clear on a micro and macro level that, personal and business attitudes towards working from home have shifted. Having witnessed the benefits of working from home and also having the pros of working in-office highlighted, it seems that hybrid WFH offices are the way forward for many.
"Pre-COVID, I was actually the only person in my department who wasn't already telecommuting at least once a week, by my choice. I hated working from home at first, but now I do enjoy the freedom." – Maureen T., Senior Sales Specialist
Whether you're an employee working in a hybrid WFH office, or a business leader shifting your office to a hybrid model, we have some great resources to explore: