How to create labels that will make your cannabis products stand out
With the legalization of recreational cannabis spreading rapidly from state to state, competition is heating up between cannabis producers. So of course, branding is becoming even more important. Just sticking a tie-dyed logo or a pot leaf on your marijuana labels won't work anymore. You have to stand out in a crowd in an ever-growing marketplace
Today's cannabis consumers generally fall into two categories: recreational users and therapeutic users. So marijuana producers are realizing the importance of positioning their products to target their specific demographic, while not alienating others.
Whether you're selling cannabis products from a dispensary or online, we've put together some ideas to help you get started. If you need labels for new products or want to update your existing line, we can help you create medical marijuana labels, vape cartridge stickers, marijuana edible labels, weed strain stickers, THC warning labels, and more.
Health & wellness
Cannabis companies that focus their products on a more healthy, active consumer are following health and beauty packaging trends. This usually includes minimal branding and a clean, soothing color palette.
Sagely Naturals uses clean, white containers and packaging for its CBD creams, capsules, oils, and skincare products. With just a hint of color and a logo of three small marijuana leaves, the products offer a healthy look and feel.
Vertly sells fresh, botanical CBD online and at big box stores like Nordstrom and Macy's. The company showcases its products with pops of tropical leaves on black and white packaging.
The Everlift labels above were created by our graphic designers and can be easily customized for your products. Simply personalize the text and background colors for your specific needs.
Luxury cannabis labeling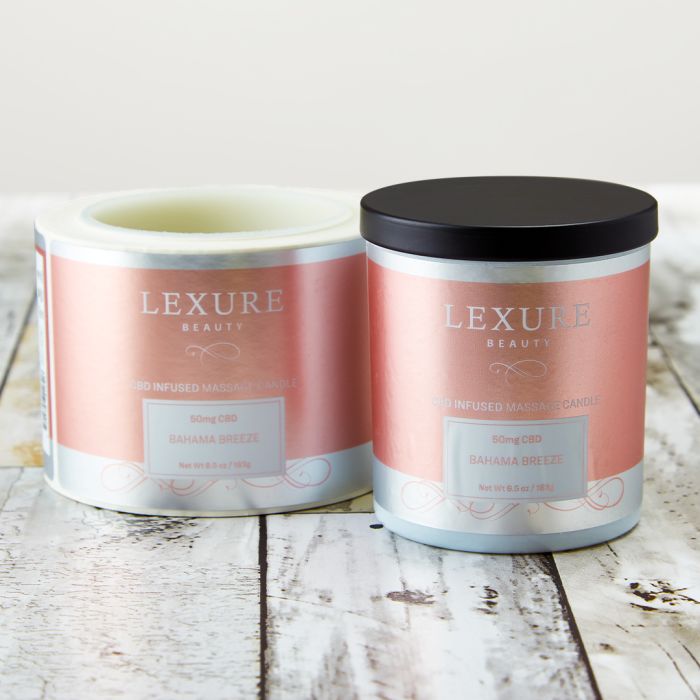 For companies wanting to differentiate themselves from the crowded cannabis landscape, many are opting to target high-end recreational users where the unboxing experience is as important as the product itself. Embossed subscription boxes, rose gold accessories, black packaging with gold accents, and wax seals are some popular ways to elevate your products and give customers an extra special experience.
If you aren't ready to spend money on embossing your packaging, simply use metallic product labels and foil seals. A splash of gold on a label is an easy way to let customers know that your products are premium grade. Even if they aren't. Many brands are able to get amazing results with upgraded materials like metallic films that grab customers' eyes.
Celebrity brands
Celebrities jumped on the cannabis trend in a big way, by either lending their names or actually producing their own lines of products. Obvious names like Snoop Dog, Whoopi Goldberg, and Bob Marley led the way.
Marley Natural, a New York startup funded by Silicon Valley, chooses simple branding highlighting different strains with a band of red, gold, black or green on product labels. The look is clean and easy to achieve with a simple glossy white film label customized with the colors needed for each strain.
Leafs by Snoop used Pentagram to design the packaging for the company. The brand uses elaborate preprinted boxes with a nod to California and Snoop's personality inside and out. Then they simply add a brightly colored sticker to differentiate strains. The company is currently in a lawsuit over trademark infringement with the Toronto Maple Leafs.
Whoopi and Maya Elisabeth, an award-winning edible maker, joined to create the Whoopi and Maya brand in 2016. The partnership recently dissolved and the company closed due to internal conflicts and regulatory complications. However, the branding for their products hit the exact target they were looking for, women. The duo used bold gold lettering of names like "soak" and "savor" printed on sleek black labels. A look easily achieved with custom printed labels.
Organic & natural packaging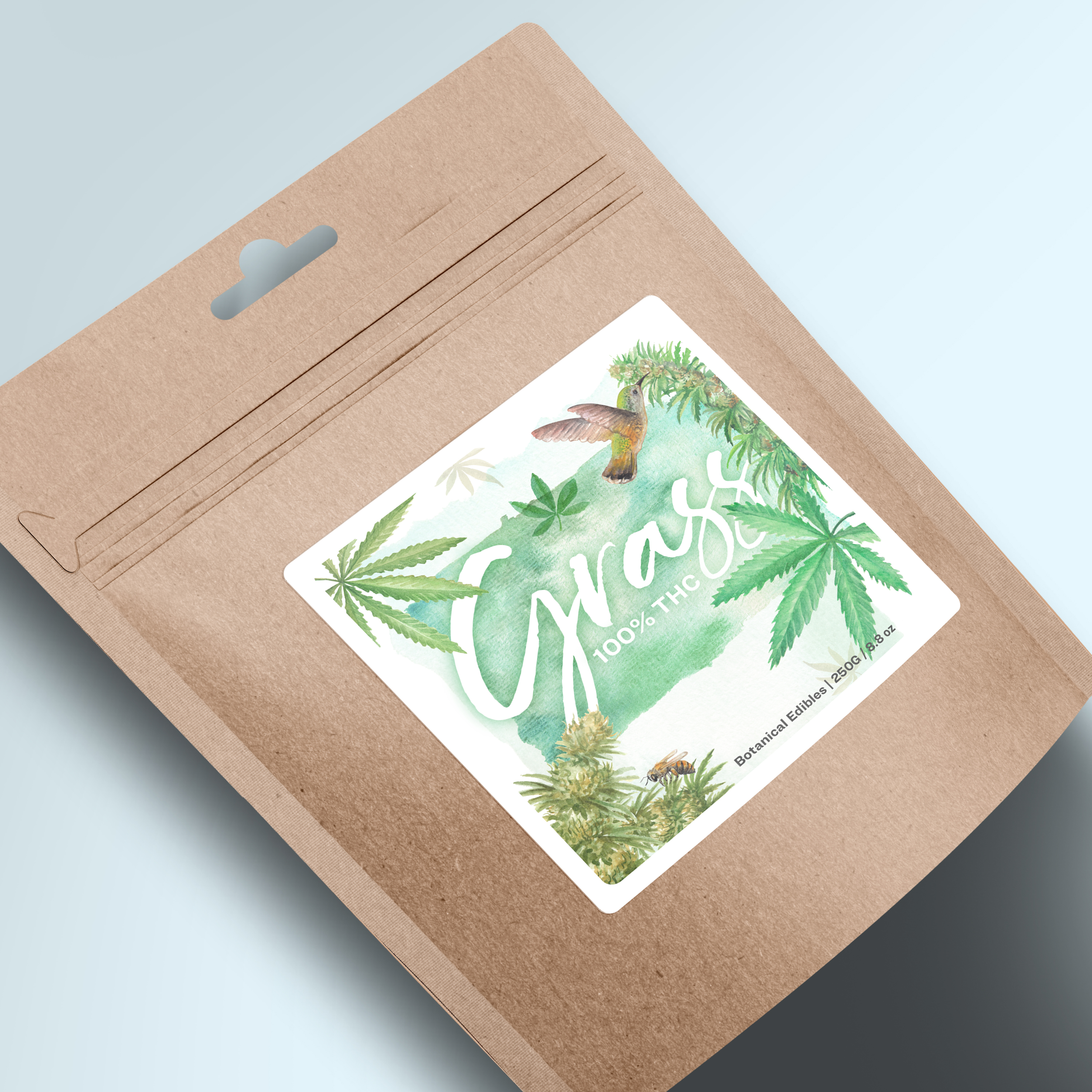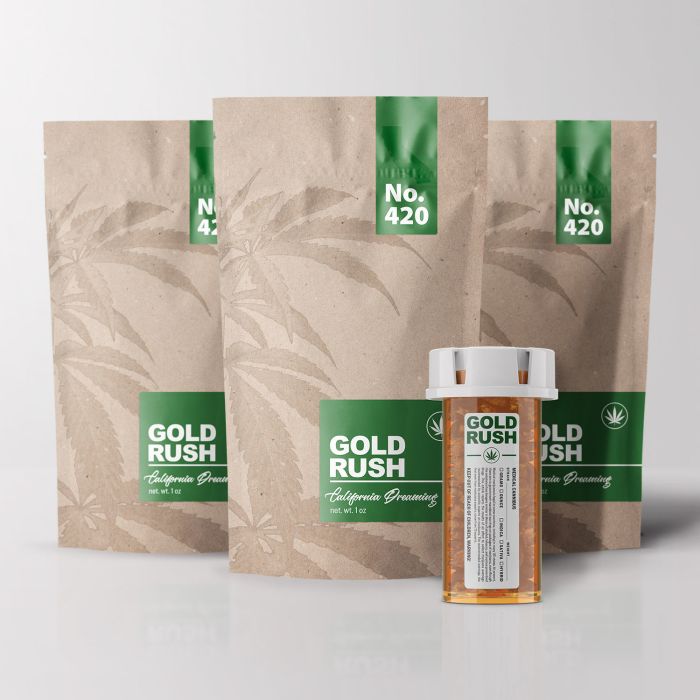 If you're looking to target the outdoorsy, health-conscious consumer, think down-to-earth simply packaging. Sustainability and recycled materials are becoming more important to consumers. To highlight the eco-friendly nature of your product and packaging try things like brown paper packaging with a pop of bright color from your labels. Or try kraft brown labels that give your cannabis products a natural, rustic look.
Avery offers a line of eco-friendly labels that are not only made of 100% recycled materials but are also processed chlorine-free. Avery eco-friendly labels also feature recyclable face stock and adhesives, unlike most label companies. Many label adhesives create issues during recycling as they're not Recycling Compatible Adhesives (RCA) certified. Avery earth-friendly labels are RCA certified.
Craft cannabis labels
Similar to the craft beer industry, craft cannabis sells itself by telling a unique story to connect with consumers. By adding a special background story and promoting an artisan look and feel, cannabis companies can increase their prices for a product that's the same as the big manufacturer's down the street but with a better story.
Whether you created your line of products to help an ailing pet or family member, or you are producing small-batch organic cannabis, let consumers know your story in your marketing materials and on your product labels.
Tips & ideas for marijuana labels
If you are looking for some easy-to-customize templates, you can use one of our free CBD and cannabis designs, as well as easy-to-order THC warning label templates.
To order custom marijuana labels or promotional cannabis stickers simply pick the size, shape, and material you need for your labels. Then customize a template by uploading your own artwork or using our free design tool and place your order. It's that easy. And there are no hidden charges. No plate fees or setup fees. If you need a custom size label, no problem. Get the exact size labels you need with no extra cost.
Even better, if you want to print your labels yourself, you can. Simply use our blank marijuana labels by the sheet in more than 3,000 size, shape, and material combinations, with no minimums. Just like our custom printed labels, with our blank labels, you can personalize your labels online then print from your inkjet or laser printer.
As always with Avery labels, if you need help or have any questions, please reach out to our California-based Customer Care Team. You can reach them by email, chat or call 800-942-8379. They can help you pick the right materials, customize your template and answer any marijuana label questions you might have.
Like what you're reading? Sign up for our newsletter above to stay up to date on the latest label tips.