What is an EAP (and why does it matter)?
EAP stands for Emergency Action Plan. It's a written plan that lays out how a business will prepare to keep workers safe in the case of emergencies and disasters in the workplace. The Occupational Safety and Health Administration (OSHA) is the U.S. government agency that regulates workplace safety, including emergency preparedness.
If your office includes more than 10 people and doesn't have a written EAP, or fails to meet minimum requirements, it could mean big trouble in the form of hefty fines from OSHA. Fortunately, there are plenty of emergency preparedness training courses available from OSHA online. Even if you wear many hats in your office, developing an EAP is achievable.
This article will provide you with a quick starting point you can use to begin developing an EAP today. We'll start with a rundown of six required emergency preparedness basics and how to organize them in your emergency binder. Plus get free emergency binder printables and tips for keeping it up to date.

An emergency number directory is crucial for an EAP and grab and go emergency binder.
EAP Requirement #1: Means of reporting fires and other emergencies
In addition to 911, it's a good idea to provide emergency service numbers for the local fire department, police, ambulance, poison control, animal control and the Department of Homeland Security.
An emergency number directory should be the first and most easily accessible section of your binder. Try our printable emergency number directory to get more suggestions for helpful numbers to include.
Particularly numbers that can help employees contact family, get transportation home and find a place to stay if needed. A hard copy of phone numbers for employee essentials such as office phone service, Wi-Fi/internet providers, local car/taxi services and local hotels can come in handy if the internet is down.
EAP Requirement #2: Evacuation procedures and emergency escape route assignments
Start with an evacuation map. It should include the basic layout of the property including walls and doors, a basic compass indicating north, exit points, a safe place away from the building where evacuees should meet, fire extinguishers and first aid kits.
Evacuation route maps should be organized directly after important phone numbers in your emergency binder. Follow with the evacuation procedures from your EAP and alternate escape routes.
EAP Requirement #3: Procedures for employees who remain behind
For small operations, this is generally optional. Some businesses may need to designate employees to stay behind to operate fire extinguishers or shut down gas/electrical systems and dangerous equipment. However, this is not typical of small businesses.
For a beginner emergency preparedness program, a complete evacuation policy for your EAP is generally a better place to start. According to OSHA minimum requirements, "The preferred approach, and the one most often taken by small enterprises, is immediate evacuation of all their employees when the evacuation alarm is sounded."
EAP Requirement #4: Accounting for all employees after an evacuation
Roll call is one of the first steps taken after an evacuation. Preparing for emergencies with an up-to-date list of employees helps first responders if search and rescue is necessary.
Your emergency binder can also include a plan for accounting for visitors and other employee information such as contact information or seating charts.
EAP Requirement #5: Rescue and Medical Duties for Employees Performing Them
In most cases, OSHA recommends (but does not require) one or more employees in the workplace to be trained and certified in first aid, including CPR. Unless, there are no emergency medical services "in near proximity."
Facilitating employee first aid training is a low-cost, effective way to boost your emergency preparedness. A list of all trained employees, and the procedures they're trained to perform should be included in your EAP and in your emergency binder. Contact information for trained employees can be included in your emergency numbers directory as well.
EAP Requirement #6: Names or job titles of persons who can be contacted
Part of what makes emergency preparedness effective, is clear communication of duties. Your EAP should include contact information for the person (whether it's yourself or someone else you designate) who can answer employee questions, provide extra information or explain duties outlined in the plan.
This information may be listed in an emergency binder section for employee information. You may also find it helpful to keep a section for recording training and drills. Your designated EAP leader can also be listed there.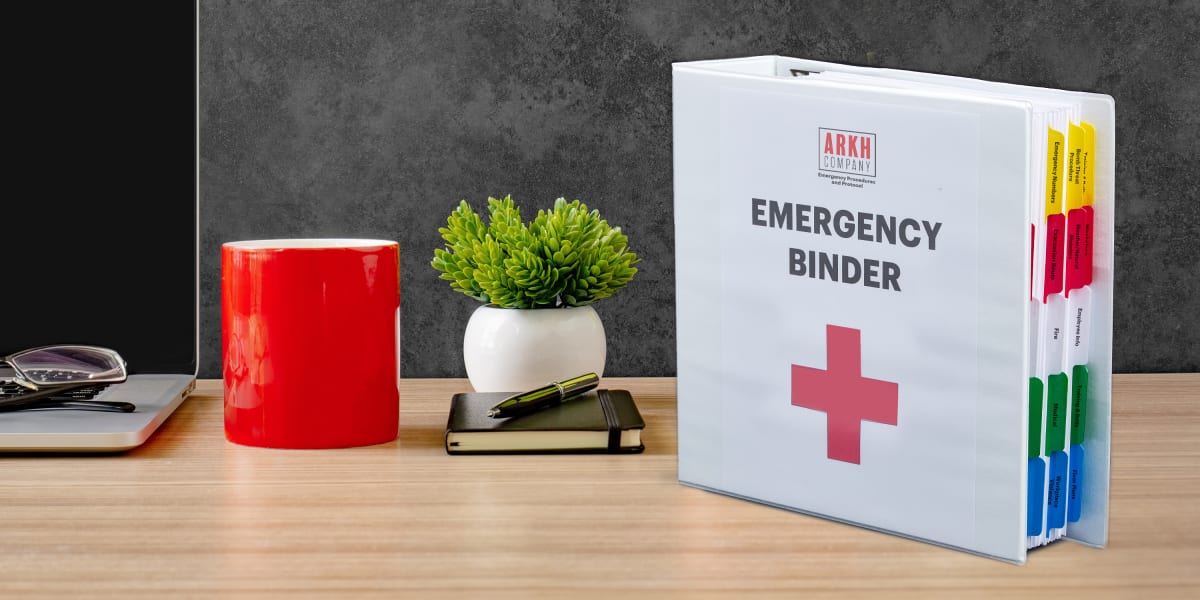 Make sure employees can grab the important information they need in a hurry. Use a durable binder to store and protect emergency number lists and more.
Emergency action plan vs. emergency binder
OSHA regulations for emergency action plans are designed to ensure employers are thinking about and preparing to keep employees safe in case of emergency or disaster. An emergency binder is a practical tool for employees to use during an emergency or disaster.
In an emergency adrenaline and emotions may be running high, making it difficult to think clearly. An emergency binder should be a portable, accessible, easy-to-navigate version of your EAP, plus any extra information that could be helpful in an emergency.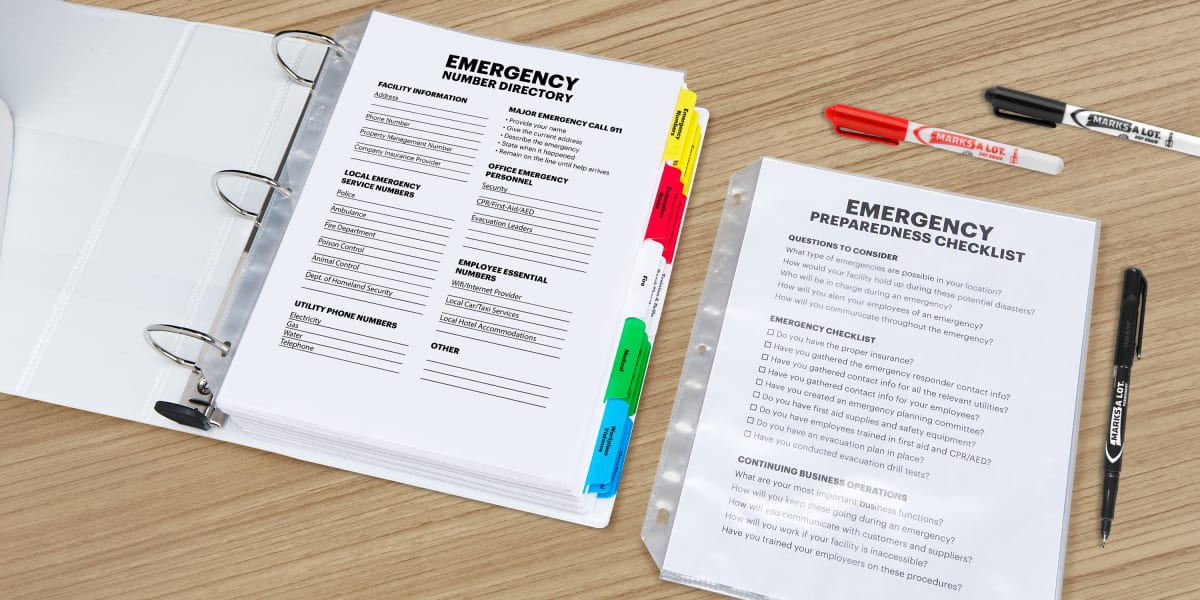 Create your own custom emergency binder with free emergency binder printables and quality supplies.
Emergency binder printables and supplies
It's important to make sure that your emergency binder stands out and is easy to find quickly on a shelf. Start by choosing a heavy-duty binder with clear pockets and printable spine inserts. Customize your binder with free Avery templates for labeling the spine and adding a cover sheet.
In an emergency, you truly don't know what you may be dealing with physically. Non-glare heavyweight sheet protectors preserve the emergency preparedness information you've compiled and are easy to read in different lighting situations.
Tips to keep your emergency binder up to date
National Safety Month® (observed annually every June by the National Safety Council) is the perfect reminder to review your EAP, emergency binder and other emergency preparedness measures. However, there are a couple things you can do to year round to make keeping your binder up to date even easier.
Firstly, add new employees to your list on their first day. It only takes a couple minutes to jot down their information in your emergency binder. Same thing for employees who move on. When the announcement goes out take a few seconds to cross them off the list.
Secondly, save all your emergency binder designs using your free Avery account for easy access. When you're logged in you can create, edit and save all your emergency binder designs with our free online design software.
Following these two steps makes it quick and easy to update emergency binder documents with new employee information and other changes during your yearly emergency preparedness review.
Get more emergency preparedness tips
There are important questions you'll need to consider for creating an effective emergency preparedness program and EAP. Our free printable emergency preparedness checklist gets you started.
You can also learn more about how to create an effective office emergency binder that helps meet OSHA safety standards in hazardous workplaces. Or create a family emergency binder for your home.
Products Used in This Article
3″ Heavy-Duty Binder (79193)
Heavyweight Sheet Protectors (74102)
Print & Apply Dividers (11418)
Printable Binder Spine Inserts (89109)