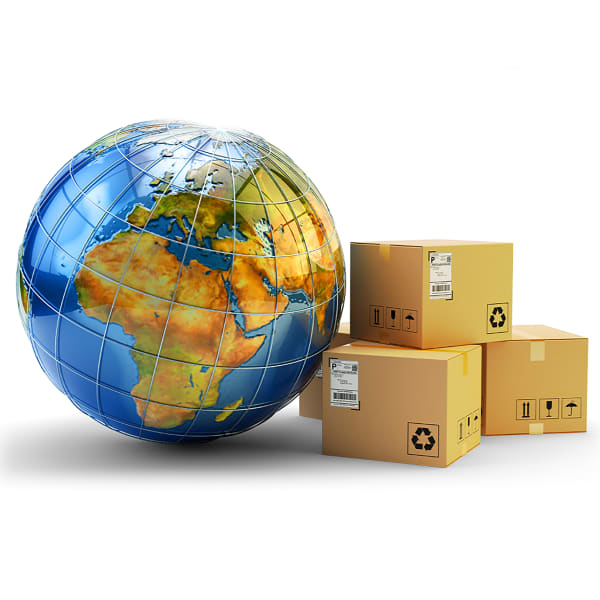 Shipping a package internationally can really put a package through its paces both physically and logistically. International packages have to endure longer transit times, resulting in more wear and tear, but the forms and information included are also held to closer scrutiny.
If an international shipment doesn't have the correct information it could result in the package being sent back to the sender. This means spending more on resending the package, losing time to reship and lost confidence from the receiver of the shipment. Make sure your package is ready to travel the world with these important tips for international shipping.
Research Export and Import Laws
All countries have their own import and export laws along with unique laws when trading with specific countries. Make sure to research what goods are acceptable and unacceptable for the country you are planning to ship to.
The U.S. Customs and Border Protection agency provides some tips for new importers and exporters as well as details on prohibited and restricted items. But also make sure to check the regulations of the country you plan to ship to in order to make sure your packages comply with their standards.
Fill out the Necessary International Shipping Documents
A commercial invoice is one of the most important forms and basically contains a detailed summary of what is being shipped, the value of the goods, the shipping information and any contact information. Other forms to consider are a certificate of origin, transportation services receipt, certificate of insurance and/or electronic export information (the U.S. Customs and Border Protection agency provides more details on when this is required).
The shipping service you choose will also be able to provide more information on what forms will be mandatory. Some carriers will even provide online questionnaires and international shipping calculators to make the process of finding forms easier. You can visit the international shipping services pages for USPS®, UPS® and FedEx® for more details on their international shipping rates.
Package Extra Carefully
A box that travels domestically already needs to handle considerable strain (which you can learn more about with our article on how to protect your shipments) but this is exponentially true for international package shipping. A box with a 200# burst rate or even higher is a good option as well as using extra cushioning material.
Also, make sure that any previous labels or markings that no longer apply to the package are completely obscured. For example, many electronics are shipped in boxes with warning labels about the lithium ion batteries inside. However, shipping a safe good in packaging with a warning label for dangerous materials can keep the package from being shipped and can incur severe fines.
If you plan on covering an old shipping label, we would recommend using one of our TrueBlock® labels to make sure that all of the information underneath is completely hidden and doesn't bleed through.
Make Sure You're Providing Every Detail
Oftentimes, the most obvious details are the ones that are the easiest to overlook. Double-check your shipping information before purchasing and printing labels to make sure that you are including the full addresses, phone numbers and countries for both the shipper and the consignee.
Create Shipping Labels Online
Along with making sure your goods are packaged safely, you will also want to make sure that all of the information on the package is legible. Handwriting isn't recommended since it leaves room for human misinterpretation along the way.
Printing shipping labels online through your chosen carrier is the best option to keep your shipping details completely clear. Carriers also provide safeguards to make sure that you are providing all of the details you need so that your package arrives safely.
You can browse through our many shipping labels to find the ones that will work best. You can also learn more about these labels with our article on selecting the right shipping label.
USPS®, UPS®, FedEx® and TrueBlock® are registered trademarks of their respective owners.