Safety Data Sheets [SDS]: What You Need to Know for Safety & Compliance
The United States Occupational and Health Administration (OSHA) regulates the protection of workers' safety in the workplace. As an employer it is your duty under the law to understand how safety data sheets are used to help create a safe and healthy work environment for your employees.
Whether you're new to safety and compliance or new to working with hazardous chemicals, this article will give you a well-rounded overview of SDS. You'll walk away with an understanding of how SDS fits in with OSHA GHS compliance as well as answers to some of the most frequently asked questions about SDS.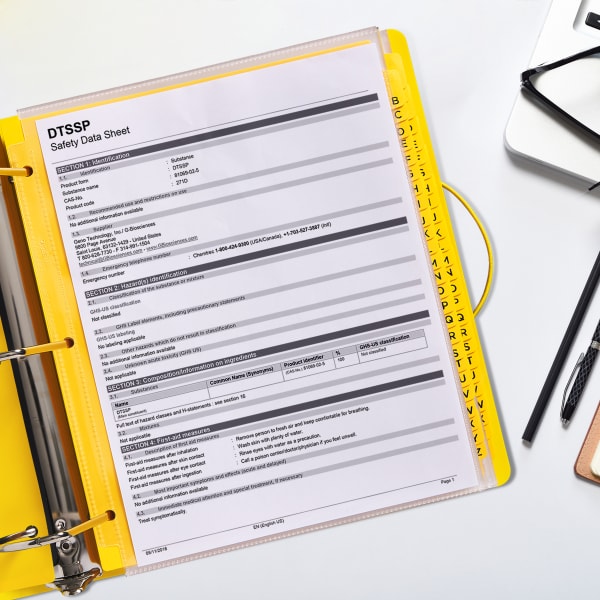 What is a safety data sheet?
Safety data sheets (SDS) are generally physical papers providing safety information relating to hazardous chemicals in the workplace. Information on SDS includes the physical, health and environmental hazards of each chemical as well as how to safely store, handle and transport them.
Why are SDS important?
SDS are important because they support workers' rights to be educated about workplace hazards so they can take measures to work safely. Safety data sheets are also regulated by OSHA. Compliance is important in order to avoid a costly citation.
OSHA penalties start range from $13,653 per violation to $13,653 per day beyond the abatement date up to $136,532 per violation.
Safety data sheets are covered under OSHA Hazard Communication Standard (referred to as HCS and HazCom interchangeably) 1910.1200(g). OSHA HazCom is aligned with the Globally Harmonized (GHS) System outlined by the United Nations.
How do I know if I need SDS in my facility?
If your company manufactures, imports and/or distributes hazardous chemicals, you are responsible for creating, maintaining and distributing the safety data sheets that accompany the chemicals.
If your business uses hazardous chemicals in workplace operations, you are responsible for ensuring that each hazardous chemical has a safety data sheet that is made accessible to employees.
It should be noted, OSHA doesn't require businesses to keep safety data sheets for household consumer products when/if they're used in the same way a regular consumer would use them. For example, disinfectant products kept on hand for employees to disinfect their own work stations.
On the other hand, safety data sheets are required for household consumer products that contain hazardous chemicals if employees are required to work with them more often (or for longer periods of time) than a regular consumer. For example, disinfectant provided for janitorial workers.
SDS vs. MSDS: What's the Difference?
Previous to GHS alignment, OSHA HCS required material safety data sheets (MSDS) for hazardous chemicals in the workplace. Post GHS alignment, OSHA HCS requirements have transitioned to safety data sheets (SDS).
The main difference between MSDS and SDS sheets is how information is presented. Both documents communicate information regarding hazards and safety precautions for working with hazardous chemicals. SDS simply format this information in a way that is aligned with GHS guidelines.
Converting MSDS to SDS
If your business manufactures or formulates chemicals, converting MSDS to SDS format is your responsibility. Safety data sheet authoring companies can provide this service, or it can be done internally with in-house experts (e.g. chemists).
If your business otherwise works with hazardous chemicals in a manner or quantity regulated by OSHA, it is your responsibility to contact your chemical supplier and request SDS copies. As of June 2016 most material safety data sheets should have been converted to SDS format.
How information is organized on SDS
There are 16 sections for any safety data sheet and these sections are further grouped into four categories: General Information, Technical and Scientific Information, Information Governed by Other Agencies and Other.
General Information includes sections 1-8 and contains the information most needed for quick access:
Section 1: Identification
Section 2: Hazard(s) Identification
Section 3: Composition/Information on Ingredients
Note: Percentage ranges can be used in SDS, Section 3 for mixtures with batch-to-batch variation, a group of substantially similar mixtures, or if there is a trade secret claim.
Section 4: First Aid Measures
Section 5: Firefighting Measures
Section 6: Accidental Release Measures
Section 7: Handling and Storage
Section 8: Exposure Controls/Personal Protection
Technical and Scientific Information includes sections 9-11. Although the information included is incredibly specific, none of these sections may be left blank. Instead, the lack of relevant information must be stated in the appropriate field.
Section 9: Physical and Chemical Properties
Section 10: Stability and Reactivity
Section 11: Toxicological Information
Information Governed by Other Agencies includes section 12-15. The information in these sections is considered "non-mandatory" because the information itself will not be evaluated during an OSHA inspection.
However, OSHA compliance still requires that sections 12-15 are present on all SDS regardless. Also, you should be aware that the information in sections 12-15 may be subject compliance evaluation by other appropriate government agencies.
Section 12: Ecological Information (non-mandatory)
Section 13: Disposal Considerations (non-mandatory)
Section 14: Transport Information (non-mandatory)
Section 15: Regulatory Information (non-mandatory)
Section 16: Other information. Basically any useful information not included anywhere else in the SDS, including when/by whom the SDS was prepared, the last known revision date, and where changes were made in the most recent revision.
Get an in depth view of each section with our full explanation of the 16 sections of a safety data sheets.
Can SDS be electronic?
Safety data sheets can be electronic or physical, however it's important to note that only providing electronic SDS is not OSHA-compliant. This is because one of the key factors in SDS compliance is ensuring they are readily accessible by workers at all times.
OSHA regulation 1900.1200(g)(8) mandates that there must be a back-up system in case of emergencies (such as an external hard disk drive, optical disc drive or paper copies) and paper copies must still be provided to employees upon request.
Discover 4 quick updates for your SDS binder that increase employee accessibility.
Safety data sheets and GHS labels
SDS are just one way that employers must communicate potential chemical hazards that employees may face on the job. Additionally, SDS are one of three major OSHA HazCom components that have been aligned with GHS: 1) hazard classification, 2) chemical labels and 3) safety data sheets.
The information found on safety data sheets is generally used to create GHS chemical labels. Either by manually entering the information to create GHS labels from scratch or for reviewing autofill information when using automated GHS labeling software.
If your SDS are inaccurate or out of date, you run the risk of creating inaccurate or out of date GHS labels.
More safety and compliance resources for SDS and GHS
GHS compliance, including SDS and GHS chemical labels helps keep employees working safely and is an important part of OSHA HazCom. In fact, HazCom has remained at the top of the top 10 OSHA violations list for the last decade.
Explore more resources for increasing chemical safety and compliance in your facility:
Please note, the contents of this article and related articles on avery.com/industrial are for informational purposes only, are general in nature, and are not intended to and should not be relied upon or construed as a legal opinion or legal advice regarding any specific issue or factual circumstance.