How to Create an Effective Emergency Binder for Your Office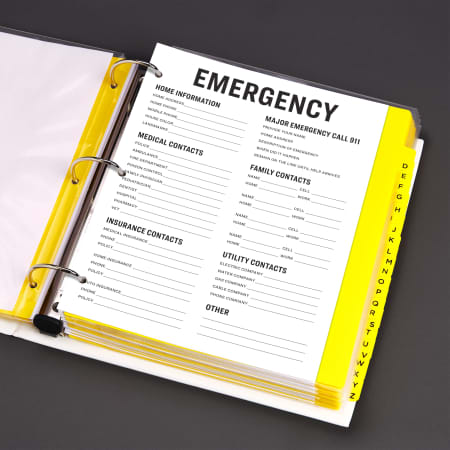 Employers are required by law to meet the minimum requirements for an Emergency Action Plan (EAP) under Occupational Safety and Health Administration (OSHA) regulation 1910.38(c). Incorporating emergency binders in your EAP helps ensure workers' safety and could be the difference between life and death in a disaster.
If you have more than ten employees, OSHA requires a full written version of the EAP be kept in a convenient location accessible to employees. Alternatively, you are free to provide each employee with their own copy, or if you have less than ten employees communicate the plan orally.
An OSHA-compliant EAP encompasses planning, gathering emergency information and training employees to ensure everyone knows what to do before, during and after an emergency or disaster. This article addresses how to compile an effective "grab and go binder" using information from your EAP.
What is an Emergency Binder?
An office emergency binder is a dedicated three-ring binder for organizing and storing distilled vital information from your EAP so that it's easily accessible and easy to transport in case of evacuation. It should not be considered a replacement for an EAP, but rather a tool you can incorporate into your plan to help keep employees safe during a crisis.
What to Include in an Emergency Binder
When gathering documents for your emergency binder, use the minimum EAP requirements as a guide. For example, OSHA requires every EAP to include a means of reporting fires and other emergencies. Dialing 911 or pulling a manual fire alarm are two preferred procedures for reporting emergencies.
Emergency preparedness binders for your office should also include any additional procedures for reporting emergencies. These can include internal emergency response phone numbers and other emergency communication systems, such as a public address (PA) system or alarm systems that signal responses or actions from employees.
Use the checklist below as a complete section-by-section guide to emergency binder information based on EAP requirements. Each section should begin on a new page.
Office Emergency Binder Checklist
Emergency Binder Cover Sheet
Facility name & address
Date prepared
List of emergencies employees must report: Medical, Fire, Severe Weather, Bomb Threat, Chemical Spill, Structure Climbing/Descending, Extended Power Loss, any other situation where loss of life or bodily harm is threatened
Section 1: Names & Phone Numbers for Emergency Personnel
Designated person in charge or highest ranking official for your location
Emergency coordinator
Area/Floor monitors (if applicable)
Assistants to physically challenged (if applicable)
Section 2: Evacuation Route Maps
Emergency exits
Primary and secondary evacuation routes
Locations of fire extinguishers
Fire alarm pull station locations
Assembly points
Section 3: Emergency Phone Numbers
Fire department
Paramedics
Ambulance
Police
Department of Homeland Security
Security (if applicable)
Building/facilities manager (if applicable)
Section 4: Utility Company Emergency Contacts
Electric
Water
Gas (if applicable)
Telephone company
Section 5: Medical Emergency
Medical emergency phone numbers
Name and numbers for personnel trained in CPR and first aid
Procedures to follow in case of a medical emergency
Section 6: Fire Emergency
Number for local fire department
Fire alarm location map
Fire extinguisher location map
Fire emergency safety reminders
Section 7: Chemical Spill
Locations for spill containment/security equipment and personal protective equipment
Name and number for spill cleanup company
Chemical spill safety precautions and procedures
Section 8: Structure Climbing/Descending
List of structures, location and specific emergency response organizations (if applicable)
Name and number for any additional emergency response organizations
Section 9: Bomb Threats
Telephone bomb threat checklist
Bomb threat phone script suggestions
Department of Homeland Security contact information
Section 10: Severe Weather & Natural Disaster
Warning and evacuation procedures for tornados, earthquakes, floods, hurricanes and blizzards
Additional procedures for flood, hurricane and blizzards depending on location (indoor/outdoor/vehicle)
Section 11: Critical Procedures
Assignments of specially trained personnel to remain behind during an emergency to perform critical operations
Work area, name, job title, assignment description
Name, location and phone numbers of offices to be contacted
Section 12: Information to Account for Employees after Evacuation
Employee roster with name, extension, company and/or personal cell phone numbers and department/work area/floor
Office map with seating assignments
Employee emergency contact information
List of employees with any medical conditions and/or allergies that may be important to know if emergency medical treatment is necessary
How to Make an Emergency Binder
An effective preparedness binder for your office begins with choosing a heavy-duty 3-ring binder that can stand up to tough situations. Durable long-lasting materials ensure your emergency binder stays in good condition so you're prepared for any crisis.
Avery® Heavy-Duty View Binders are designed to last longer, resist tearing and feature durable clear outer covers. Displaying your emergency binder cover sheet on the outside makes the information more readily available when response time is critical.
It's important to safeguard pages from bleeding, smudging or becoming damaged and unreadable. Protect your emergency binder contents with non-glare heavyweight sheet protectors. Choosing sheet protectors with a non-glare finish makes pages easy to read in a variety of lighting conditions.
In a disaster or other high-stress situation, every second counts. Make sure the contents of your emergency binder are easy to navigate so employees can easily find the appropriate document for the situation.
Durable plastic dividers are an excellent option for separating the main sections of your emergency binder. Avery Ultralast™ Big Tab™ Plastic Dividers are ultra-durable with tear-resistant plastic and a see-through window for easy referencing. Printable tab labels and large tabs ensure legibility.
For additional organization within each emergency binder section, plastic printable tabs are ideal for legibility and durability. Avery Surface Safe® Durable ID labels are the perfect heavy-duty label for identifying multiple emergency binders. Each binder should be clearly marked with the location and person responsible for that specific copy.
Office Emergency Binder Best Practices
Making sure the information included in your emergency binder is accurate and up to date is a crucial step in disaster and emergency preparedness. Setting a defined procedure for updating emergency information ensures the most accurate information is on hand in case of catastrophe.
Add New Employees Immediately
Whenever a new employee joins your team, filling out emergency contact information should be part of the immediate on boarding process. Add this information to your emergency binder without delay.
Expert Tip: Blank business cards and business card sheet protectors can be used to quickly add handwritten emergency contact and/or medical information for new employees (or changes in information) between emergency binder updates.
Quarterly Emergency Binder Review
Set aside time to review your office emergency binder every three months. Review all procedures, maps, names and phone numbers to ensure all information is accurate and up to date.
This is also a good time to double-check employee information. Add temporary handwritten information for new employees to the official employee emergency contacts list and remove information for employees that have moved on.
Yearly Employee Information Update
Once a year, request employees complete and submit updated emergency contact information. Replace outdated emergency binder contents and shred obsolete documents.