GHS Wizard Testimonials about the Tool that Makes GHS Labeling Easy
Real safety & compliance professionals tested the Avery GHS Wizard®
The release of the new GHS Wizard subscription service was announced by Avery Industrial in March 2021. Prior to release, safety and compliance professionals across the country were given early access to test the software.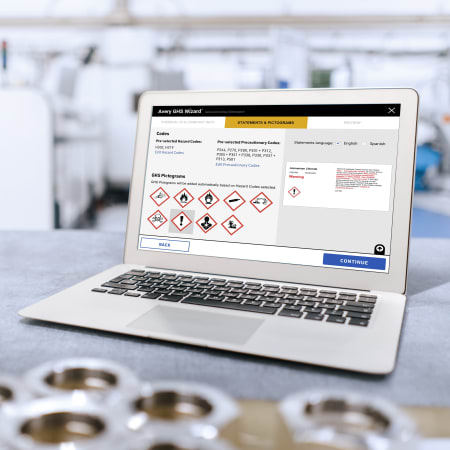 What does the GHS Wizard do?
With the GHS Wizard subscription, users can access advanced GHS tools in addition to the standard label design tools available in Avery Design and Print Online.
Advanced features for the GHS Wizard include English and Spanish statements for creating bilingual GHS labels and a database of over 300,000 pure, mixed and branded chemicals.
The GHS Wizard database, powered by Chemwatch™, is searchable by CAS number or chemical name and autofills the following information:
Product Identifier
Signal word
Hazard statements
Precautionary statements
Pictograms
Testimonials from GHS Wizard early adopters
"For any stragglers who are not GHS label compliant, OSHA fines and penalties are expected to go up 80% this summer," says Mark Howell," owner of Howell Safety and Training Solutions, a Jonesboro, AR-based safety and risk management consulting company. "By August 1, the maximum fine is expected to rise from $7,000 per violation to $12,600 per violation, and for more serious issues from $70,000 to $127,000 per violation."
"I have actually shared the Avery GHS Wizard program at the last two OSHA 10 hour classes I taught as part of the HazCom section…I was amazed at how easy and convenient it was. You have a great product".
- Mark Howell, Howell Safety and Training Solutions
"Your GHS Wizard is an extremely effective system. I am blown away! You are providing people with a way to bring GHS information all together for clients that are not familiar with GHS compliance. The labels are durably designed to hold the image and adhere to the container. I have worked in compliance for over 40 years…I have never seen anything like this in the field yet. This is Great!"
- California State Compliance Officer and Safety Engineer
"I previously tried using risk management software for our GHS labeling needs, but I recently switched to the Avery GHS software and labels. The Avery GHS Wizard is flexible and user friendly, plus it helps the user select appropriate hazards and precautions to show on the labels, based on CAS # entries. The labels are durable and work well for our needs. I definitely recommend the Avery GHS solution to other companies."
- Metal Service Safety Manager, Kloeckner Metals Co.
I am very impressed with the Avery GHS Wizard. It is user friendly and intuitive. I was a somewhat overwhelmed by all of the pictograms and codes required for a GHS compliant label, but the Avery GHS Wizard has simplified the process and made it very easy for anyone to use. The labels are durable and can print right to the printers in our office. Since we only need to print GHS Secondary Container labels for a handful of products, the Avery solution is perfect for our company."
- HR Safety Administration, International Line Builders
"I love the Avery GHS Wizard! It is extremely user friendly and very easy to use! You put in your CAS # (Chemical ID #) and all the required information just pops up! I work in a research department with hundreds of various chemicals and the labels are working out great! I am loving this system! In addition to the GHS labels, we can also create and print a variety of other Signs and labels. I would definitely recommend the Avery GHS Chemical labeling system to other business small and large."
- Maintenance / Safety Engineer, U.S. Forest Service
Try the GHS Wizard yourself
You can subscribe to the GHS Wizard on a monthly or annual basis or take it for a test drive for free.
In trial mode you can see firsthand how easy it is to design and autofill GHS labels using the GHS Wizard tools. As long as you are in this mode, the GHS labels you create will feature a watermark to prevent printing. Once you subscribe, the watermark will be removed.
Explore more GHS labeling solutions for real-world problems
Please note, the contents of this article and related articles on avery.com/industrial are for informational purposes only, are general in nature, and are not intended to and should not be relied upon or construed as a legal opinion or legal advice regarding any specific issue or factual circumstance.