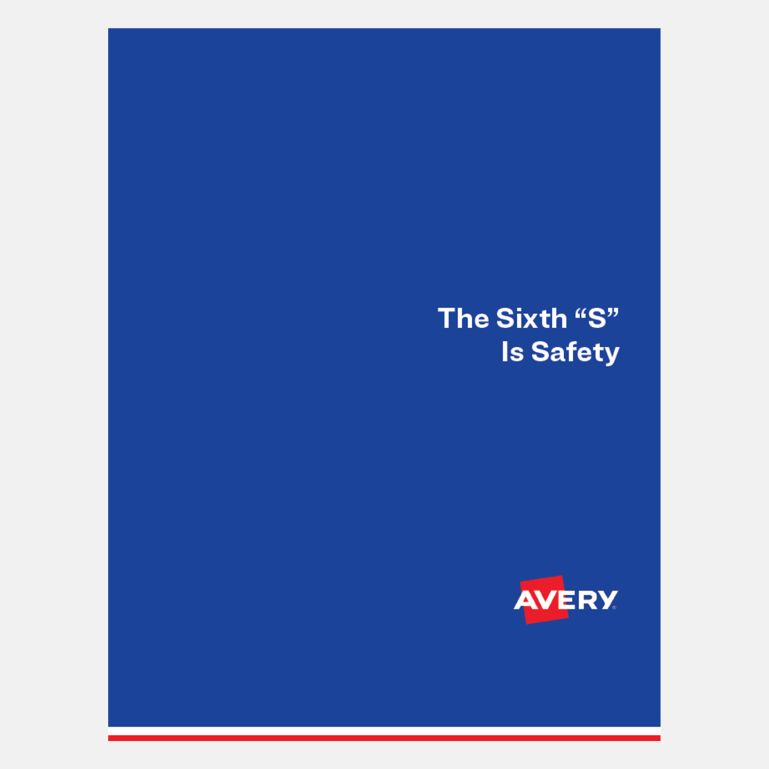 Learn about the 6th "S"
Role of Safety Signs in 6S
How to print signs in-house
Download Whitepaper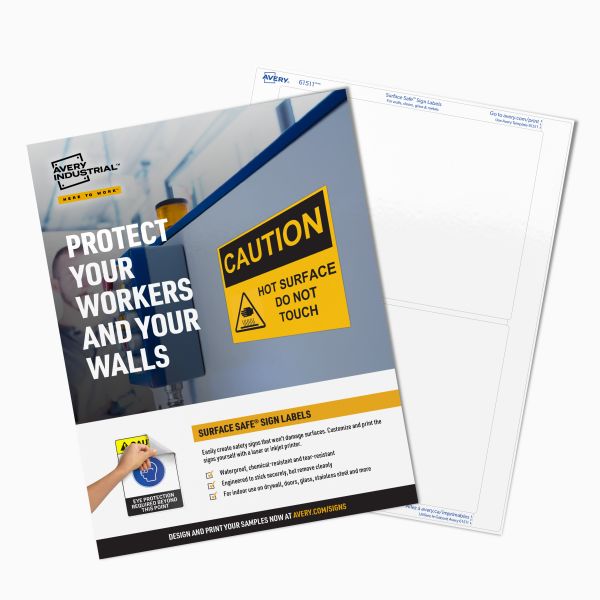 Free Surface Safe Sign Sample
Engineered to stick strong, remove cleanly
Resistant to water, chemicals & abrasion
Hundreds of OSHA compliant templates to customize and print
Get a FREE Sample
1. What are the most durable safety labels and signs?
Our Outdoor Vinyl Signs & Labels are extremely durable, waterproof, and strong enough to last up to 2 years outdoors. They're made of 3.4 mil conformable vinyl with strong permanent adhesive and resist UV fading, chemicals and abrasion.
2. How do I pick the right safety labels and signs for different surfaces?
Below are the best labels for common surfaces in industrial spaces. Learn more about how to troubleshoot label fails for other heavy-duty environments and different applications.
Indoor
Outdoor
Surface
Label
Painted walls
Drywall
Metal
Glass
Surface Safe Sign Labels (removable)
Cinderblock
Concrete
Corrugate
Outdoor Vinyl Signs & Labels
Outdoor Vinyl Signs & Labels
Reflective Signs & Labels
3. What surfaces can I use Surface Safe Sign Labels on for clean removal?
The adhesive is engineered to stay put and remove cleanly without any residue or damage to the following surfaces: painted walls, drywall, metal and glass. Surface Safe Sign Labels can also be used on most hard, smooth surfaces like doors, desks and cabinets.
4. How long can I leave Surface Safe Sign Labels up and still remove cleanly?
Though conditions may vary, Surface Safe Sign Labels can be removed from recommended surfaces without residue or damage up to 3 years after application.
5. What does retro-reflective mean?
Light shined on a retro-reflective surface is reflected back at the same angle it came from for a brighter shine. Retro-reflective materials also enhance barcode scanning because the beam from the scanner is reflected directly back at the reader instead of diffusing.
6. Are Avery Reflective Signs & Labels retro-reflective?
Yes. Our reflective adhesive signs and labels are made with printable retro-reflective glass bead technology.
7. How are the pre-designed templates provided in Avery Design and Print OSHA and ANSI compliant?
Avery sign templates follow ANSI Z535 and OSHA 1910.145 design guidelines for usage of headers, fonts and symbols. Additionally, the material prints clearly and colors remain vibrant, for long-term readability.
8. Where do I find pre-designed templates for safety signs and labels?
Visit our template finder, and enter the product number of the adhesive sign or label product you are using. Click "Start Designing" to open Avery Design and Print Online. Within the design software you will be able to browse designs by category with thumbnail previews of what each design looks like.
You can also browse blank templates for Avery Industrial products by usage and/or product type on the template finder page.
9. Are safety sign and label templates free?
Yes. Hundreds of pre-designed OSHA/ANSI safety sign and label templates are available when you sign up for a free Avery Industrial account. With the Avery GHS Wizard® subscription you also have access to GHS safety label templates and more GHS tools.
10. Why is the ink on my safety signs and labels smearing?
Different label products work with different types of printers, the first thing to do is check the specific product/printer compatibility. In general, our outdoor vinyl and reflective products work best with laser printers. Surface Safe Sign Labels work with both laser and inkjet printers.
Get Compliant and Alert Employees Fast with Removable Safety Signs
Custom Surface Safe signs and labels allow you to tailor safety messaging for your facility. With our range of Surface Safe products, there's no need to wait— get compliant and get your safety messages posted fast.
Removable Surface Safe Signs feature adhesives that stay put, yet remove cleanly
Easily update indoor signage with Surface Safe signs and labels— no scraping, no damage, no sticky residue left behind.
Our proprietary removable adhesive used on Surface Safe signs sticks securely on drywall, painted walls and doors, stainless steel, metal and glass. When you need to remove or replace safety signs, just peel away.
Designed to work in heavy-duty environments
Long-lasting, indoor Surface Safe signs and labels are constructed using durable polyester (PET) film and are water, chemical, abrasion and tear resistant.
Easy to wipe clean with common cleaners, Surface Safe sign labels are ideal for creating safety signs for COVID-19 safety protocols and germ-prevention.
Rigorously tested to stick aggressively, yet remove cleanly, on intended-use surfaces. Surface Safe sign and label adhesive is serviceable in temperatures ranging from -40°F to 250°F. Minimum application temperature is 50°F.
Print your own removable Surface Safe signs and labels onsite
Print on demand and get your safety messages and/or OSHA/ANSI signs posted fast. Order blank Surface Safe signs and labels by the sheet or by the package for use with standard laser and inkjet printers.
Design your custom Surface Safe signs and labels from scratch or use one of our hundreds of templates (including OSHA and ANSI designs) that you can modify.
Get removable Surface Safe signs and labels printed FAST
Predesigned Surface Safe signs you can have printed as is or customize, make designing custom safety signage incredibly easy. Just click the design, customize if needed and order.
Your Surface Safe signs and labels ship to you in as few as 3 business days. Order as few as a couple signs or hundreds in just a few clicks, with low minimums and no "set up" or "file processing" fees.