What Makes Up a Label?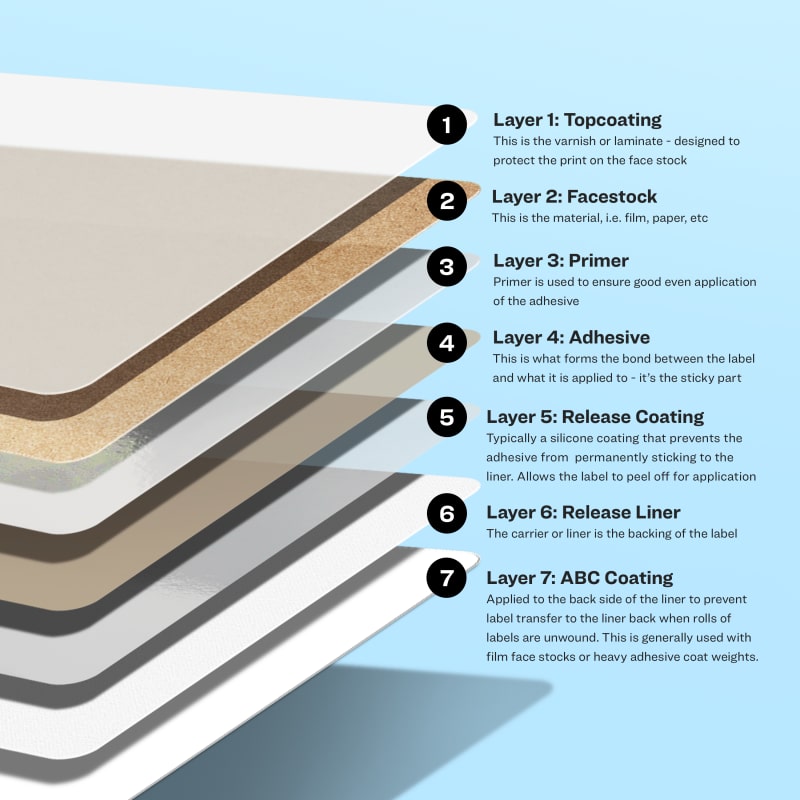 The many layers that make Avery labels better

1. The topcoating is optional, but is extremely important for certain uses. The purpose of the topcoating is to protect your printed label from exposure to moisture, abrasion and light, as well as things like smudges and fingerprints. Learn more about our available topcoats. 2. The facestock or labelstock is the material your labels are made of. It's important to look at all the varieties of materials available to make sure you're choosing the best label for your projects. See the difference between our film and paper labels. 3. We use primer when developing all of our labels to provide an ideal foundation for the smooth application of our adhesives. 4. The adhesive is what bonds your label to your item. Avery offers a variety of adhesives, including permanent, removable and adhesives that are waterproof. 5. The release coating is usually made of silicone and helps keep the label adhesive from permanently sticking to the release liner, letting you easily peel off your label for application. 6. Release liners are the labels' backing. They protect the adhesive and facestock during die cutting, printing and storage. 7. Anti-Block Coating (ABC) is applied to the back of the liners to prevent label transfer when unwinding roll labels. ABC is usually used with film labels or heavy adhesive coat weights.
* Flat rate shipping offer applies to economy shipping only. Free shipping offer applies only to orders with a merchandise total of $50.00 or greater (after discounts, before shipping, and tax). Offer applies only to economy shipping and to orders shipped within the continental United States and Puerto Rico. Offer subject to change.