Adhesive Wall Signs
Order custom printed wall signs or preprinted signs to direct & inform people of restricted areas, social distancing or open & closed locations. Order set quantities of prepacked signs or personalize your wall signs & have them professionally printed.
---
Order preprinted or custom wall signs
Promote safe social distancing or provide informational signage with Avery wall signs. Choose from preprinted set quantities of signs or order your signs professionally printed with your design choice and your quantity.
Our signs are made with a durable, tough polyester that can be wiped off with most household cleaning products. These signs are also waterproof, and resistant to chemicals, oils, abrasions, tearing and fading. Using our unique Surface Safe adhesive, our wall signs adhere to a variety of surfaces but remove cleanly with no residue.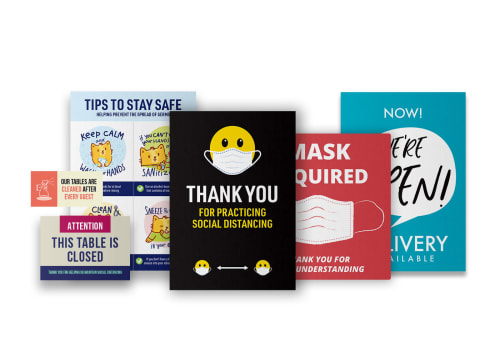 ---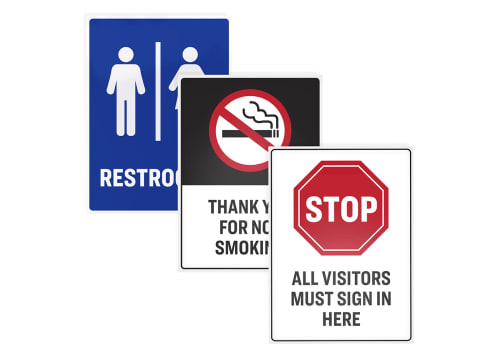 Get custom printed wall signs your way
With Avery WePrint you can create the exact custom sign you want or order your wall signs with a preset design and have them professionally printed on industry-leading digital printers. Simply click on your design of choice and customize your way. Our signs feature our Surface Safe adhesive that sticks and stays put but removes cleanly with no sticky residue. Create your own signs with your own messaging, logo and other information and they'll be professionaly printed and delivered to your door.
---
Buy packaged preprinted wall signs
You can also order preprinted wall signs in set quantities in just a few clicks. Our packs of preprinted COVID-19 signs come in ready-to-use packs. Simply choose the sign you want and order. Select from a range of designs for handwashing and mask wearing requirements. Our preprinted signs are water and oil-resistant but they also resist abrasions and tearing.