Industrial Label Solutions: How to Choose the Best Label for Every Surface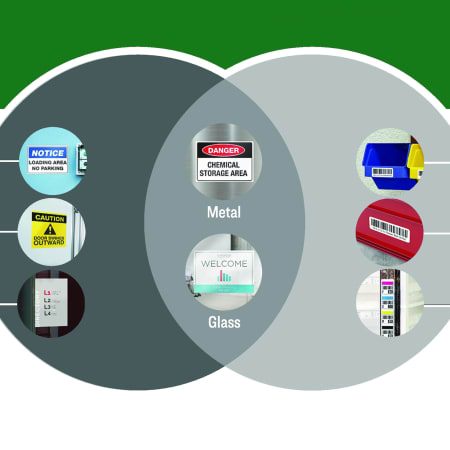 Are you streamlining the shelving process in your warehouse, but the racks are pretty rusty? Need to install a compliant safety sign on the manufacturing floor, but don't want to damage the drywall? There's an Avery industrial label that will work for the job at hand.
Building on years of experience manufacturing labels, Avery industrial labels deliver durable, reliable solutions engineered specifically for heavy-duty workspaces. Tough enough to resist damage from water, chemicals, tears and abrasions, Surface Safe® products are designed to stick where you want them yet remove cleanly when needed.
Insert Which Surface Safe Label is Right for You? Infographic
The Best Industrial Labels for Custom Signage
Surface Safe products are the best industrial labels for creating your own custom indoor signage. Whether it's OSHA-compliant safety signs or daily procedure reminders, custom industrial labels are game changers when it comes to communicating with your employees.
Available in a variety of sizes, Surface Safe Sign Labels are engineered with aggressive adhesive that won't damage surfaces commonly used for displaying messaging. Surface Safe removable industrial label signage allow you to apply custom signage with confidence on walls (including drywall and painted surfaces), tinted and clear glass, metal and doors.
Industrial Labels for Bins and Shelves
Avery Surface Safe ID Labels are ideal for organization, tracking and sorting applications. Like sign labels, ID labels stick firmly to glass and metal without leaving behind residue, so they're perfect when it comes time to make updates or switch them out.
Additionally, Surface Safe ID labels are the ideal industrial labels to replace permanent labels for plastic bins, drawers and other storage. Choose these industrial labels for HDPE, PP, and LDPE plastic, textured plastic and even rusted metal surfaces.
Custom Equipment Labels for Metal and Glass
Increased efficiency and productivity starts with streamlined, well-organized procedures and expert communication. Quickly and easily create custom industrial labels for beakers, test tubes, metal cylinders, metal carts and other equipment.
Instead of using permanent labels for equipment, give your team the flexibility to constantly review and improve procedures to achieve maximum efficiency. Surface Safe industrial labels work well for metal and glass, yet can easily be removed and replaced as needed. No sticky, gummy adhesive remnants to slow your team down.