Hard Hat Stickers: What Do They Mean, How to Make Your Own, and More

What do hard hat stickers mean?
Different hard hat stickers have different meanings, but in general, they're used to display special training and/or certifications of the person wearing them. For example, CPR certification, or forklift training. Or, to identify team leaders and/or special positions, such as a GHS chemical safety officer or the onsite foreman.
Hard hat stickers that indicate safety training
Safety stickers for hard hats and helmets usually indicate that the person wearing them is trained to respond to workplace medical emergencies. For example, giving general first aid, using specific medical equipment or responding in a crisis.
Hard hat sticker templates for safety training come in a variety of common colors. Some common symbols used for safety stickers include the first aid cross, variations on the caduceus symbol featuring a staff with one or two snakes coiled around it, and specific medical emergency symbols. For example, the ANSI symbol for Automated External Defibrillator (AED) devices used when someone has gone into cardiac arrest.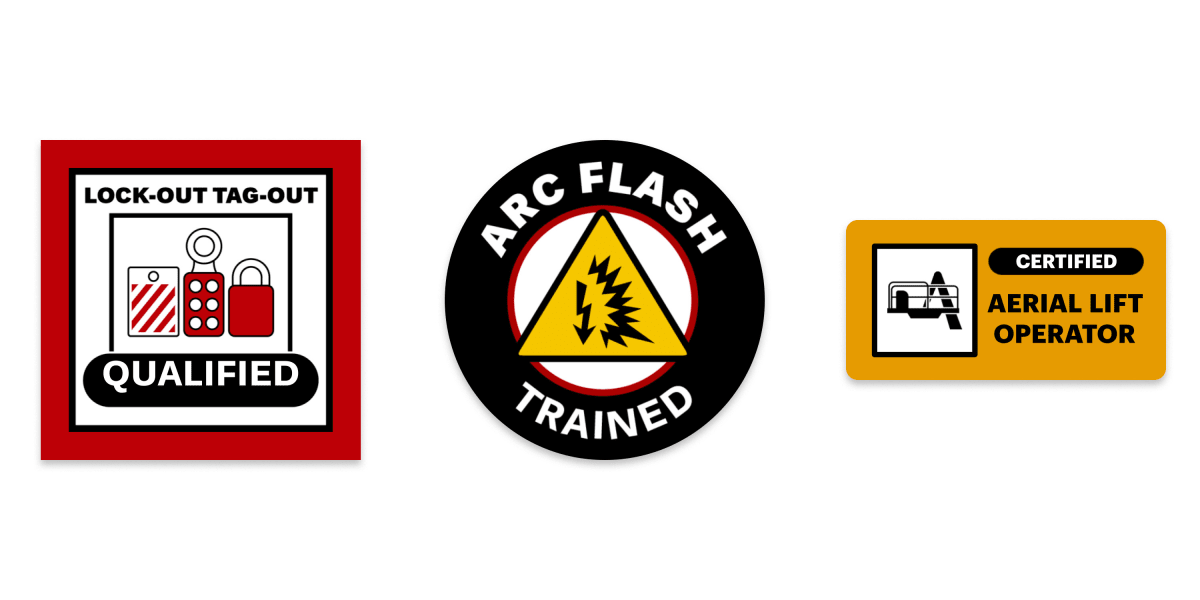 Examples of job training & certification stickers
Job training and certification stickers are used to indicate that the person wearing them is qualified for a specific job or task. That can mean certification to use specialized equipment or training to accomplish a potentially hazardous task safely. Forklifts, aerial lifts, boom lifts, and cranes are just a few examples of specialized equipment that requires certification.
Lockout/Tagout (LOTO) authorized employees are a great example of employees trained to safely perform a potentially hazardous task. To elaborate, they perform procedures to lockout and tagout (LOTO) machines or equipment. LOTO training for authorized employees is very detailed and covers the skills needed to safely apply, use, and remove energy controls.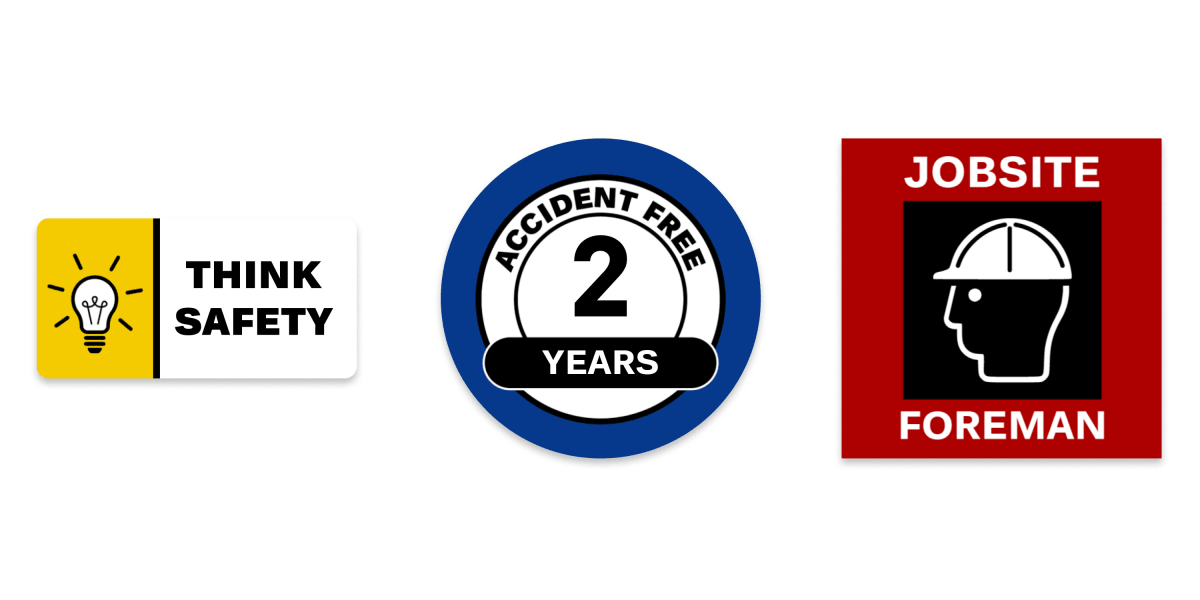 Leadership and team designs used on hard hats
Another way to use hard hat stickers is to indicate team leadership and create a clear chain of command. For example, indicating the jobsite foreman, safety supervisor or other leadership roles. Furthermore, you can use hard hat stickers to boost morale and create team spirit, as well as reward/acknowledge achievements.
Stickers for morale and team spirit often sport a slogan, saying, or meaningful iconography such as an American flag or bald eagle. You may also wish to commemorate certain achievements with hard stickers that are more like a "badge of honor." For example, a worker that remains accident-free for a period of time or has reached other milestones with the company.
Create custom hard hat stickers for your facility
Custom hard hat stickers don't have to be expensive or a huge hassle. You can create your your own using Avery Industrial vinyl hard hat stickers and our free online design tools. As a matter of fact, you can save money on custom designs by using free customizable templates. Simply open the template in Avery Design and Print Online (ADPO) and you can edit graphics, text, color, and more.
Not to mention, you can quickly personalize hard hat stickers for your entire crew. Specifically by using the Mail Merge/Data Import tool in ADPO. In short, the tool pulls in data from the spreadsheet of your choice and automatically fills in each individual sticker.
More reasons to create custom stickers in-house
Additionally, the materials that we use are also uniquely suited to hard hats and safety helmets. We make our hard hat stickers with durable conformable vinyl and strong permanent adhesive. We engineered them to be extremely durable, waterproof, oil resistant, chemical resistant (so you can clean them), and resistant to UV rays.
Of course, you can print them yourself using a standard laser printer for instant stickers right on the jobsite. Or, you can order custom-printed hard hat stickers that we print on professional industry-leading digital printers. Not only that, but our custom-printing service also has super low MOQs, fast turnaround, and no charges for setup, plates, or dies.
What you need to get started creating
You can start designing custom stickers for hard hats right away using the free tools in ADPO. In fact, it's likely that you have everything you need to start designing today already set up in your facility. Indeed, all you need is a computer, laptop, or smart device with an internet connection, and a free Avery Industrial account.
Simply log in to your free Avery Industrial account and you can save, edit, print, and share projects. To say nothing of the dozens of free templates for hard hat and helmet stickers that are available to customize. (Not to be confused with our excellent GHS Wizard® subscription, which is a paid tool within ADPO that let's you create GHS labels in minutes.)
Naturally, if you're going to print your designs yourself you'll also need a laser printer. Using a laser printer is important because matching the labels that you're printing on with compatible printers ensures ink stability.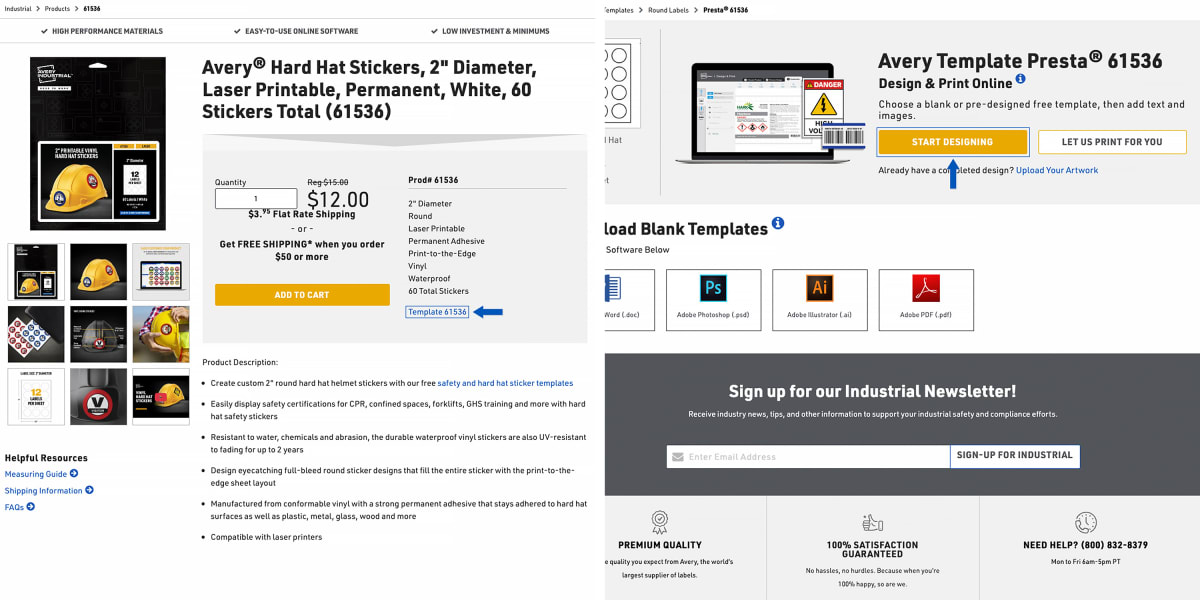 How to find Avery templates from online product pages.
How to find free Avery templates for hard hat stickers
Within ADPO, there are hundreds of free templates for creating safety signs, labels, stickers for hard hats, and more. You can find templates for ANY Avery Industrial product three ways. First and foremost, our template finder page allows you to search by Avery product number or browse by product and/or use.
Secondly, you can click the template link on the product page. Then click "Start Designing." From there you'll see a wide variety of predesigned templates to modify as well as a blank template to design from scratch. Thirdly, open ADPO and enter your product number in the search bar.
Most options are easiest if you have your product number handy. However, if you don't have it there are still options. You can use our helpful template support page or simply give our wonderful Customer Care team a call at (800) 832-8379. They are always happy to assist.
The meaning of hard hat stickers and how to make your own
In summary, hard hat stickers are generally used to display special training and/or certifications as well as identify team leaders and/or special positions. Stickers that indicate safety training/certification usually display common symbols related to giving first aid, using specific medical equipment, or responding in a crisis.
Hard hat stickers can also mean that a person is trained or certified for a specific job or specialized equipment. Then there are hard hat stickers used for leadership and team spirit. These types of stickers can indicate a chain of command, or simply boost morale and reward achievements.
Using free Avery templates and design tools, you can easily create your own custom hard hat stickers right from your jobsite. Not only can you save money on custom designs by doing it yourself, but our hard hat stickers are made from durable conformable vinyl designed especially for fitting the curves of hard hats and helmets.
You don't need much to get started designing, just a free Avery Industrial account, a smart device, and an internet connection. You can print your designs onsite and on demand with printable hard hat sticker sheets and a laser printer. Or, let us print them for you with our hassle-free printing service.
Browse hard hat sticker templates and start customizing now:
Please note, the contents of this article and related articles on avery.com/industrial are for informational purposes only, are general in nature, and are not intended to and should not be relied upon or construed as a legal opinion or legal advice regarding any specific issue or factual circumstance.