See All Designs for These Popular Products
Choose 61515 for 7" x 10" signs, 61511 for 5" x 7" signs or 61513 for 8" x 8" signs.
Prevent the Spread of Viruses with Health & Safety Sign Templates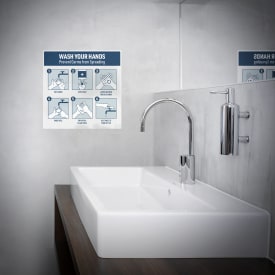 Help protect employees and visitors from viruses, germs and bacteria with health and safety signs that encourage proper hand washing techniques, display "cover your cough" reminders and more.
We're committed to providing you with a variety of options for your facility, worksite or even your home. Our health and safety sign templates are designed in both vertical and horizontal orientations, and are available in a range of sizes from 5" x 7" to 8.5" x 11".
Explore dozens of designs for multiple sign sizes that print perfectly on many Avery Industrial products, including 60501, 6465, 61513 and our entire Surface Safe® line. In fact, Surface Safe adhesive sign labels are engineered specifically to work on your walls with no hassles.
Long-lasting Surface Safe signs are constructed with high-quality, durable, water-resistant materials.
Sanitation is a top priority. Surface Safe signs are chemical-resistant so they can be wiped clean with common cleaners.
Innovative adhesive that is meant for walls means your signs stick securely as long as you need them. When you're ready, Surface Safe signs remove cleanly with no damage to walls or residue left behind.
Be ready for anything with Surface Safe sign labels you can print from your own desktop printer— no special printer equipment required.
During unprecedented times of viral risks, help prevent the spread of diseases like coronavirus (COVID-19) by placing these hand washing signs and other health reminders around your facility, worksite, office and home.