Safety Signage Where You Need It - No Damage to Walls or Paint
Customizable OSHA/ANSI templates for signs that stick securely, yet remove cleanly
Convenient High-Impact Safety Signage Custom Printed
Fast turnaround. Custom adhesive safety signs shipped out to your facility in as few as 3 business days.
High-impact. Professional printing optimized for print stability and clear, crisp visuals.
Long-lasting. Create safety signage and labels that last with durable materials and adhesives engineered to stick strong yet remove cleanly when needed.
Low MOQs. Get custom safety signs printed for a single hazard or update signage for your whole facility.
Get Ready for Inspection Day with Custom-Printed Surface Safe® Signs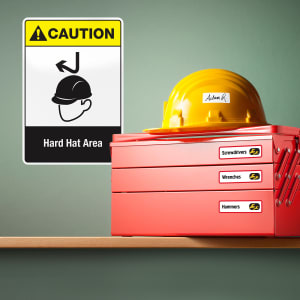 Help your employees maintain a safe work environment and keep your safety signage updated for inspection day. Exceptional print quality on durable label materials ensures your safety signs in the workplace are high-impact and long-lasting.
Choose from hundreds of OSHA/ANSI safety signs and symbols to customize professionally printed safety signage for your facility. Order as many or as few custom safety signs as you need and get them shipped in as little as 3 business days. No processing, design or set up fees.
Get custom printed adhesive safety signs for workplace surfaces, such as glass, where screws and other fasteners cannot be used.
Prepare for OSHA inspections with custom printed safety signs engineered to stay in position and remove cleanly for easy updates.
Order custom safety signs professionally printed on durable materials for scratch resistance and easy cleaning.