Problem Solve for GHS Compliance with Custom-Printed Labels
BS5609 Section 2 & 3 Compliant. Marine-grade GHS labels expertly printed for maximum print stability.
Customize GHS roll labels with pictogram diamonds for use with your own thermal transfer printer.
Get durable long-lasting HazCom labels professionally printed for your facility. GHS labels, HMIS labels, NFPA labels & more.
Benefits of Choosing UltraDuty™ Custom-Printed GHS Chemical Labels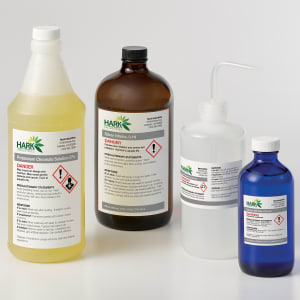 Engineered to help you meet OSHA labeling requirements for hazardous chemicals at every step of the way. Our incredible GHS Wizard® helps you fill in the information required on chemical hazard labels. Rigorously tested materials and expert printing help you create safe and compliant chemical labels.
Order GHS chemical container labels in quantities that make sense for your facility. Order as few as two label sheets or thousands of chemical labels. There are no set up or file processing fees. Just simple, efficient HazCom help. Design or upload your chemical labels, place your custom print order and we can deliver GHS chemical labels optimized for safety and compliance in as little as three business days.
Order small quantities of GHS chemical labels by the sheet or scale up with GHS label rolls, all printed on marine-grade film engineered for BS5609 compliance.
Choose customized GHS labels preprinted with 1 to 5 blank pictogram diamonds for use with your own thermal transfer printer.
Get durable, long-lasting HazCom labels that are professionally printed for sharp, clear images and vibrant long lasting colors. GHS pictogram, HMIS, NFPA & more.