Wherever School Is, You Got This
Avery products are built tough for everywhere kids learn. Make learning fun, organized and less stressful with tips for parents and students.
Start the School Year Right with Avery
Ready for the new school year? Check out our articles and checklists to help your child get classroom ready. Pick the best supplies, transition back into the classroom and get ready for a great year.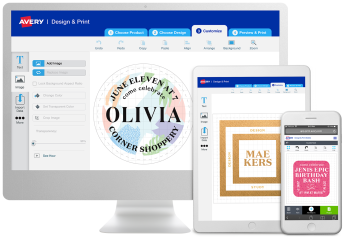 Avery Design & Print Software
Create professional, personalized labels in minutes
• Customize one of our popular label designs or upload your own artwork
• Use our free label templates to add custom fonts, colors & graphics
• Easily import contacts or data with our mail merge
Back-to-School Guide to Thriving in the "New Normal"
While back-to-school may look different this fall, you can still help your kids get back to learning and thrive academically. Avery school supplies are built for everywhere kids learn. Whether that means learning full time at home, in a classroom or some combination of the two.
Durability means long-lasting and cleanable. The new reality is that wiping down school supplies will be part of the daily routine as kids return to any form of in-person learning. Durable binders, dividers and other school supplies that can stand up to daily wipe downs with common household cleaners will be key.
Keeping school supplies and kids' face masks separate and sanitized will also be essential this back-to-school season. Washable fabric labels and durable removable labels that work well with common disinfectant wipes are must-haves for the fall.
Read more about the ins and outs of back-to-school disinfecting for detailed information about kids labels that can be cleaned.
Organization is the key to smooth transitions. Whether your family is transitioning to kids learning full time at home or going between home and a classroom, planning is everything. Create your own dry-erase schedules and calendars with sheet protectors and self-laminating sheets so you never miss a beat.
Stay organized with color-coded school work and schedules so your kids can easily grab what they need, when they need it. Repositionable tabs, highlighters and color-coding labels make it easy. You can even color-code binders by subject using free binder cover templates.
Get more detailed back-to-learning tips for the coming school year and other great tips like how to create a homeschooling schedule.
Stress-free BTS basics: shop school supplies online. Give yourself a break from navigating crowded stores and shop back-to-school basics online. Binders, dividers, markers, pens, folders & report covers, highlighters, glue sticks… whew! Avery has got all the classic school supplies your kids need and more.
Relax and do some stress-free back-to-school shopping with clickable school supply lists for every age.
Creativity and self-expression are still important. Help your kids personalize their school supplies with tons of free templates for school supply labels, DIY decals, personalized stickers and more. Use our online design tool to personalize your back-to-school organization or just unlock their creativity!