Whether you look forward to Valentine's Day with open arms, or become a little bashful when it comes to showing affection, we've got ideas to spark the flame or quell your fears on how to express your love. It might be easy or an act of bravery to go ahead and share your feelings, but take solace in the experience—millions of smitten love bugs will be taking part in the Valentine's Day revelry, with messages to heartthrobs and secret crushes, friends and family, and even fellow classmates. Here's how you can let them know, let it show, and spread the love.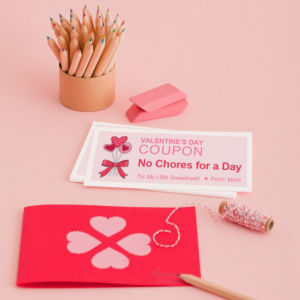 Cards to wish everyone a happy Valentine's Day
Create personalized love notes with your own unique message inside! Start with the easy-to-use Avery Design & Print Online program and choose your design, then print on Avery Postcards or Avery Note Cards.
Classroom card exchange – Can you imagine a childhood without Valentine's Day? All those cards, all that candy, and that rambunctiousness created from a blend of happiness and high amounts of sugar. Your kids will be giving the coolest cards in the classroom with special designs made just for this moment. A lollipop valentine for the girls and an "I dig you" design for the boys will deepen friendships and produce a room teaming with smiles.
Greetings for grownups – No, you're not too old to get gushy. If you're cringing when you consider your store-bought card options, the way to go is to design your own. The Avery Design & Print Online program makes personalized cards a cinch to create, whether you choose a pre-designed template or start from scratch to create a design of your own. Your handwritten message inside is the final touch. Feel free to splurge on the XOXO.
Cupid comes to the company – Fear not, Valentine's Day can be safe for the office. This time it's all about appreciation. Thank your coworker for covering for you while on holiday, or let team members know how much you valued their work on the last group project. Businesses can create cards that incorporate their company logo and send appreciation notes to clients, customers or vendors, including a promotional coupon inside to sweeten the message.
Aiming your arrow – Now that you've masterminded your message of amour, it's time to send it out in style. Print out Avery Address Labels with the same design as your card for a coordinated look. Look for matching design templates on Avery Design & Print Online. It's the cherry on top of your sweet sundae of affection.
Sweets for your sweeties
Passing out sweet treats can make the heart (and stomach) grow fonder. Spice up your goodie bags and care packages with personalized labels in round, oval, or square labels in round, oval, or square to create unique seals for your custom creations.
Who – Your sweetie's been extra sweet this year, but don't forget everyone else who holds a place in your heart. Show them how much you care by baking up some treats. A little taste of home is perfect for kids away at college and loved ones in the military, and far-flung friends and family such as grandparents sometimes need a reminder that your care is still there.
How – Once you've whipped up a few batches of your confections, place them in goodie bags and attach personalized Avery Round, Oval and Square labels as stickers to seal the deal. You can also add your one-of-a-kind design on Avery Shipping Labels to give your recipient a hint of what's inside.
Why – The average Joe gets drugstore candy on Valentine's Day; your special someone will be tickled pink to see homemade treats addressed to them. A little bit of time spent, can mean a huge smile on their face.
The return of the love coupon
You can show your love without flowers or sweet treats by creating personalized love coupons! Check out the charming coupon designs available on the Avery Design & Print Online program, ready to be customized for the object of your affection. Print your coupons on Avery Business Cards for a classic size, or use Avery Postcards to create jumbo coupons. You can create several and assemble a coupon book or make a grander display with a coupon bouquet.
Couples – If you're part of a couple, try assembling a coupon book filled with tasks and chores you're willing to do to please your Pookieboo. Here are some thought-starters: gentlemen, make a card offering one afternoon spent shopping with your sweetheart, purse-carrying included, and ladies, offer your sweetheart a guilt-free day of golf.
Parents – It's easy to make this day about the kids by creating coupons just for them. Start with these cute "I Dig You" and Lovely Lollipops designs, and enter in the "treat" of your choice. Younger children will adore coupons with affectionate offerings, such as ten extra hugs or kisses, or free monster removal from closets and under beds. If your older children have assigned chores, your coupons can offer a week or a day reprieve from their tasks.
Kids – The love goes both ways. With the help of an adult, kids can easily put together a coupon book of things they're willing to do as a gift to parents or grandparents. Picking up shoes, sweeping the kitchen and unloading the dishwasher are all good coupon ideas that are sure to make them swoon.
Perhaps reading these ideas has made you realize how many people you love and care for, and how many love you. Once that happens, the holiday is no longer an obligation and more of a celebration of that happy fact. So get going, you've got lots of love to send.