When it comes to organization, do you consider yourself a Type A personality, a go-getter who thinks about New Year's resolutions before the holiday decorations come down? Or do you see yourself as a more laid-back Type B personality, who'd rather languish in the holiday glow a little longer? Whether you classify yourself as a Type A, Type B, or a mix of the two, we've got some ideas on getting organized that will fit your style!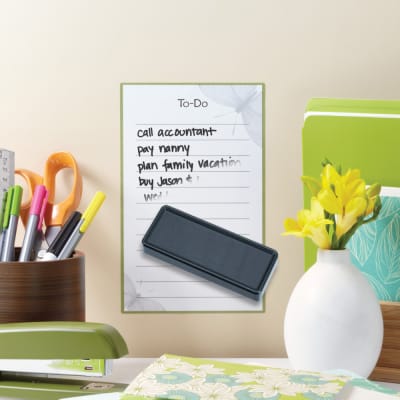 Tackling your to-dos, your way
Tasks, projects, and responsibilities—no matter what you call them, they won't go away until they're crossed off your list. Here are two ways you can create an effective to-do list to fit the way you work:
For Type As – Do you feel comfortable knowing exact dates and details? The Avery Dry Erase Calendar is for you. With pre-printed boxes and a surface you can write, erase, and write on again, it can help you plan ahead, make changes, and stay current.
For Type Bs – You know what you have to do, but being open-ended with deadlines is more your thing. Consider Avery Dry Erase To-Do Lists. Jot down your to-do list on the dry erase surface and update your tasks as often as you want.
Sorting through your paper piles
Time to tackle those piles of paper on your desk! Labeled binder clips make it easier to know exactly what to do with each bundle. Whether you prefer to organize your documents by project, task, or date, you can create a customized label for each of your clips.
For Type As – Take action on those stacks of paper with these Type A binder clip labels that specify exactly what needs to be done. Labels such as "File," Send," and "Hot!" are easy to read and command attention, so no task gets left behind.
For Type Bs – For a more relaxed approach to paper sorting, try these Type B binder clip labels. With less pressure and urgency, they still convey information in a less stressful tone.
Organizing your binder—what's your preference?
In a binder full of paperwork, dividers make it easy to flip to the information you want. Avery offers a variety of customizable dividers so you can organize your paperwork as you see fit. And with a variety of divider styles, there's something for every personality. It's no wonder people are divided on which way to go.
For Type As – With Avery Index Maker® Dividers, you can create custom labels for each tab of your dividers—and label both front and back if you desire. The clear labels virtually disappear onto the tabs, giving your dividers a professionally-printed look. Use the free Avery Design & Print Online program for unlimited customization options—whether you're printing an entire set of dividers, or need to replace just one.
For Type Bs – With Avery Write-on Dividers, customizing your tabs is as simple as whipping out a pen or pencil. With the durable plastic and rewritable surface, you can reuse your dividers over and over again.
Labeling options you'll like
Files may come, and files may go. And when it's time for them to go, here are a couple different ways you can pack them up and label the boxes to ship off or to store.
Type As – Do crooked labels drive you crazy? Or do you need to update the information on the label? Make the right move with Avery Repositionable Labels. Easy to apply, remove and reapply the label without damaging the envelope or box. You'll know when it's in just the right place!
Type Bs – When you're packing away paperwork, why not recycle a box or envelope that you already have on hand? With Avery Shipping Labels with TrueBlock® Technology, you won't have to peel or scratch off old labels on the box. Place these labels over existing labels, and they'll completely cover up what's underneath.
Organization can work for any type of personality. Whether you're a Type A or a Type B, Avery can help you dot your "i's" and cross your "t's" – and get a fresh start for a more organized new year.