Did your spring cleaning reveal a trove of items you no longer use? Are you downsizing to prepare for a move? Or maybe you want to simplify your lifestyle and minimize your belongings. Garage sales and yard sales are an opportunity to give your unwanted stuff a new home—and make a little cash for yourself, too. But it takes more than just throwing your things out there and expecting the crowds to come swooping in. Try these business tactics to help make your next sale a success.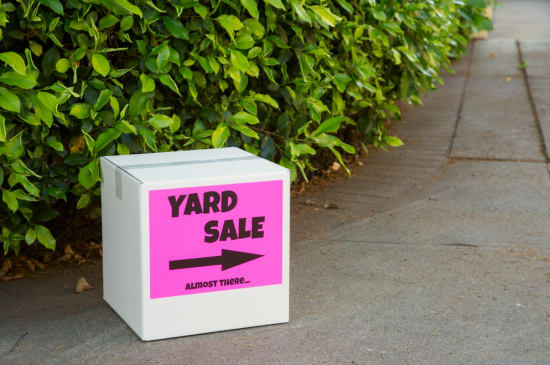 Make your signs pop with bright, fluorescent signage. Use durable posterboard or neon shipping labels attached to cardboard.
Advertise
It's not just about announcing your sale. Use promotional tactics to get them to stop and shop.
Check in with your homeowner association, city and/or town hall for rules and regulations for advertising in your area, and whether you'll need a permit.
Post an ad in your community newsletter and free online sites.
Grab shoppers' attention with outdoor signage. Use eye-catching fluorescent signs, and add balloons, streamers or flags (if allowed).
Keep your signs simple and easy to read. Include the date and time it'll be held and your address. You can also direct shoppers right to your location with arrow signs.
Make a sign map to plot your arrow signs. It'll also keep track of all your posted signs so they'll be easier to find when it's time to take them down.
Display
Put some thought into the appearance of your sale by making it inviting and interesting.
Got unusual items for sale, or hard-to-find collectibles? Be sure these showstoppers are clearly visible from the street.
Make sure your merchandise is reasonably clean. It shows each item is cared for and shoppers can better envision how it'll fit into their lives.
Appliances and electronic gadgets that aren't sold for parts should be functioning properly. Keep an extension cord handy so shoppers can plug an item in and give it a good test run.
Group similar or coordinated items together, like sections in a store. For example, position a baby stroller near baby clothes, and kitchen gadgets near dishware.
Tidy up the area as the day goes on and keep your sale looking as presentable (and approachable).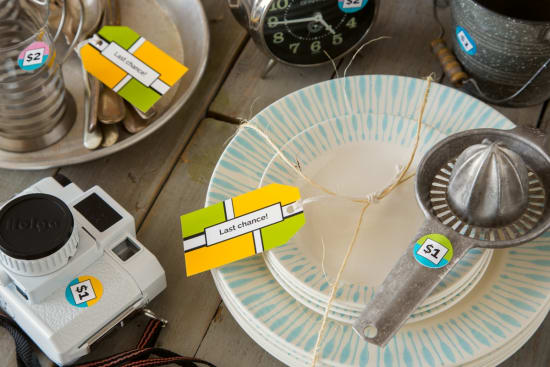 Removable labels and tags are a convenient way to price items that won't leave any sticky residue.
Pricing
Shoppers are attracted to garage and yard sales to score hidden treasures and a great deal.
Looking to make a profit? Price your items so there's no remorse, but be ready to negotiate.
If your plan is to unload as many items as possible, start with reasonable prices and then work your way down as the day goes on. Use the last hour of the sale to offer an "everything must go" free-for-all, and donate whatever's left.
Use a tent card to show the price for similarly priced items all on the same a table so there's no need to price each item.
Use "Make an offer" tags to encourage shoppers to start negotiating.
Tidy up the area as the day goes on and keep your sale looking as presentable (and approachable).
Create an inviting atmosphere, and shoppers will feel more comfortable. Great customer service can go a long way, even at a garage sale. Greet people when they arrive, give product demos for gadgets and offer suggestions if they are looking for something in particular. When a sale is made, be sure to have newspapers and bubble wrap to pack up fragile items, and plastic bags or boxes so shoppers can easily haul their finds. Thank them for their business, and make the shopper feel good about their purchase.