Throwing a party? Make it THE EVENT they'll all be talking about! That means giving your guests the star treatment and putting together some awesome swag for them to snag. Put a spin on ordinary party favors using Avery Labels and customizable design templates with Avery Design & Print Online, the free online software. Check out these fun ideas featuring some of our favorite label shapes—and start creating favors that people will crash your bash for!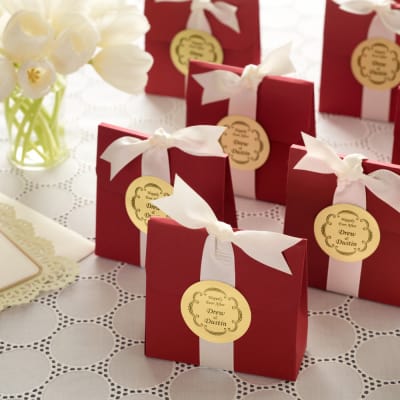 Three ways to do a 360⁰
Wrap up cookies or other sweet treats in food-safe cellophane and seal with personalized Avery Round Labels that print to the edge, or use them to decorate the cellophane on handmade lollipops. These glossy labels will make your design really stand out, and you'll be able to print colorful backgrounds that spread over the label edges, creating a professionally printed look.
Glass jars and other containers with curved surfaces filled with treats will look like they came from your own sweet factory when you use glossy Avery Oval Labels personalized with your message. These labels also print to the edge, so your design will look custom-printed and made to showcase your favors.
Make your swag bags reflect the spirit of the occasion on the outside as well as the goodies contained inside. Customize Avery Round Labels with the name of the event, the date, and fun graphics that match your party theme and decorate the outside of your swag bags. The round labels are available in glossy white, gold foil, silver foil and brown kraft for a natural, earthy tone.
Neat tricks to get you squared away
Create a unique look on matchbooks, gift card envelopes, and small truffle boxes with beautiful pre-designed templates and Avery Square Labels that print to the edge. Add a personalized "thank you" message to your guests for shower or wedding favors, or include a photo of the guest of honor for milestone birthdays.
Top your cupcakes or appetizers with little customized flags. Just customize the Avery Square Labels with a message, graphic, or photo, and place them back-to-back with a toothpick in-between. Insert the toothpick portion of your flag, making sure the printed area does not touch food that will be consumed.
Greet your guests with tiny potting pots filled with live flowers or plants as place settings. Using the flag idea above, create little plant markers for your pots, personalizing one side to mark the occasion, and the other side to identify the plant and include simple care instructions.
Make a well-rounded presentation
These distinctive Avery Arched Labels are a great way to personalize wine bottles for a nice touch to wedding reception tables. Just turn the rounded edge of the label into a wedding arch, and add a photo of the wedded couple underneath for a nifty nuptials favor.
Add a splash of fun with these customizable Avery Arched Labels attached to your favorite brew or bottles of water. These versatile labels not only let you print to the edge so you can add a full-color background to your design, they're also water-resistant so your colors don't run. Place them any which way you want – straight up, upside down, or wrap them lengthwise around your bottle.
Avery Arched Labels aren't just for liquid refreshments—they're perfect for repackaging bulk packages of bath salts, lotion, or shower gel into smaller gift sizes for favors.
Party favors are a great way to show your appreciation to guests for joining the celebration, and what better keepsake for them than a personalized memento of the special occasion? So put on your party planning hat and start putting together a party to remember—including the swag bag they'll be talking about for months afterwards.