Sometimes the simplest acts of kindness can mean so much in our hustle-and-bustle lives. Like when your neighbor drops off a plate of warm homemade cookies on a chilly eve. Or a co-worker surprises you with a morning cup of joe. This holiday, let them know how much you appreciate the little things they do to make life easier with these unique and thoughtful (yet inexpensive) gift ideas you can create and personalize yourself.
Ho ho dough
There's something about play dough that brings out the kid in everyone. Just divvy up a batch of play dough you can either purchase or make at home, pack them into round "fun size" tins and add festive labels you can personalize with free templates on Avery Design & Print Online.
Winter breath in a box
'Tis the season for company potlucks, banquets and other social gatherings, where good breath goes a long way, and bad breath drives them all away. Spread some fresh and minty holiday cheer with boxes of "Winter Breath" mints, repackaged with fun designs on square labels. It's the gift everyone—and everyone they talk to—will appreciate.
Handmade card (with gift card, of course)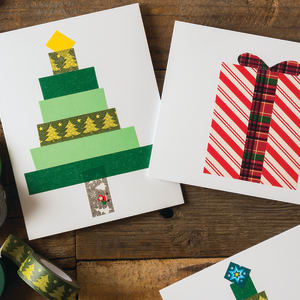 Let us break it to you gently—there's only so many holiday mugs or boxed candy one can take. Before you gift another ceramic wonder or glitzy collection of bite-sized waxy things to your teacher, babysitter or dog walker, think of giving a gift card instead. Print or decorate note cards, cut small slits on the inside to tuck in the gift card and write a personal message to add some warmth to that cold piece of much-appreciated plastic.
Personalized goody sacks
The fun part about goody bags is the surprise found inside. When you're thinking about passing out a bunch of favors at a party or in the classroom or handing out small gifts at your child's next scout meeting, you can make each goody bag unique with a personalized label on each favor bag.
Candy cane cards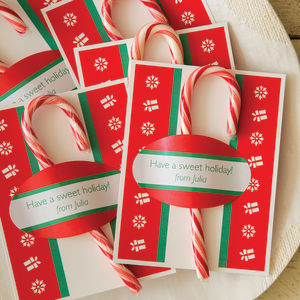 Oops. Your little one suddenly remembers it's their turn to bring treats to the classroom—by tomorrow. With no time (or energy) to bake, you can still whip up these candy cane cards in a pinch. Print holiday designs on postcards or decorate with washi tape, personalize some oval labels and fasten on top of the cane canes.
Delicious homemade goodness
Who doesn't appreciate a batch of delicious treats like homemade cookies or creamy fudge? Wrap them up in cellophane and tie them up with a bow. And for the finishing touch, attach a personalized gift tag.
Whether it's your boss or babysitter, take the time to show the people in your life that you appreciate all they do. These gifts are easy to make at the last minute without that last-minute look. And when it brings a smile to someone's face, that can be the best gift ever.