Skip the guest book and put personal well wishes from friends and family in a place where you can see—and enjoy—them each day. Personalize Avery Kraft Brown Round Labels and add party details to the edges with avery.com/print.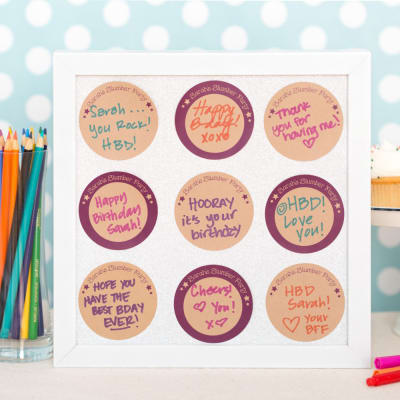 Step 1: Gather your supplies
Gather colored paper, picture frame, markers and pens, Avery Kraft Brown Round Labels (22808)
Step 2: Print customized labels
Create labels ahead of time by customizing this round label template or outlined round label template with the event name and date, or fun phrases onto the edges. Print on Avery Kraft Brown Round Labels.
Step 3: Asks guests to have fun and personalize
At the party, ask guests to write a note or draw a picture on the labels.
Step 4: Fit paper inside picture frame
Fit the colored paper to the frame as a backdrop for the labels.
Step 5: Attach labels to paper and close the frame
Arrange the labels on the paper and frame the birthday messages.