In the wake of COVID-19, effective communication is crucial for employee confidence
Since March 2020, the first priority of businesses has been responding to the crisis. Health, safety, and essential services were emphasized and the majority of office jobs were moved online for employees to work from home.
After the rollout of COVID-19 vaccines, many businesses began to reopen in full, and many state and local governments lifted mask mandates for fully vaccinated individuals. However, with new coronavirus variants circling and persistent vaccine hesitancy, the return-to-office landscape continues to shift.
Employees who are confident in their company and trust that their safety is prioritized, are essential to maintaining a healthy workforce. Both literally and figuratively. In this article we'll discuss how you can reshape business communication to be more effective at every level, boosting confidence and trust.
More resources for navigating returning to the office:
Return-to-Office 2021: Tips to Help You Organize and Execute a Solid Plan
Will Work from Home Be Permanent? The Rise of the Hybrid Office
4 Post-Pandemic Office Trends on the Radar of Business Leadership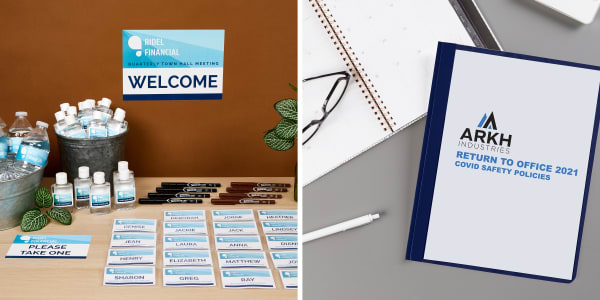 Welcome employees to your next town hall with branded details, from name badges, to customizable labels for personal hand sanitizers. Communicate COVID-19 policies and procedures with hard copies delivered in practical plastic report covers that can be wiped clean.
What is business communication?
Business communication encompasses any and all methods of relaying or sharing information between people within and outside of a company. This includes everything from letters, emails, phone calls, meetings and presentations to conferences, press releases, brochures and even social media posts.
There are four directions that information flows in business communication: 1) downward (from management), 2) upward (to management), 3) lateral (between departments and/or employees and 4) external (to those outside of the company).
The purpose of communication in a business
Effective communication in a company goes beyond daily tasks to help the organization reach goals, improve practices and reduce errors. But even more than that, effective communication plays a critical role in supporting every company's number one resource: its employees.
Lack of communication within a company has a range of negative effects that directly affect employee confidence and productivity. For example, feelings of being "out of the loop," employees bogged down in daily tasks that don't support the big picture, silo mentalities, duplicate/contradictory work and more.
A healthy flow of shared information in all directions is key for achieving effective communication in the workplace. Downward communication is especially important during times of great change and/or uncertainty in order to instill confidence in the workforce and keep the business healthy.
Effective downward communication of critical information company-wide
Information that flows through downward communication channels is often simple and highly relevant: the state of the company, acquisitions and business goals. During the pandemic, the importance of effective communication at every step of your return-to-office plan cannot be overstated.
First and foremost, clear communication regarding return-to-office plans demonstrates that the health and safety of employees is prioritized. It also helps reassure a workforce that is anxious about returning to in-person work. Effective communication methods in the downward channel include:
Town hall (virtual or in person)
Team meetings (virtual or in person)
Written policies & procedures
Office health & safety signage
Internal "news releases" via email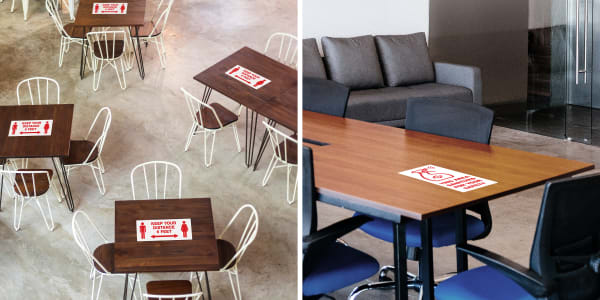 Communicate health and safety practices with preprinted removable signs for social distancing and sanitized areas. Surface Safe® removable signs and decals stick securely, can be wiped with common cleaners and leave no residue behind when removed.
How to "unblock" upward communication channels for employees
Encouraging upward communication engages and strengthens overall connections with employees. When employees are empowered to voice opinions and share concerns (and feel as though they are truly being listened to) they're more likely to engage with their work in meaningful ways.
Here are three tips to "unblock" upward communication, whether in-office or working remotely:
Stay visible, approachable, and trustworthy. In remote settings, stay active on communication channels, such as Slack® or other messaging services.
When in office, literally keep an "open door policy." Keep your office door open, use approachable body language, maintain a friendly disposition and ask employees how they're doing. Virtually, keep your inbox open. Set aside an hour daily or weekly to just answer employee emails.
Try to remember details about individual employees to add a personal touch to individual communication. Keep notes if you have to and use mental exercises to remember names.
Encourage lateral communication and building relationships
Lateral (or horizontal) communication, increases productivity, especially across teams. When communication freely (and efficiently) flows between teams and individuals, business benefits include increased problem solving, collaboration and conflict resolution.
Facilitating better lateral communication may be as simple as implementing standardized communication tools, such as project management software. However, rivalry, specialization, lack of motivation and territorial feelings are other obstacles that may halt or strain lateral communication.
While lateral communication skills can be honed by individuals, creating the right atmosphere for cross-team cooperation has to come from the top. The best top-down methods for encouraging effective cross-team communication include:
Leverage downward communication to re-enforce a unified vision that comes from the top.
Give leadership teams common goals to work towards.
Vocally and enthusiastically recommend collaboration between teams.
Hold regular leadership meetings for senior management and team leaders.
Facilitate team-building activities in upper management. Go virtual with remote team-building if needed!
Remember that external communication affects your public and internal reputation
External communication is, by definition, messaging/information sent to people outside of the organization. Advertisements, emails, promotions, social media posts, trade papers, convention booths, press releases— are just some examples of external business communication.
These types of business communication are absolutely essential to the day-to-day business of selling goods and services. It's pretty obvious that external communication directly affects your public reputation, but what does that have to do with your internal reputation?
Consider that before new employees are hired, the company's public image is all they know. If you want to attract quality candidates and retain them as valued employees, give them "a reason to believe." External communication that inspires confidence builds a good reputation from the outside in.
In a 2021 workplace study on employee expectations, 61% of Americans "agreed that companies that take action on important issues are more attractive as employers." In the same study, 49% of Americans said they would "quit their jobs if it became clear their employer's values did not align with their own."
Boost confidence with effective communication during the COVID-19 era
Gaining the confidence of employees (and the general public) is crucial in the wake of COVID-19. Using effective communication in every direction that information flows can boost employee confidence at every level.
Clear downward communication about return-to-office plans helps reassure an anxious workforce. Unobstructed upward communication keeps employees engaged and strengthens connections. Freely flowing lateral communication increases problem-solving, collaboration, and conflict resolution.
External communication does not exist in a vacuum. Unclear, inconsistent, inconsiderate, thoughtless, or problematic external communication can push quality employees away. When done well, it can attract quality new hires and strengthen the loyalty of valuable employees.
What will you take with you to reshape business communication in your office? Connect with us on LinkedIn or Facebook and share your thoughts.