Life can get busy. So when it comes to keeping organized anywhere you go, sometimes it's the little things that can make a big difference. Take the Avery Mini Binder and accessories to create the perfect portable companion to hold all your big ideas.
Coupon binder
Organize your coupons and keep these money-savers at your fingertips. Use sheet protectors or binder pockets to hold clipped coupons and mini business card holders to keep your loyalty and reward cards handy. Then use write-on dividers to sort your coupons by store, expiration date or type of product.
Personal planner
Stay on top of your family activities and events. Create personalized tabs on mini write-on dividers for each member of the family or for each activity. Store sports schedules, calendars, and other timely information.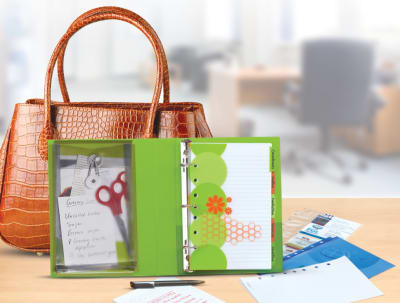 Home reference guide
The mini binder is just the right size for storing household and contact information in the kitchen, foyer or home office. From phone numbers to your utility companies, the poison center, family members and more, there's easy access to important contacts for your family members, including the babysitter.
Recipe book
Create your own book of favorite recipes for your kitchen or for a personalized gift. Use dividers to organize recipes by cuisine or course. As a gift idea, include mini sheet protectors and stock them with coupons for ingredients in the book.
Journal
For work or for personal use, with the mini binder you have a place to store all your thoughts, ideas and notes. Unlike a notebook, pages are easily added, moved or removed, so you can organize your journal any way you like.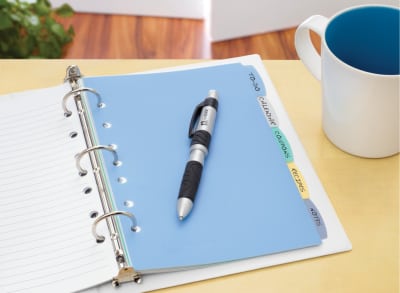 With Avery Mini Binders and accessories, you can create your own personalized system with a variety of products. Mix and match to reflect your unique personal style! Durable, stylish, and portable, they're made to fit in your backpack, purse, or briefcase so you'll be ready for whatever comes your way.