Life doesn't wait for your electronic device to power up. Sometimes the fastest way to get your ideas down is by putting pen to paper. The Avery Durable Mini Binder doesn't need electricity to work. There are no batteries to charge, no wait time to boot it up and it certainly won't crash when you're in the middle of writing down important notes. And by adding as many pages, dividers and pockets as you need, you can customize your Mini Binder your way. Here's how to put this little powerhouse to work for you.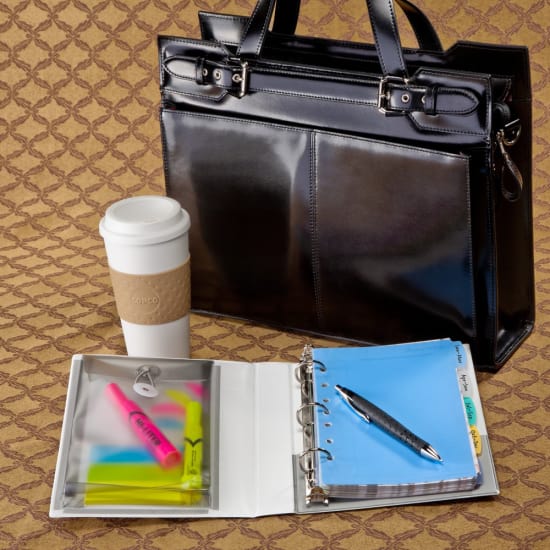 The must-have meeting tool
When you need to pare down your office essentials to travel light, or want an efficient way to stay organized as you go from one meeting to another, the Avery Mini Binder complemented with Avery Durable Write-On Mini Dividers turns into the perfect on-the-go organizer. To create customized sections with your dividers, just write directly on the tabs. Tabs can be erased and reused again and again when written with pencil or erasable ink.
The versatile school notebook
Attending classes and lectures, and taking notes are a part of going to school. Staying on top of it all is easier with the compact Avery Mini Binder. Unlike spiral notebooks that come with a set number of pages, the Mini Binder allows you to add pages and sections where you want them, so you can organize it your way. You can even include extra storage space, using Avery Mini Binder Pockets. Tuck class schedules, important reminders and notes right into these durable pockets so they're handy when you need them. These pockets won't stick to toner or ink, and are pre-punched to fit right into your Mini Binder.
The portable personal planner
With busy schedules to juggle and to-do lists to take care of, keep your life organized in the palm of your hand by turning the Avery Mini Binder into a personal planner. With Avery Index Maker® Clear Label Mini Dividers and free templates on Avery Design & Print Online, it's easy to create customized dividers so you can organize your planner your way—whether it's by month, project, family member's name, or whatever works best for you.
Capture those big ideas, look up those last-minute reminders and jot down those important messages as instantly as they strike you. When you want to keep organized wherever life takes you, you'll want to make it mini!