When shoppers visit farmers markets and craft fairs, they expect to see fresh, top-quality produce and goods. They see value in products that are thoughtfully raised or handmade, not mass produced. And they feel good about supporting small businesses whose products are locally grown and locally made.
But even when you have all these things going for you, there's still a need to give your products that extra push. Here's what you can do to make your goods stand out from the competition and find their way from the farm to your customers' tables.
Sell the freshness
How do you let customers know your products not only look good, but taste great? Give them product samples that offer a mouthwatering sneak peek of what they can expect.
Set up a clean, sanitary space to offer your samples. Make sure your display is kept fresh all day long. Refresh the ice for chilled products and shield items from the sun so they don't dry out or melt. Then place the products available for purchase conveniently close by.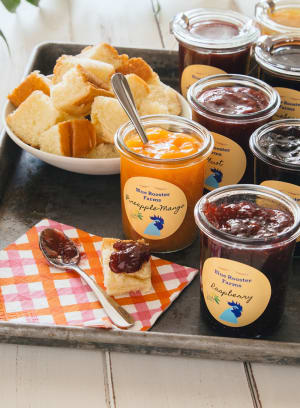 Hello, product samples. Because nobody likes to be tricked into buying fruits and vegetables that lack flavor.
Let's be clear
Clear packaging lets customers see the freshness inside.
Don't cover up your jams, baked goods and other handmade delectables in brown bags or opaque containers. Let the natural appeal of your products speak for themselves.
Another option to label the product in transparent packaging is with clear film labels. These durable labels blend in with the container surface for a printed-on look. Clear film labels are resistant to water, scratches, tears and extreme conditions, and easily wiped clean.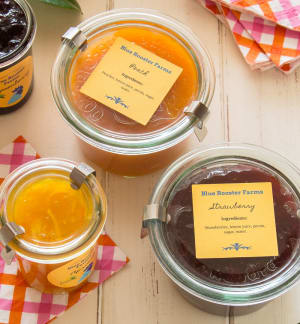 Free ingredient label templates are available on Avery Design & Print. Easy to print right from your printer—or let Avery WePrint™ professionally print for you.
Inform your customers
Use product labels to call out important features about your goods. Do you use only organic ingredients? Are they GMO- and preservative-free? Are your products made with ingredients from a local farm? Do you suggest a "use by" or "best enjoyed by" date? These factors can make a big difference to your customers when they compare products as they shop.
Mark your prices
One of the top things shoppers want to know is "how much?" Tent cards or pricing labels make it easier for them to find out—no need to hunt down the business owner to ask.
Another way to create an easier shopping experience is to call out the forms of payment you can accept. If it's cash only, let them know. But if you can also take debit or credit cards using a mobile payment system, that's a plus.
Spread the word
Be sure to have a supply of business cards available at your booth. Shoppers who don't purchase right away can pick up a card, walk the rest of the marketplace, and use it as a reminder to stop by again before they leave. And if they do buy, it doesn't hurt to pop in another business card with their purchase. Chances are, if they like your stuff they will recommend you to others.
Nice to meet you
As part of the farmers market community, you'll need to contribute to the warm, friendly vibe. Big smile not your style? Bring a tank of coffee to perk you up. Or, enlist the help of your extroverted friends. You might even think about a well-deserved reward for you to look forward to at the end of the day.
Great products get noticed, but great products combined with effective marketing tactics can steal the show. Spotlight your quality goods, stand behind your products, give your shoppers a feel-good experience, and your business will get the attention it deserves.