Returning to work after months of quarantine is monumental and it shouldn't be rushed. With a thoughtful and strategic office reopening plan in place you can help your employees return to work safely and help set minds at ease.
Anything you can do that reduces the spread of germs can make a world of difference for your employees. This article will guide you through the process of preparing your office to reopen using strategic planning and CDC-recommended practices for protecting yourself and others during the coronavirus pandemic.
Organize an office reopening planning team
Reopening during a pandemic is new territory for everyone. Choices made now can have serious repercussions so it's important to consult experts whenever possible and take many viewpoints into consideration.
Your office reopening task force should include company leaders from key departments such as legal, human resources, information technology, operations and health & safety. Representatives from employee constituent groups are also great to include to make sure employee concerns are addressed.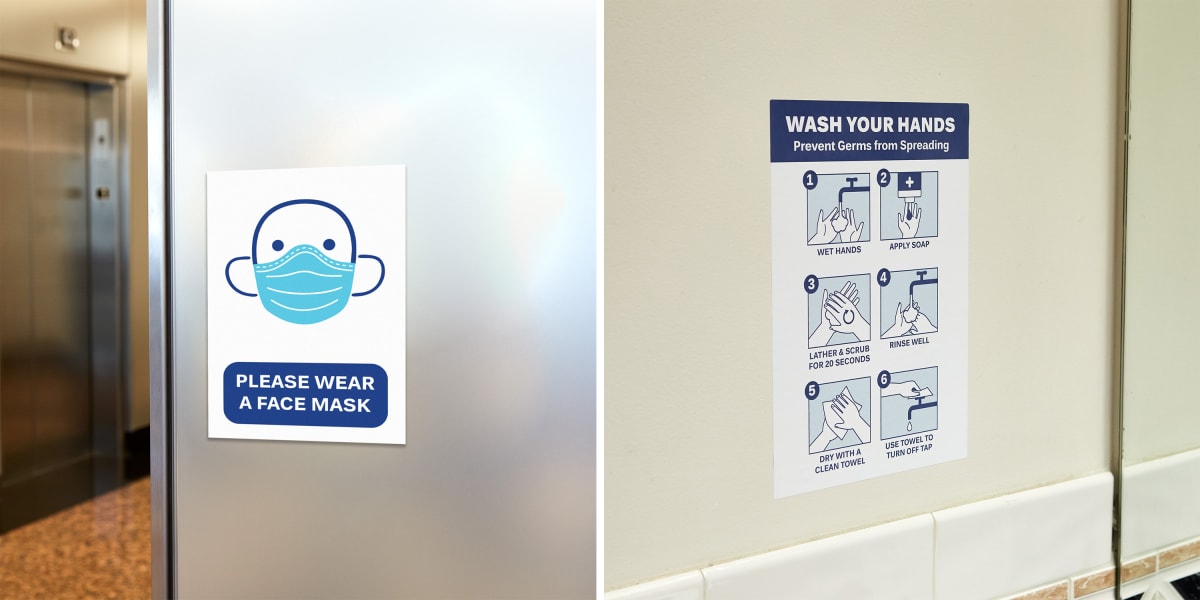 The main goal should be to prevent the spread of germs as much as possible using these simple practices from the CDC:
Wash hands often
Avoid close contact
Cover mouth and nose around others
Cover coughs and sneezes
Clean and disinfect
Monitor health
As a group, it's important to make sure that CDC and OSHA guidelines are properly understood, considered, and followed as well as state and county guidelines. Many states are providing office reopening guidelines and resources online, including California, New York and Texas.
Create the right office reopening plan for your situation
Every office is different and how you reopen your office can vary depending on your location, the size of your team, local requirements, nature of your work and other factors unique to your business. As you create your office reopening plan, it's important to consider both how and where employees work.
Here is a short list of questions your office reopening team can work through considering the physical environment (where) people work:
Are individual workstations 6 feet apart? If not, how will you ensure adequate space between people?
How many people can safely gather in shared spaces? You may need to limit seating and introduce maximum capacity rules to ensure social distancing is possible in conference rooms, break rooms, bathrooms and other communal areas.
Are there workstations or equipment shared by multiple people? It may be necessary to create a rotation schedule that accommodates such equipment and workstations to be cleaned each time a new person uses them.
As a team, consider these questions about how people work and how that may need to change when the office reopens:
How do people arrive to work? People who use public transport or other communal travel (for example rideshare services) often have a higher exposure risk. If your company provides carpooling vans, consider staggering pick up times or increasing vehicles to reduce the number of passengers.
Does everyone arrive to work at about the same time? This can lead to crowding at entrances, elevators, time clocks, break rooms and other communal areas such as coffee bars. You may need to stagger schedules.
What will you do if someone shows symptoms or contracts COVID-19? Will you be screening all who enter your building? Do you have a return-to-work policy prepared if a sick worker must go home? This CDC guide can help with many more tough questions about reopening.
How will you communicate new changes? You may consider conducting an online orientation before reopening the office. You should also use visual cues to communicate new office reopening protocols and coronavirus safety.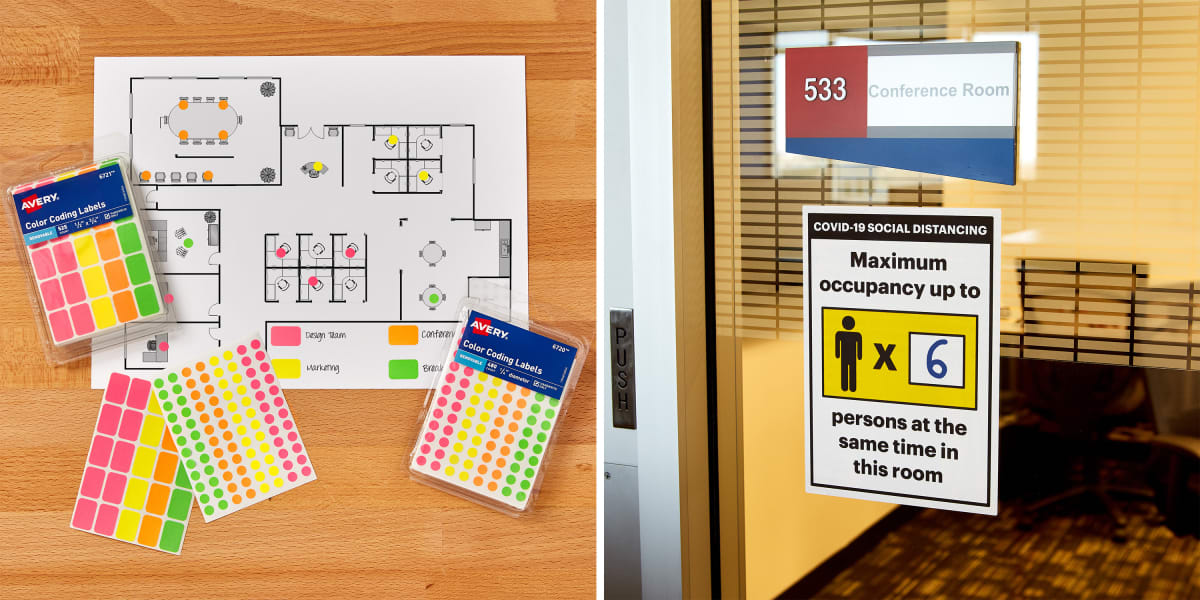 Plan and color code your seating chart using Avery 6721 & Avery 6720 to help employees avoid close contact. Max capacity templates for signs can help you plan and communicate physical changes to your office space when it reopens.
Execute your plan before employees return
Physical changes to the workplace will need to be made before employees return. This can include using a seating chart to plan a layout that creates more space between people, removing/reconfiguring seating in communal areas and thoroughly cleaning the empty office.
Create more space between people. Reconfigure desks and workstations to be 6 feet apart (in all directions) wherever possible. Another option could be leaving empty desks between people.
If creating more space is not an option, you may consider adding clear acrylic dividers, or other types of impermeable barriers to help prevent germs from spreading.
Reconfigure communal areas. Conduct a physical assessment of conference rooms, bathrooms and other shared spaces like a kitchen, break room or coffee bar. Determine how many people can be in those places while maintaining a safe social distance in all directions.
Remove extra tables and chairs from the rooms if possible. If not, be sure to post signs on entrance doors defining maximum capacity and use visual cues such as floor decals and table signs to show people where they can sit or stand while maintaining 6 feet distance.
Clean the empty office. Before anyone returns to work, thoroughly clean the empty office using CDC recommended cleaning and disinfection methods. Pay close attention to high-touch surfaces like door handles, light switches, elevator buttons, sinks, microwaves, etc.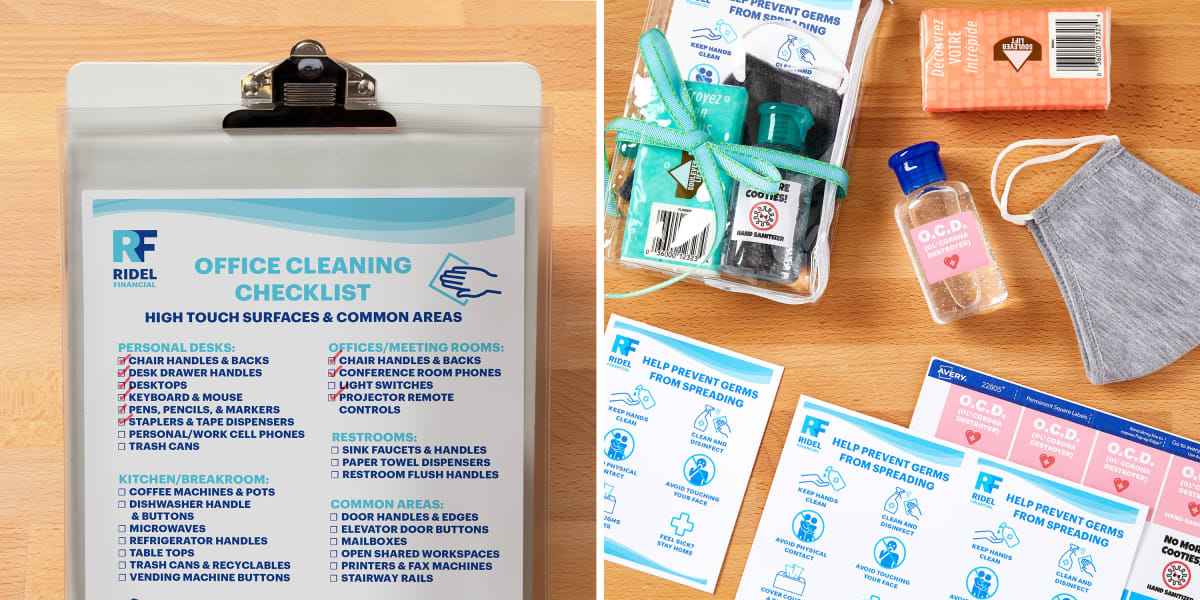 Clever uses of office supplies for coronavirus safety include: job ticket holders (Avery 75009) to cover cleaning checklists, Trueblock® labels (22805) or waterproof labels (64503) on disinfectant products and printable postcards like Avery 5689 to create your own hygiene kits for office employees.
Communicate new procedures to returning employees
Changing how people work is all about effective communication so that employees (and visitors) know exactly what is expected of them. Clearly communicating new procedures and protocols makes it easier for everyone to quickly adjust to the "new normal" when your office reopens.
Guide people safely through the office. Use self-adhesive wall signs and floor decals at entrances (and elevators) to inform people about screening/temperature check stations, face mask requirements and social distancing practices.
Encourage increased hygiene. Individual hygiene kits are a charming way to welcome people back while also encouraging practices that reduce the spread of germs.
Also post plenty of germ-prevention safety signage including handwashing techniques, coughing and sneezing etiquette and reminders to use hand sanitizer and disinfectant wipes when dealing with frequently-touched surfaces.
Establish rules for sharing equipment. Discourage sharing equipment and supplies and establish "clean" and "dirty" sorting procedures for supplies in shared areas.
Personal belongings should be kept separate from other office supplies and marked with durable waterproof labels that can be wiped down and disinfected.
Keep track of cleaning. Stay vigilant to keep your team safe when the office reopens. Use an office cleaning checklist to quickly see what cleaning has been done at a glance so it's easier to keep track of what needs to be done.
Maintain and improve your office reopening protocols
Organizing your office reopening team, creating a plan, executing it before employees return and communicating office reopening protocols to returning employees is an excellent start. To keep your office running as safely and smoothly as possible after reopening, it's all about maintenance.
It will be normal to evolve your plan over time as your office reopening team reports back on updates to CDC, OSHA and state and local guidelines. The team should also lead regular evaluations to identify what's working, what isn't and how to improve protocols.
Preparation will be key for helping your employees return to work safely when the office reopens, and as we all move forward. Find more office supplies for coronavirus safety that can help you effectively communicate office reopening protocols.
Products Featured in this Article
7″ x 10″ Wall Decals (61516/94263)
1/2″ x 3/4″ Rectangle Color-Coding Labels (6721)
1/4″ Dot Color Coding Labels (6720)
3-1/2″ x 11″ Tent Cards (5309)
9″ x 12″ Job Ticket Holders (75009)
1-1/2″ x 1-1/2″ Trueblock® Square Label (22805/94106)
2" x 2" Waterproof Square Label (64503 / 94107)
5-1/2″ x 8-1/2″ Trueblock Labels (18126/94229)
4-1/4″ x 5-1/2″ Printable Postcards (5689)
1-1/2″ x 1-1/2″ Waterproof Labels by the Sheet (94106)
8" Social Distancing Wait Here Floor Decals
Additional Templates Featured in this Article
If You Use It Wipe It Disinfectant Label
No More Cooties Hand Sanitizer Label
Ol' Corona Destroyer Hand Sanitizer Label
Germ-Prevention Tips Postcard