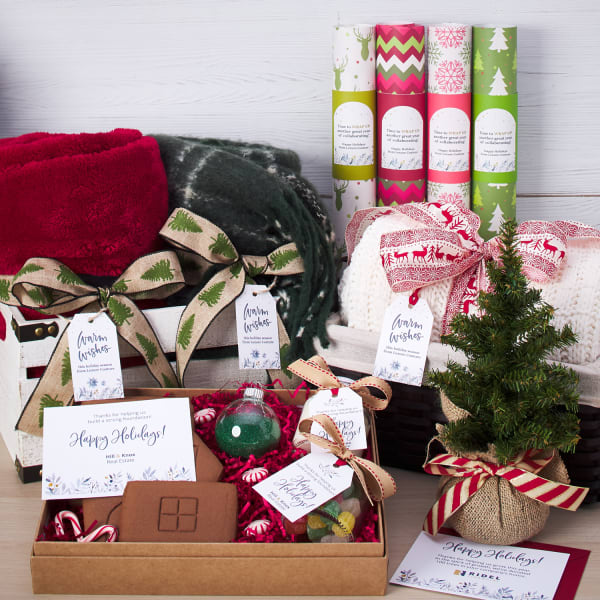 When you take the time to thank clients for their business you're investing in building a long-lasting relationship. Just like gifting with friends and family, when it comes to the best customer appreciation gifts it's the thought that counts.
Follow the tips below to develop a more effective corporate gifting strategy with thoughtful gifts your clients will love to receive. Create personalized corporate gifts that will make your clients feel special (and build customer loyalty) with free professionally designed templates and our user-friendly online design software.
Add a sweet message to gifts with Avery 8387 postcards
Strategy #1: Send your clients a fun gift they'll remember
Engaging in a fun activity creates positive memories and a sense of accomplishment that clients will link to your brand. Try shaking things up with a fun, hands-on customer appreciation gift idea that symbolizes a message reinforcing your business relationship.
For example, send a postcard thanking your client for helping you build a strong foundation along with a kit for building a gingerbread house. Coloring book kits filled with sophisticated art prints, simple crafts and build-your-own hot cocoa kits are also great ideas for customer appreciation gifts that get your clients involved.
Create a personalized message to go along with your hands-on customer appreciation gift using the free postcard template pictured above. You can modify the design with custom text, graphics, logos and more using our free Avery Design & Print Online (ADPO) design tools.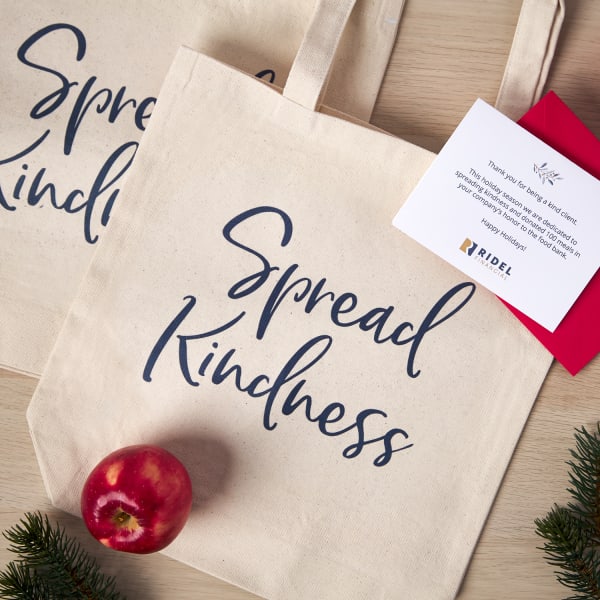 Tote bags are always great client appreciation gifts, use Avery 8938 printable transfers
Strategy #2: Make your customer appreciation gifts useful
Incorporating useful client appreciation gift ideas into your corporate gifting strategically places your business in your clients' day to day lives. Items that can be used daily, or at least regularly, keeps you fresh in your clients' minds.
Tote bags are the ultimate all-star client appreciation gifts when it comes to usefulness. Everyone needs them and they get re-used over and over. With printable fabric transfers, there's no limit to what you can do with inexpensive tote bags.
Use our free spread kindness template as-is, modify with your own holiday message, even add your company logo. Top off your tote bag with customer appreciation gift cards or a donation note if you've made a charitable contribution on behalf of your client.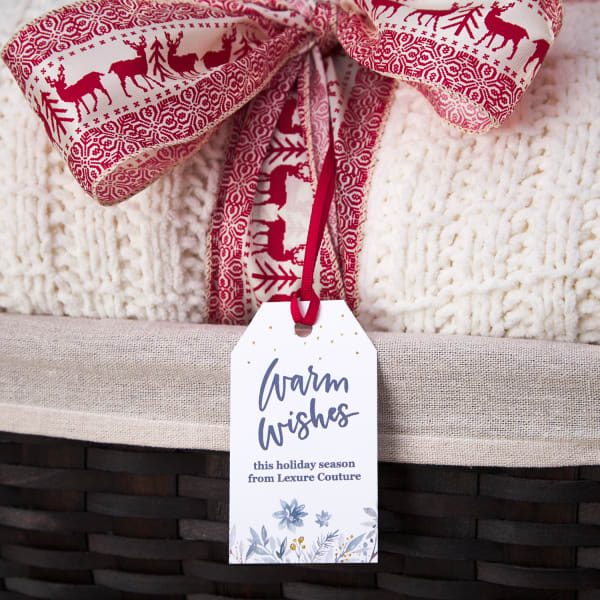 Add customized tags to client appreciation gifts with Avery 22802
Turn a cozy blanket into a useful & unique client gift
Wish your clients warm season greetings with a cozy blanket gift perfect for chilly winter nights. This simple gesture encourages your customers to literally associate warm and fuzzy feelings with your business.
Use our free warm wishes printable tag template to create a branded tag for a cozy customer appreciation gift idea.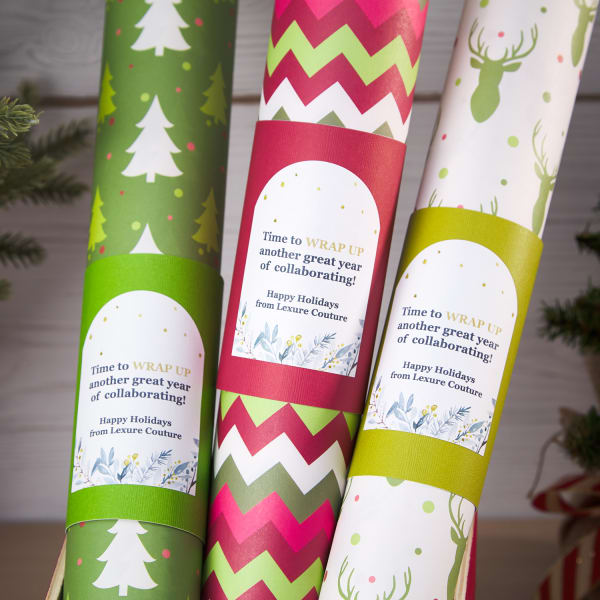 Create unique customer appreciation gift labels with Avery 22809 arched labels
Alt text: red and green holiday print wrapping paper with custom arched labels for unique customer appreciation gift ideas
Gift the one thing everyone runs out of…
How many times have you run out of wrapping paper at the last minute? Thank your clients for helping you wrap up another great year with charming wrapping paper.
It may seem simple, but your clients will be grateful for such a thoughtful customer appreciation gift when they're spared an extra wrapping paper run during the countdown to Christmas!
Choose coordinating holiday prints to turn two or three rolls of wrapping paper into a cute (and useful) client appreciation gift. Use matching decorative paper to wrap around each tube and finish off with an elegant label using our arched label template.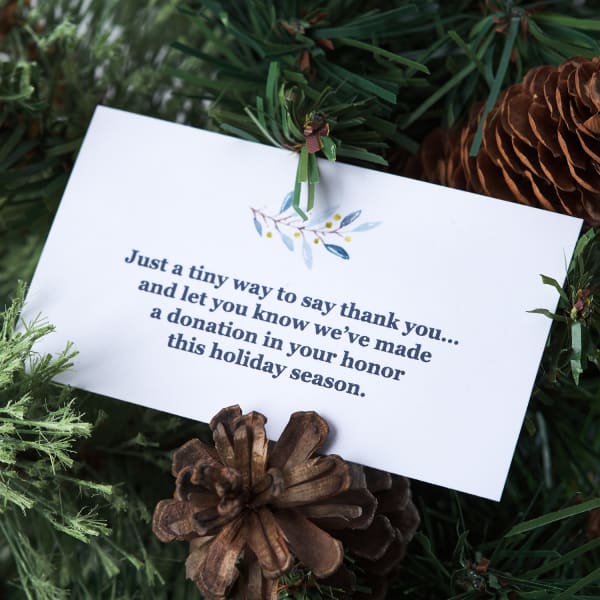 Create donation messages using Avery 28878 business cards
Strategy #3: Make a charitable donation on behalf of your client
Donation gifting is an all-around good thing and an amazing strategy to use when it comes to customer appreciation gifts. Donations not only help people and communities in need, but generosity also triggers an endorphin release creating a rush of happy feelings.
Customer appreciation gifts that inspire empathy for others' needs helps your clients feel good too. When your clients think of your business relationship they'll be reminded about the positive effects you've made together.
Create chic donation message cards using the same printable business cards you use year-round and a simple elegant holiday template.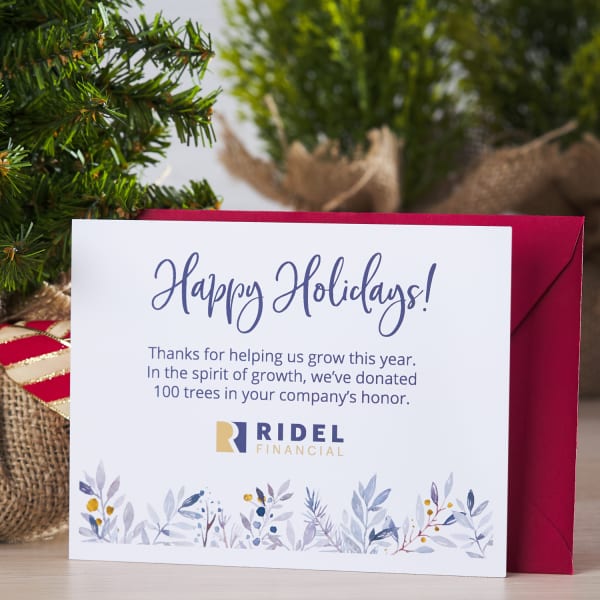 Send a professional, chic donation message using Avery 8387 postcards
3 most unique customer appreciation donation gifts
Donate a trees. One of the most unique client thank-you gift ideas is planting trees in their honor. This a beautiful customer appreciation gift with symbolic meaning that will be memorable for your client— and it helps the environment. It's a win-win.
Send a branded card thanking them for helping you grow and letting them know you've donated trees in their name. Use the holiday postcard template above and our free ADPO design tools to customize with your own logo and holiday message.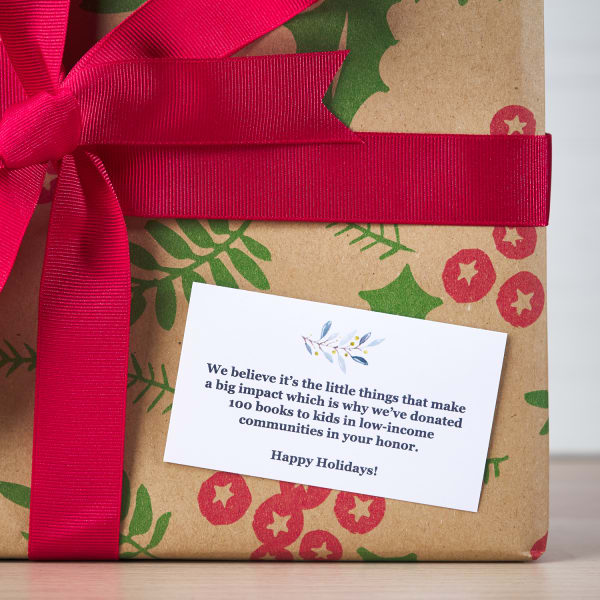 Create personalized donation messages with Avery 28878 business cards
Send a book, give a book. Help your clients connect your business to positive feelings and also keep your business fresh in their mind. Send a physical customer appreciation gift with a coordinating donation gift.
Choose a book to send to your client that would be meaningful to them. It could be a beautiful photo book of the city where they're located or a historical book about their industry. Or if you want it to be more about marketing, you can send a book about your business.
Include a donation message card with your customer appreciation gift. Be specific letting them know when and where you've donated books in their honor.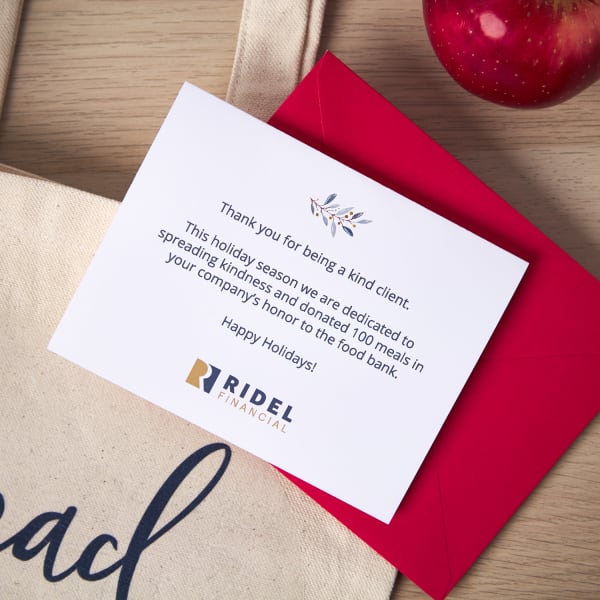 Customer appreciation donation message created with Avery 5315 note card
Donate meals to people in need. Donating meals in your clients' name is a great customer appreciation gift that benefits the whole community. This is another fantastic donation gift that can be combined with a practical item, like a tote bag, to keep your brand in your clients' thoughts.
Use our ADPO software to create your own custom holiday note cards with personalized donation messages. Choose the blank template for your note card product and customize with graphic elements from our gallery, custom text, colors and your logo.
More tools to help you achieve your customer appreciation gift ideas
Let us give you a break during your busy holiday schedule. Get more customer appreciation gifting (and everything else on your to-do list) done. Take advantage of our custom printing services, versatile office products and flexible order quantities that are ideal for keeping your business running smoothly.
With Avery WePrint™ you design cards and labels for branded corporate gifts online and we take care of the rest. You receive professionally printed materials with beautiful crisp, clear, vibrant images. There's no set up fees, low minimums and free shipping on orders over fifty dollars.
You've seen many of the same easy-to-use trusted office products you already love highlighted in this article. With an incredible selection of versatile high-quality office products and our free online design tools you can personalize customer appreciation gifts today… and expertly execute other projects all year long.
Discover the benefits of ordering blank labels by the sheet. Order as many or as little sheets as you need to complete your customized corporate gifts and stay on budget. Or stock up on the labels your office relies on daily with bulk buying options.
Products Used in This Article
4-1/4″ x 5-1/2″ Postcards (8387)
8-1/2″ x 11″ T-Shirt Transfers (8938)
2″ x 3-1/2″ Printable Tags (22802)
2-1/4″ x 3″ Arched Labels (22809)
2″ x 3-1/2″ Business Cards (28878)
4-1/4″ x 5-1/2″ Note Cards (5315)