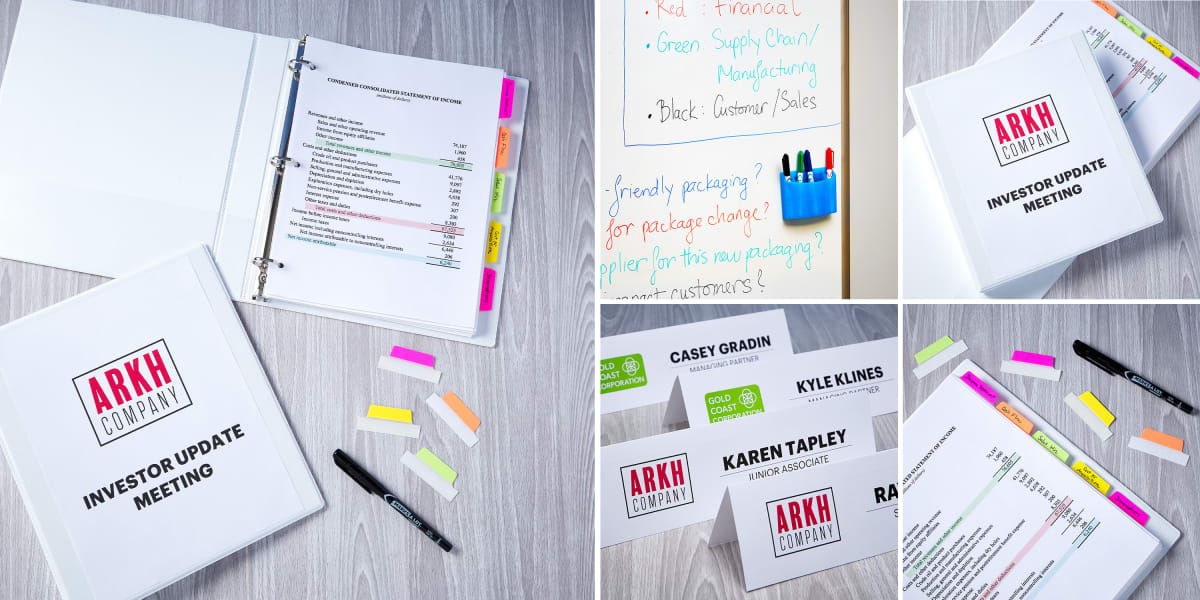 Whether it's our tent cards, binders or dry erase markers, Avery products have been in meeting rooms for decades.
Meetings. If you work in an office that word will immediately elicit a reaction. According to an article on the science and fiction of meetings in the MIT Sloan Management Review, the average employee spends about 6 hours per week in scheduled meetings with some senior managers attending nearly 23 hours of meetings a week. Unsurprisingly, their research also discovered that half of the employees they surveyed tended to complain to their peers about having to go to meetings. After all, how are you expected to get anything done when you're in meetings all day?
However, they also found that the same group of people who admitted to complaining about meetings also confessed that they found the right meetings to be effective and productive. So although meetings get a bad rap, people do appreciate good meetings that get things done. And since both our products and our team have been in meeting rooms for decades, we wanted to give you some tips on how to get the most out of your meetings.
Make sure if a meeting is even necessary
Thinking about setting up a meeting? Then the first question you should ask yourself is "Could this just be handled outside of a meeting?" The benefit of a meeting is that it provides an opportunity for people to connect face to face for situations when a problem can't be solved through messaging apps, emails or an informational conversation.
A psychological study about the science of workplace meetings suggests that meetings should involve problem solving, decision making or substantive discussion. If you just want to meet to share non-urgent information or routine details then you might want to consider drafting an email instead.
Also, make sure that everyone you're inviting is required for that meeting. Every person that is being included should be able to provide some input or find something valuable in what you have to present. The last thing you want is for someone to walk away from your meeting feeling like they're time could've been better spent at their desk.
Keep your meeting simple and direct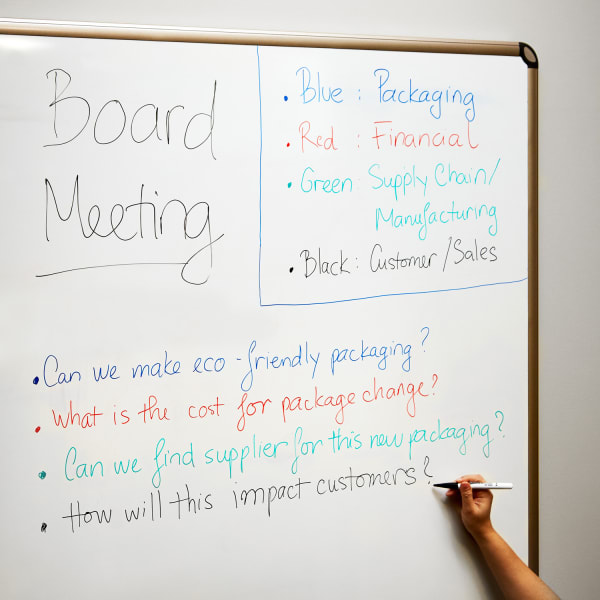 Once you know that a meeting is needed, make sure to plan a meeting agenda and a clear focus so that you can communicate exactly what you're looking to achieve.
Drawings and charts are also a great way to help out people who are better at absorbing information visually. Marks-A-Lot® markers, flipcharts and whiteboards are staples in meeting rooms for a reason and make it easy to illustrate your thought process in the moment.
Organize your information and be prepared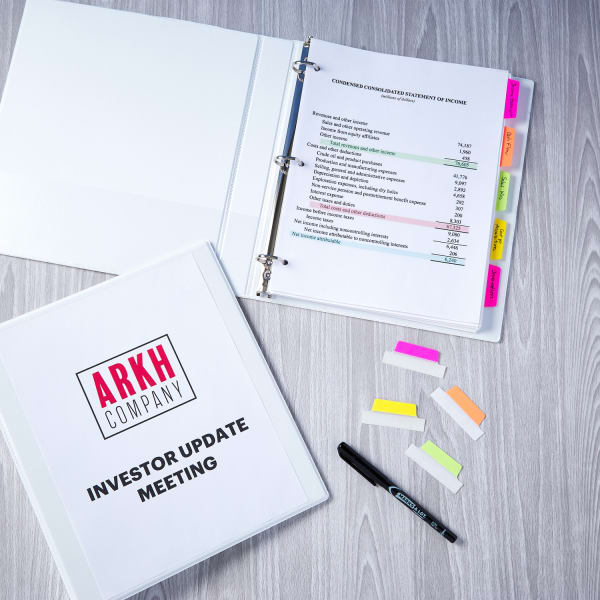 Get your point across with Marks-A-Lot® dry erase and permanent markers.
Once you're in the meeting room and the conversation gets started it can be easy for some of your points to slip your mind. Make sure that you organize your thoughts and provide your attendees with all of the relevant facts they need so that everyone walks away with the key pieces of information you need them to know.
It also helps with keeping control of the conversation during the meeting to make sure your points get through. If the meeting veers off course, try to intervene and bring it back on track before the purpose of your discussion gets lost in the banter.
Repositionable and colorful, Ultra Tabs® and binders are versatile supplies that work in any office.
Meetings can be fun
Productivity is the goal of every meeting but that doesn't mean you can't keep things light. Genuinely sharing a laugh is a quick way to connect with people and build trust. According to Mroz and others, humor can encourage participation, creativity and other positive behaviors that are conducive to problem solving.
Remember that the value of a meeting is that it gives everyone an opportunity to connect face to face. While the main goal should be to achieve the best results for the business, it's also a great time to build relationships as well. Oftentimes those connections will be far more valuable in the long run.
Remember to provide meeting minutes afterwards
The proper follow-up is crucial to making sure that everyone walked out of the meeting room on the same page. Sending out meeting minutes or a brief recap with next steps helps make sure all of the decisions are captured. This also gives you a chance to precisely state the expected action items along with who is on point for each.
Meeting minutes also serve as an archive of the discussion that can be referenced in the future. Even if everyone is diligently taking notes, those notes can get lost over time and having an easily searchable record of the meeting's events can be pivotal for future decisions.
This is also a good time to reflect on how your meeting went and take notes on how you can approach your next meeting differently. If your meetings become more effective then people will be more eager to attend and they will start paying closer attention to you.