Learn How to Create a Homeschool Schedule that Works for Your Family
Last spring many people found themselves dropped into the world of homeschooling due to major world events and it can be a daunting task trying to be an on-call parent, teacher and worker at the same time. This is especially tough while also working from home and practicing safe social distancing.
Humans are social creatures, but we're resilient and adaptable as well. There are quite a few parents at Avery and we have all been discovering and sharing ways to help our homebound kids. Here are a couple tips we have learned to help organize your own homeschool schedule.
Review the Homeschooling Curriculum from Their School
As we all prepare to head back to school in the fall, your kids will likely be receiving updates from their school about homeschool curriculum for distance learning and/or hybrid schedules to avoid crowding. Make sure you have received and reviewed all updates to ensure your kids are not skipping a step.
You should also try to brush up on what they will be learning in the fall so that you can field the occasional question. Although they may still be able to communicate with their teachers online, having someone there with them will help keep the topic interesting and the material fresh.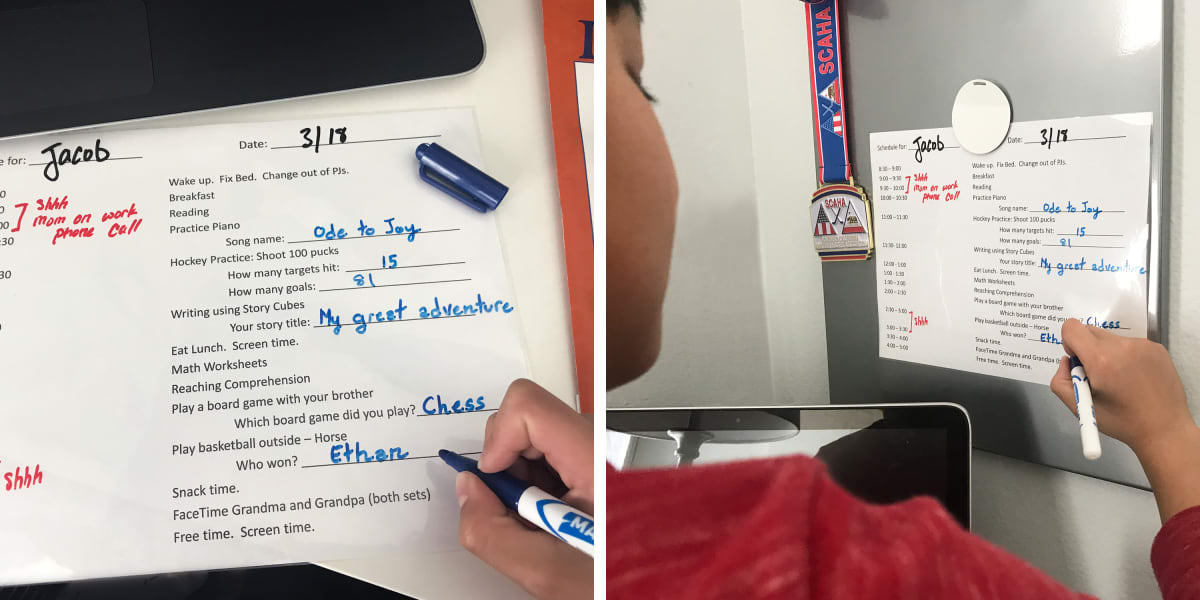 Chart Out a Homeschooling Schedule
You probably started out sticking to a typical school schedule as much as possible. Your kids were already comfortable with this routine and keeping a sense of structure helped to make things feel more stable.
However, you also have the benefit of homeschooling for a few months now. Take time to review what worked and what didn't so you can adjust accordingly. Involve your kids in the review so they can have a say in the process. They likely have a few ideas on how to improve their school time and this is a great chance to hear them out.
When you have your homeschooling schedule ready, make sure to print it out and place it somewhere that's easy for everyone to see. Our team created this helpful homeschool schedule template that you can print at home and use with sheet protectors and dry erase markers.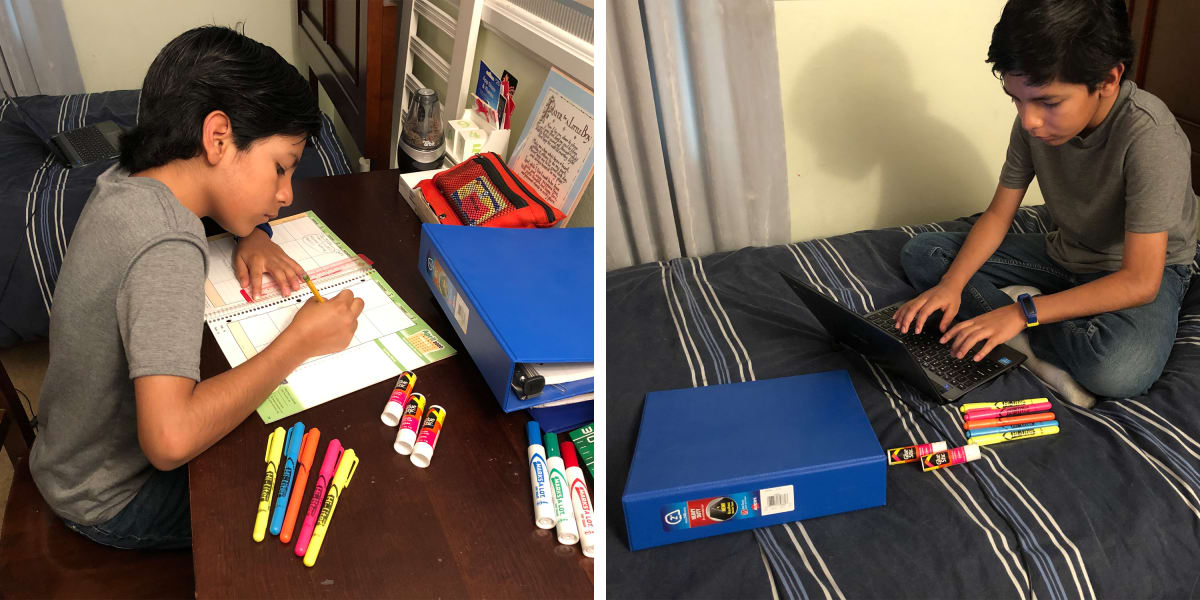 Designate a Study Area for Homeschooling
For many kids, home is the place where they relax after a long day at school. Even after a few months of learning at home, it may still be difficult for them to focus on learning when their bedroom and tablet is just a minute away.
If you haven't already, designate a section of your home to be your kids' new "school." You can help them get into the right mindset (and keep them from wandering into your conference calls). For older students, you may find tailoring your homeschooling space to their learning preferences can even help them study better at home.
An entire room for homeschooling is ideal, but the new study area can be a kitchen table, a corner of the living room or a coffee table too. Just make sure that they're not kept in their bedrooms all day if you can. We all need a place to unwind at the end of the day and it's important that they still have their own space.
Balance Homeschool with Exercise
Although going to parks and playing sports might be off the table, there are still plenty of ways for your kids to stay fit while staying in place. Jumping jacks, push-ups, curl-ups and squats are perfect to do in one spot. Balancing and stretching exercises like toe touches, planks, ankle holds and more are also fantastic.
This can also be a great family bonding opportunity when everyone in the house can have "recess" at the same time. You can also rotate the "coach" duties daily and let your kids enjoy creating workout schedules for the whole family to keep exercise interesting.
Give Them Time to Socialize (from a Distance)
Some of the most important socializing happens when you're a kid. Education and fitness are crucial while homeschooling, but it will also be important to find ways for your children to keep in touch with their friends.
Phone calls, video chats and games are excellent ways for kids to connect with their friends. Although they know that they can talk to you, kids also need peers that they can vent to and share experiences with. It's more important than ever that they don't feel like they're alone.
Listen to Their Feedback and Adapt
Be gentle with yourself. You probably won't be able to think of every possibility on your first pass (or even second pass) but you're better prepared now than you were during quarantine. Be open to the idea that your homeschooling schedule will need to be tweaked and patched here and there over time.
It's important that you lay down the rules and let them know that you expect them to study, but it's also just as important to listen and adapt your strategy. Ask your kids how things are going and make sure they know that you hear them when they're frustrated.
It can help kids to know that even grown-ups don't always have all of the answers and get everything right all the time. What's important is that we try our best, communicate honestly and remember to look out for one another.
A helpful list of homeschooling resources from the parents of Avery:
Amazing Education Resources: A comprehensive list of topics and resources for all age groups.
Cosmic Kids Yoga: YouTube channel for kids that helps teach yoga, mindfulness and relaxation.
FitOn: An app for free workouts that are tailored for you.
Scribd: Offers eBooks, audiobooks, magazines and more for free for 30 days.
Top 5 Free Mindfulness Apps: An article by PureGym on apps for improving mindfulness and mental health.
Editor's note: This article was updated July, 2020.
Products featured in this article:
Self-Adhesive Laminating Sheets, 9″ x 12″ (73601)
Marks-A-Lot® Pen-Style Dry Erase Markers (24481)
Hi Liter® Pack, Assorted Colors (23545)
Glue Stic® 2-pack (00171)
Blue Heavy-Duty Binder, 3″ (79883)