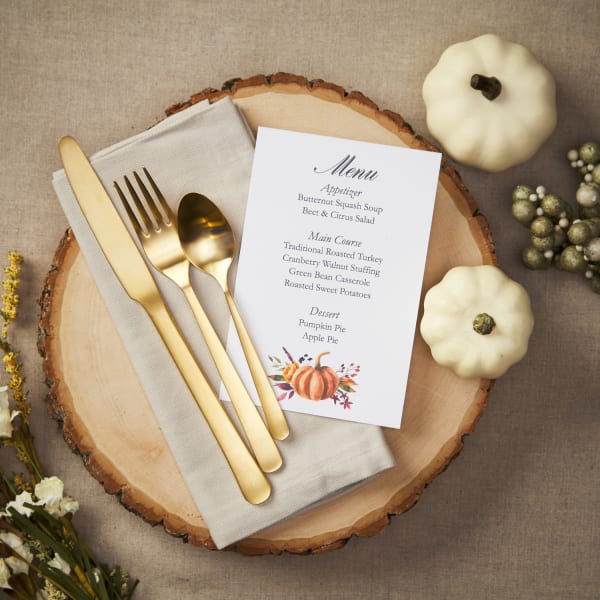 Ready to host your best Thanksgiving? Everyone will be looking forward to the delicious food but you can also garnish your table with menus, tent cards and conversation starters to give your event even more style and appeal. Whether you're hosting a Thanksgiving dinner or a Friendsgiving potluck at home or the office, these easy and creative designs will let you add just the right dash of flavor to any party.
Thanksgiving Menu Cards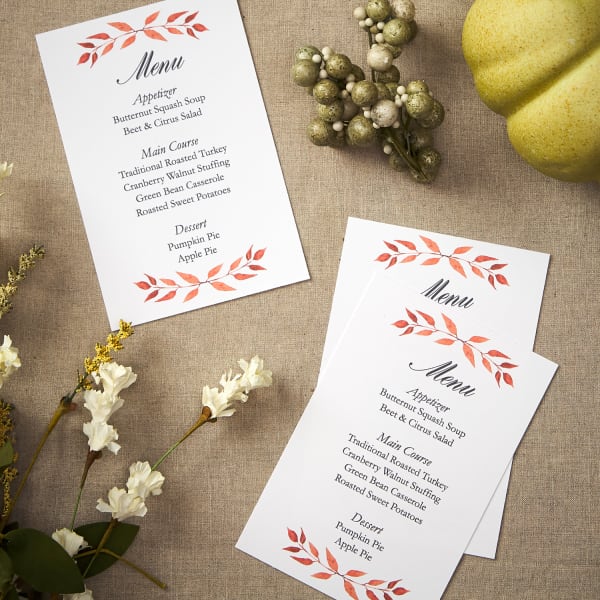 Print your own menus with double-sided postcards (8386)
Organize your buffet offerings onto a menu to give everyone an easy way to check out what you are serving. This customizable template makes it easy to add in your own courses and print more copies on demand. 4″ x 6″ cards are also a versatile material to create your very own thank you cards.
Click here for the Thanksgiving menu card template.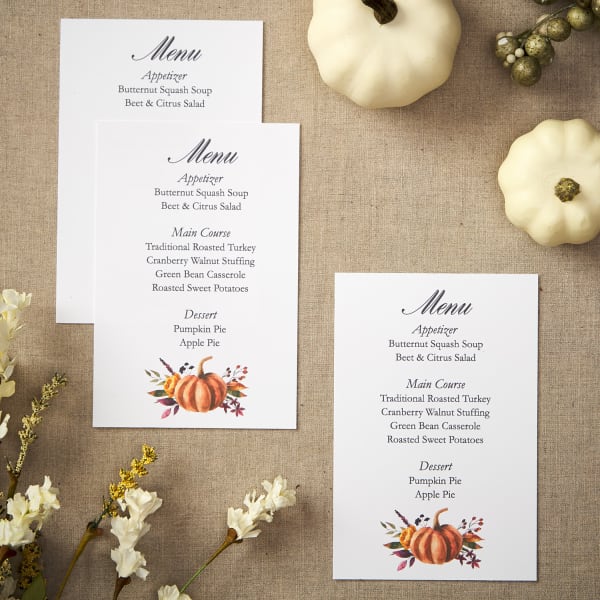 For a little variety, we also have a festive pumpkin design as well. Begin your projects with one of our new fall designs or browse through all of our previous holiday designs in Design & Print Online. You can also upload your own images and illustrations to make your menu completely unique.
Click here for the pumpkin design menu card template.
Thanksgiving Tent Cards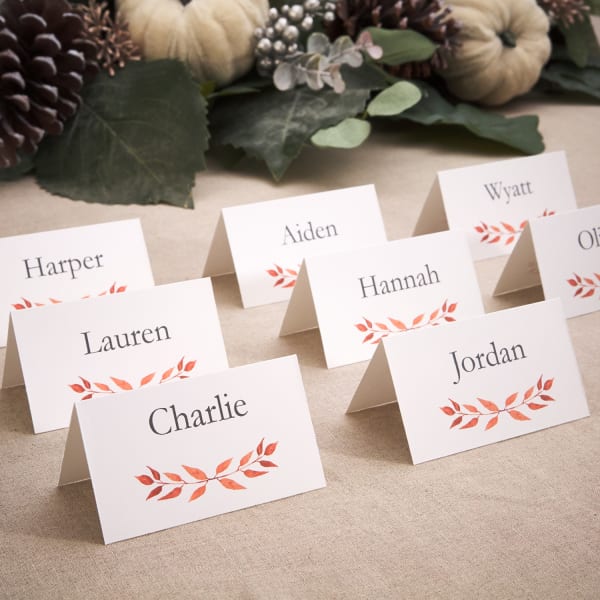 Coordinate seating with customizable tent cards (5302)
Having a preplanned seating arrangement can help avoid a world of confusion as your guests look for a place to sit. Tent cards are a classy way to guide your guests to designated spots while also adding to your thanksgiving decorations.
Click here for the Thanksgiving tent card template.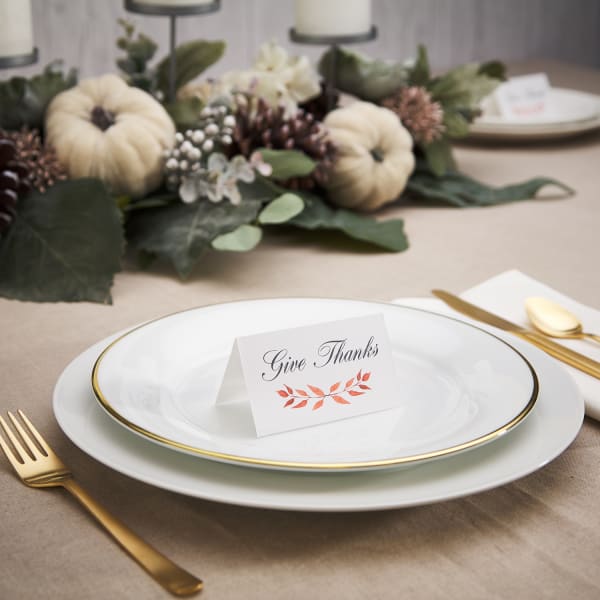 You can also start the festivities on the right note by personalizing this template with your own positive Thanksgiving message at every table setting. Your tent cards can read "Give Thanks" or you can add in your own favorite seasonal quotes to set the mood of gratitude.
Thanksgiving Games and Activities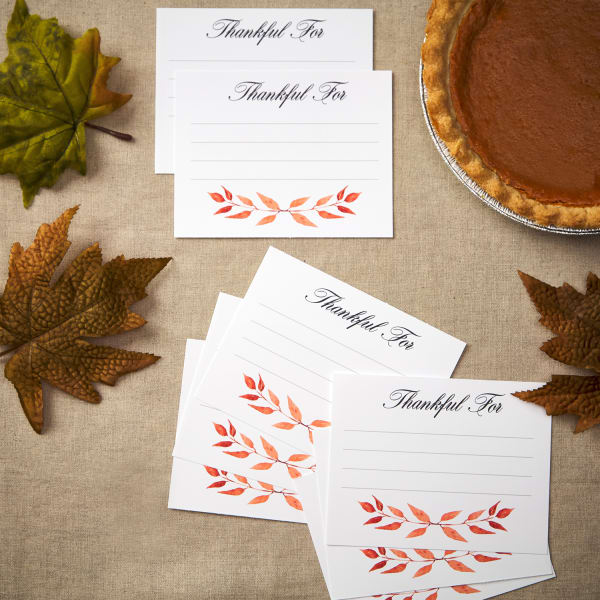 Create your own "Thankful" cards with postcards (8387)
Keep the celebratory mood going with some fun activities and games. Postcards and business cards are endlessly useful for creating your own custom party games. Even once Thanksgiving is over, you can use the blank cards to create other holiday games, thank you cards, recipe cards and more.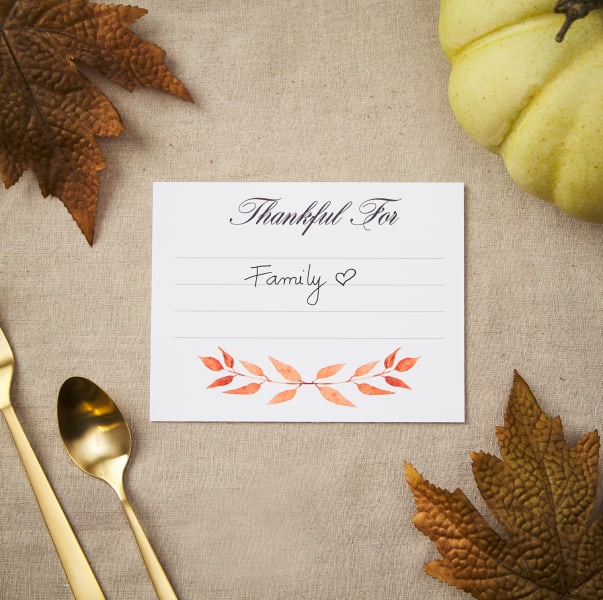 Although food is the first thing that comes to mind, Thanksgiving is also the time to reflect on the year and share what you are grateful for. Pass out cards for everyone to write down what they are thankful for and go around the room to give everyone a chance to share their responses.
Click here for the "Thankful for" card template.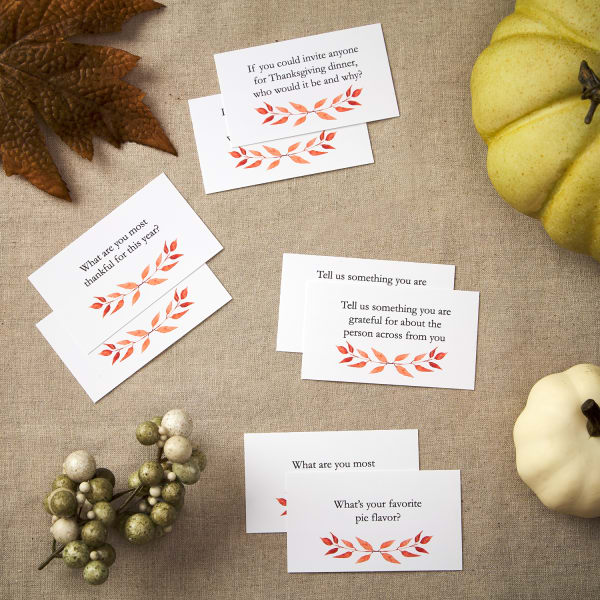 Whip up your own Thanksgiving card games with business cards (5871)
Icebreaker questions are an excellent way to preheat your party and warm up the guests. Ask some fun questions about the season like what they are thankful for or their favorite pie flavor. The mail merge feature in Design & Print Online makes it easy to import questions from a spreadsheet and automatically fill out each card. We also have a helpful video on how to use mail merge if you would like to learn more.
Thanksgiving Recipe Cards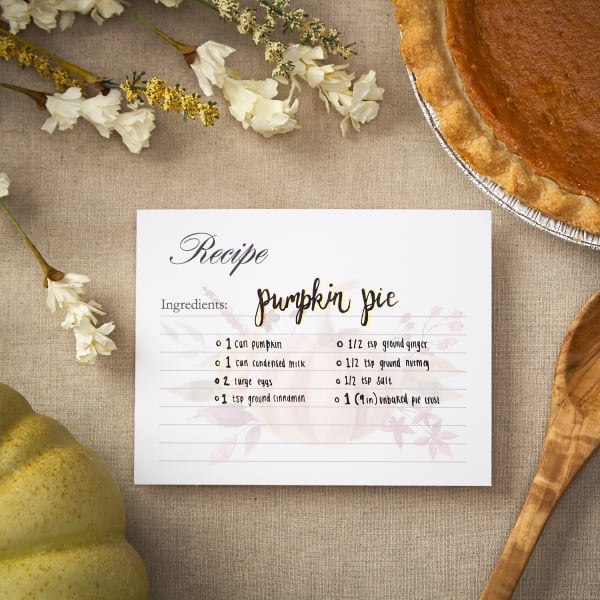 Cook up your own recipe cards using postcards (8387)
Thanksgiving is also the season to let your inner gourmet shine. Recipe cards are handy to have around in case people absolutely have to have the recipe for one of your dishes. It's also fun for guests to talk about and trade their own delectable family recipes.
Click here for the Thanksgiving recipe card template.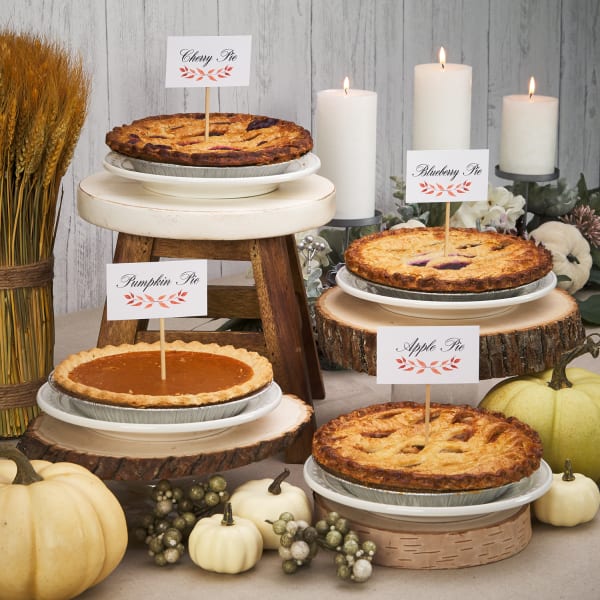 Craft eye-catching pie tags with Clean Edge® business cards (5871)
Now it's time to talk about everyone's favorite subject: pie. Wind down the night on a sweet note with a delicious pie bar. You can easily create your own custom pie tags with business cards attached to craft sticks or skewers.
Click here for the Thanksgiving pie tag template.
Don't have the time to print all of these cards yourself? No worries, you can also use our WePrint printing service to have our expert team print and ship these cards for you. We also have blank labels in custom sizes and quantities for all of your invitations, party favors, gifts and more.
Products used in this article:
4″ x 6″ Postcards (8386)
2″ x 3-1/2″ Tent Cards (5302)
4-1/4″ x 5-1/2″ Postcards (8387)