Learn how to maximize your home office in any size space
For many of us, working from home was a sudden seismic shift. If you've just been making do with what you have, carving out a space here and there to get the job done, you're not alone. However, now it's time to start thinking about how to make your workspace work for you.
There are two important reasons to maximize your home office space for productivity if you haven't already:
Although researchers are making great strides towards a coronavirus vaccine, CDC vaccine plans note that it could take through 2021 to vaccinate all U.S. adults, and there is not yet a vaccine for children.
No matter how much (or how little) space you have to dedicate to a home office, it should also be a happy workspace. This article will show you how to create an energizing, productive home office space to help you reach your goals while working remotely.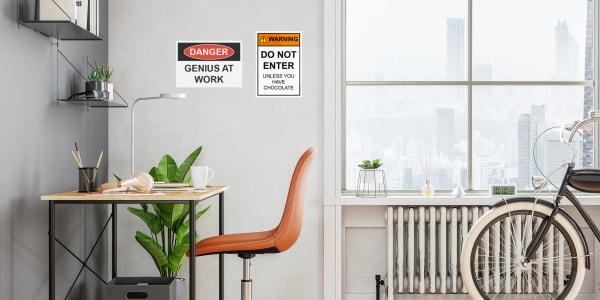 When you're setting up your home office, focus on what works for you and don't stress about following trends.
Pick a spot for your home office
For many, this is a simple choice limited by whatever space is available, for example a spare/guest bedroom. However, if you do have a choice, or are willing to do some home rearranging, choose a room for your home office with natural light and minimal distractions.
If possible try, to avoid rooms that share a wall with noisier rooms in you your home or windows that look out on busy streets or noisy neighbors. Make sure that there's space in your home office to place your desk at a right angle to the window.
Bright light behind your screen (desk facing the window) can cause eyestrain. Bright light shining directly at your screen (window behind you) makes it difficult to see your work and difficult for video software to record you. Natural light coming in from a right angle provides optimal light for working and video conference calls.
What to do if your home office location is not ideal
Not everyone has the luxury of the perfect room for their home office. Sound proofing, furniture placement and lighting can make a big difference and aren't as complicated as they sound. Here are a few tricks you can do to help optimize a less-than-ideal home office space.
Consider soundproofing with décor. Try hanging up a thick tapestry or even a throw rug with a cool pattern on any wall that adjoins a noisy area. You'll be surprised how well it dampens outside noise.
Do you have windows with good natural light but a distracting view? Face your desk away at an angle so the windows are out of your sightline but not shining directly on your screen. Sheer curtains can also help block visual distractions while still letting in light.
No natural light? Add a lighting feature to your home office. Or consider a sun lamp— they can boost vitamin D (which we normally get outdoors) and may help with seasonal depression.
Choose the right furniture for your home office
Firstly, home office furniture should be designed for efficiency and comfort while working. Ergonomic practices are super important in the workplace, and have significant impact on productivity and employee health. The need to take care of your body while working doesn't disappear just because you're at home.
At the very least make sure you have somewhere to sit that provides good posture support and proper lighting to reduce eye strain.
Secondly, choose a desk that works for your needs. If you have lots of papers and supplies, an industrial-chic minimalist table may not work for you. Think about storage and think about space. Do you need drawers? Would a corner desk make better use of a small home office space?
If your home office will have to be in a shared space (like the living room or dining room) think about storage options that can be put away at the end of each work day, or the end of the week. Rolling carts for organizing supplies or "hideaway" desks that can be closed up are great options.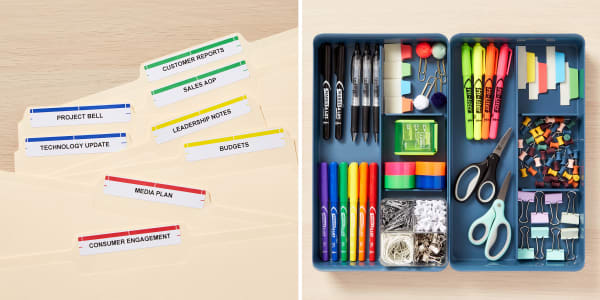 Don't wait for a huge stack of papers or supplies to take over your home office. Use color-coded file folder labels and drawer organizers to set up organization systems right from the start.
Make it easy to get (and stay) organized
Pay extra attention to storage and organization right from the start. You should have enough shelves, drawers and bins to store all your supplies with plenty of room to spare. If needed, expand your storage options with stacked desktop storage, wall shelves or a rolling cart you can put under or next to your desk.
If you set yourself up with extra storage room from the start, new items can immediately be put away instead of becoming messy piles. Likewise, set up a color-coded filing system so you can file documents as they come in to your home office.
Think about the office supplies you use most and make sure they're organized, easily accessible and easy to put away neatly. Instead of a messy drawer crammed full of supplies or a jumble of supplies on your desk you'll always be able to find exactly what you need, when you need it.
When organizing take time to consider and prevent small annoyances. For example, conquer messy device cords by keeping them neatly coiled and labeled so you can quickly grab the one you need. Or use a magnetic tray for paperclips if you can never seem to keep them from scattering.
Create a home office that draws you in
It may not seem mission-critical, but enjoying your home office space will help you to look forward to each work day. Remember that it doesn't have to be perfect, on-trend or expensive. Your home office doesn't need to be Insta-worthy, it just needs to make you feel good and work for your needs.
Surround yourself with home office décor that makes you happy. It can be anything from a cool lighting feature or a bold color on the walls to artwork you love or pictures of your family. You might even consider choosing calming or energizing paint colors that balance your general work-mood.
Décor doesn't have clutter surfaces either. Use vertical space and the wall above your desk to your advantage. Try using wall signs to post motivational sayings that keep you pumped up or funny signs that make you smile. Move framed pictures and art from your desktop to the wall to free up more desk space.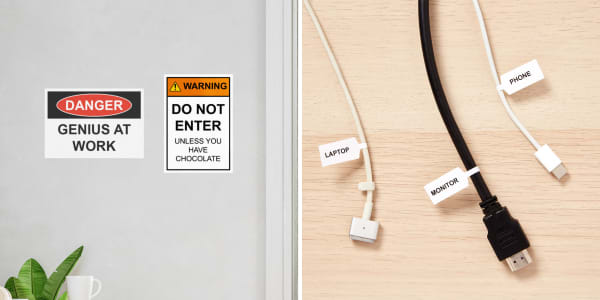 If you don't have a whole room to work with, personalizing your area with removable wall signs and focusing on organization details can help a desk feel more like a home office.
What if your "home office" is really just a desk?
The reality is we don't all have the space or resources to dedicate an entire room as a home office. However, you can apply the same home office ideas to your desk and make it a happy workspace:
Consider where you put your desk
Make sure you pick a desk that has enough storage (with room to grow)
Keep your desk organized to make the most of your space
Surround yourself with things you love
Wherever you work, it should be a happy workspace
At the end of the day, your home office and remote work routine should energize and uplift you. It's important to take care of yourself so you can stay motivated, productive and put your best work forward— no matter where you are.
Explore our remote work resources like how to create a healthier work-life balance at home, stay connected with your coworkers with remote team-building activities or learning to be more productive and thankful with a gratitude journal.
Supplies to recreate home office ideas in this article
Genius at Work Template | Do Not Enter Without Chocolate Template