There's a lot of fuss about the Thanksgiving dinner, but the holiday all boils down to giving thanks for all that we've received. Whether you plan to share this holiday with family, friends and/or people you don't know yet but who are about to become new friends, you can add inviting, personalized touches to your Thanksgiving using Avery products and free design templates on Avery Design & Print Online. Here are a few ideas to create a heartwarming event everyone will cherish.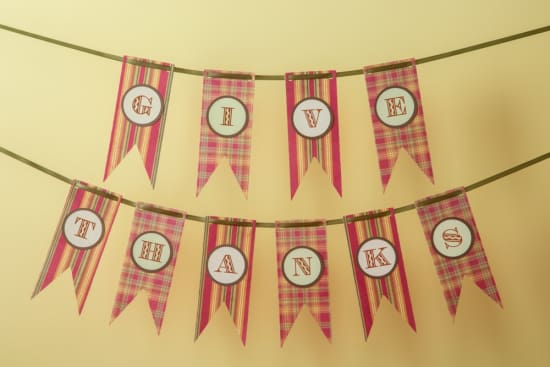 Warm greetings for guests
Giant pumpkins on the porch, a wreath of fall leaves on the door and a friendly banner inside creates a warm and inviting welcome for your guests. Create the banner with colorful flags and attach round labels to spell out your message. An alternative to flags is using printable tags instead, customized with seasonal designs from Avery Design & Print Online, and strewn on colored string.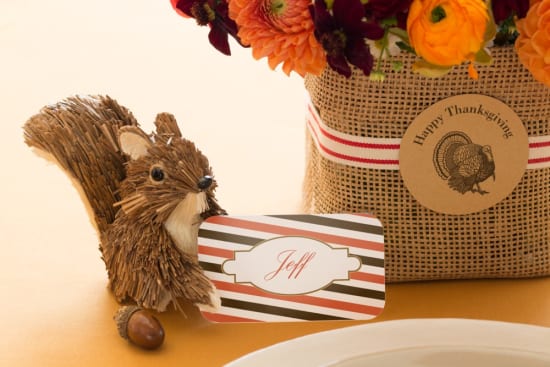 Personalized décor for the table
Make your Thanksgiving table warm and inviting with personalized décor that's as festive as the occasion.
Create place cards with rounded business cards and these unique place setting ideas. Use coordinated menu cards created with postcards to detail what's in store for the evening (making it so much easier to save room for dessert). And for a lovely centerpiece, wrap ribbon around a fall flower arrangement and seal the ribbon ends with a decorative round, oval or square label. Like a design and want to use it on another product? It's easy—just click the "Apply Design to Another Product" button in Avery Design & Print Online.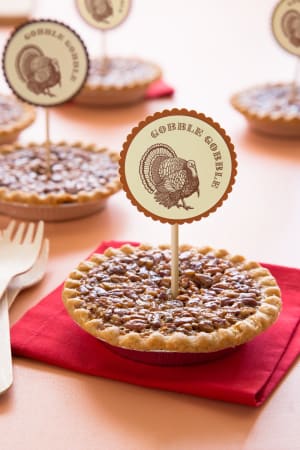 Delight desserts to share
There's always room for pie (or cheesecake, bread pudding, cobbler, etc.…)! Cap off the Thanksgiving meal with your family's favorite, all decked out with elegant dessert picks. Create your design on round labels, print and attach to scalloped paper circles. Place pick in the middle, then adhere two circles back-to-back.
Are you baking that pie everyone raves about and bringing it to a potluck? If your recipe is a sure crowd-pleaser and you often find yourself sharing the recipe, print it out on postcards so you can share with the group.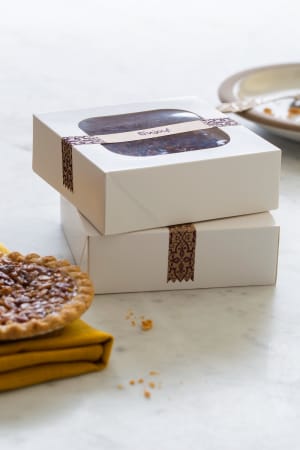 Leftovers to take home (if there are any)
Wrap up the evening with a personal box of leftovers or slice of pie for your guests to take home. These wraparound labels can be personalized with each guest's name, and can include storing and reheating instructions for the contents inside.
Have fun adding these decorative touches to your celebration. From all your friends at Avery, we wish you a warm and wonderful Thanksgiving!