Ever wonder what some of the rich and famous did for their first job? Andrew Carnegie worked in a textile factory, Walt Disney had a newspaper route, and believe it or not, Mick Jagger sold ice cream!
Summer break is a great time for your children to make the most of the long days ahead by starting their first job. Why not help them launch their own business that also fits their interests? Kids not only learn about finances and the value of money—they can also learn important life skills such as setting goals, demonstrating responsibility and building communication skills. Here are three ideas to inspire your young, budding entrepreneurs:
Pet sitting or dog walking service
Does your child like animals and the outdoors? They might want to consider a job as a pet sitter or dog walker. A good place to start is with dog-owner neighbors you already know. Have your child meet with them to establish the basics: your kid's comfort level with the dog (and to make sure the dog isn't Cujo); the number of days a week their services will be needed; and the duration of each dog walking session. Here are some tools to get them started: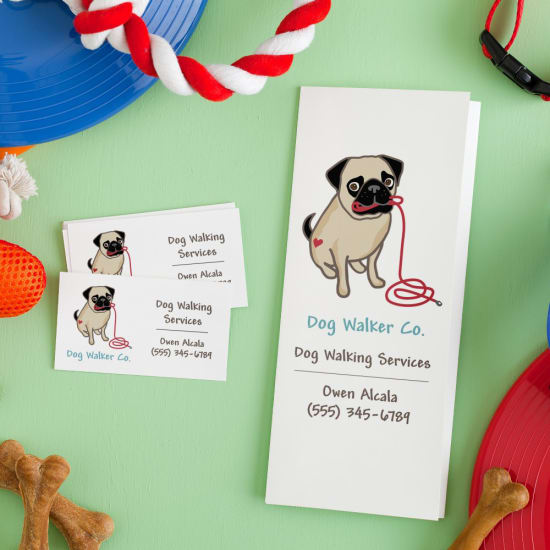 Spread the word. Business cards are a great way for kids to promote their business to prospective clients. They can also be given to current clients to garner referrals from their clients' friends and family.
Market the business with a uniform. Create a personalized t-shirt your kid can wear when they work. It can help promote their business by advertising as they walk.
Show appreciation. Thank clients for their business with a little sandwich bag of dog biscuits they can give to their pet. Attach a personalized label on the bag with a phone number to make it easy for them to call again!
Lemonade Stand
Who can resist a refreshing cool cup of lemonade in the summertime? Running a lemonade stand is a great opportunity for kids to raise money for special interests such as for camp, a sports organization or charity. The lemonade business can be very educational—kids will learn about the cost of operation, supply and demand, advertising and return on investment. After selecting the location, check with your city officials to make sure it's okay. Once you get the go-ahead, check out these ideas to help them experience the "fruits" of their labor:
Build a business plan. Help your child put together a business plan, including the cost of supplies (the lemonade, cups, straws, signage, etc.), hours of operation, the labor (who else will be working the stand) and the pricing – whether it's to sell by the cup or by donation.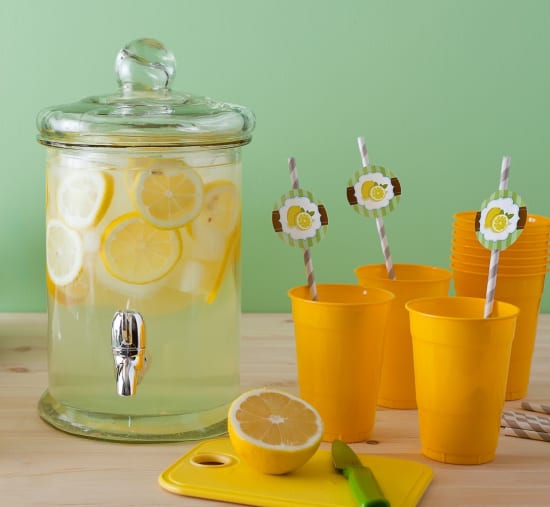 Advertise. Whether they're using a plywood stand or a folding table as their place of business, make sure their business has signage to attract customers.
Create an outfit that stands out. This bright and colorful t-shirt design makes it easy for customers to know who's working the stand—helpful when the stand is mobbed with thirsty people!
Add a memorable touch. Customers will enjoy taking that sweet sip of lemonade from these memorable straw labels. Just place two seals back-to-back with the straw in between and pop them into each cup that's served.
Babysitting job
Babysitting is a popular job that requires responsibility, creativity and patience. If your teen is interested in taking care of the little ones in your neighborhood, help them create a babysitter binder they can use as a reference guide. They'll have the resources they need to do the job—right at their fingertips.
Here are some suggestions of what to include in the babysitter guide:
Contact information. Include a list of important phone numbers, such as the parents' cell phone(s), the neighbors, family doctor and poison control.
Schedules and special instructions. Your child should keep an agenda of where the parents will be when they are out, hour by hour if possible. Also, if the parents provide detailed instructions, such as what helps a restless toddler sleep at night, include it here.
Activities. Help your child put together a list of fun activities they can do with the children they babysit so there's always a place to go for ideas.
Summer jobs provide a great chance for kids to see what interests them, and who knows, it may help them discover what could be a lifelong passion! As a summer job is still work and not all fun and games, give them the encouragement they need. Before you know it, they will enjoy the work and the satisfaction that comes from doing something for themselves.