Say goodbye to 2021 and hello to 2022 with your family
We can all agree that 2021 has been quite the year. With everything we've been through this year, New Year's Eve will be a perfect time to gather with loved ones and reflect on the year's obstacles, celebrate its milestones and welcome in a brand new year.
While a huge New Year's get-together may not be possible, celebrating at home with family or virtually with friends can be just as special. Here are some fun family activities to say goodbye 2021 and hello 2022 in a big way.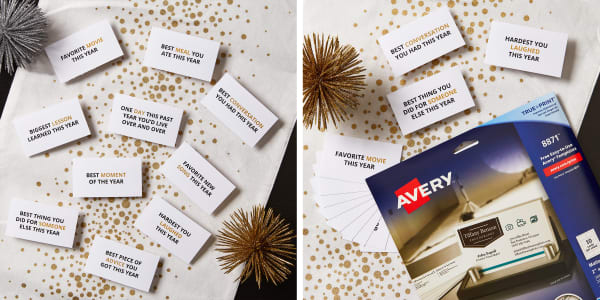 Get everyone talking on New Year's Eve with conversation cards relating to the past year. Create card prompts with printable business cards (Avery 28878) for family members and guests to answer as the night goes on.
Family activities to help you reflect on the past year
A great way to close out the year is to reflect on the events and memories of the last 12 months. Sharing your struggles and achievements can be a great bonding exercise and can inspire you to set up a plan for the upcoming year.
Here are some fun family activities to help you remember your experiences of the past year:
Create conversation cards for NYE. Great for virtual parties or family activities at home. Get the conversation started with prompts like Favorite Song of the Year, Best Movie of the Year, or Most Embarrassing Moment. Print out cards and put them in a jar to pass around or pick from throughout the night.
Draw your favorite memories of the year. Get in the groove by having the kids create a playlist with "pump up" songs to inspire your artistic side. Have everyone draw their favorite memories from the past year and display the artwork around the house as New Year's Eve decorations.
Pick a prompt and journal together. It's always good to encourage reflection during complicated times by acknowledging positive and negative experiences. Choose a journal prompt that focuses on both, like the Rose, Bud, Thorn exercise. Be honest and emphasize bright spots to help create goals for 2022.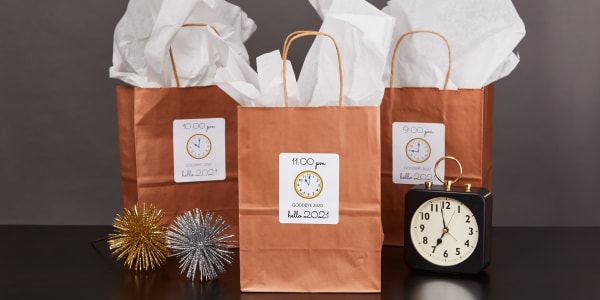 Build up the excitement of the New Year with fun family activities for the kids. Label (Avery 15264) small gift bags and fill them with toys and treats to create countdown bags for them to open every hour before midnight.
Celebrate! Fun and festive end-of year family activities
If ever there was a year to celebrate getting through, it's this one! You and your family have faced all the struggles and challenges the year has brought and survived them, so why not have some fun?
This year, try these fun family activities at home to end the year on an exciting note:
Have a family awards ceremony. Honor the accomplishments your family has achieved with a lively ceremony. Print custom certificates for each family member and top them off with an official seal. Have everyone dress up and write acceptance speeches, and don't forget the play off music if speeches go too long.
Create a family time capsule. Let the kids decorate a shoe box with decorative paper, stickers and markers. Have each family member pick out an item that commemorates the year and place it in the box. Write 2021 on top of the box and place it where you won't be tempted to open it until the designated time comes.
Throw a virtual NYE party. Ring in the New Year with extended family and friends by hosting a virtual bash. Decorate the house, dress up and cook your family's favorite dishes. You can still celebrate with everyone and create memories safely at home. Check out some virtual party inspiration to make your party unforgettable.
NYE countdown bags for kids. Get the kids excited for the best part of the evening with countdown bags. Fill bags with little toys, treats and fun activities, then label each bag with an hour leading up to midnight, starting with 7 o'clock. Have them open a bag every hour until the clock strikes 12.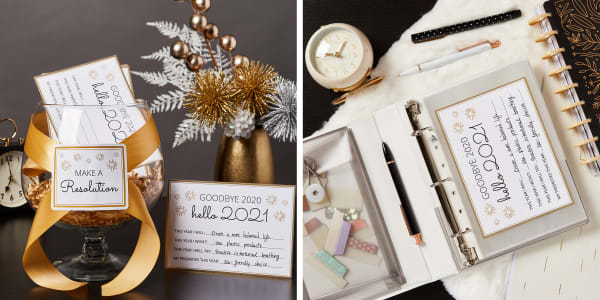 Gather with family to set up goals for the year to come. Print out resolution cards for family members to fill out and create a family resolution jar or a family goals binder to keep track of achievements as the year goes on (Avery 3325, 23011).
Hands-on family activities that help set goals for the upcoming year
Help your family get a head start on 2022 by encouraging them to set personal goals for the year to come. Focus on positive, achievable milestones and help each other come up with strategies on how to make those goals happen.
Try these DIY family activities to help establish goals for the next year:
Create a resolution jar. Decorate a jar with ribbons and a label for your family to place their goals and resolutions. Have everyone fill out resolution cards on what they want to achieve for the next year. Allow your family to share their goals if they want or just tuck them away for later.
Put together a family goals binder. Place your family's goals in a mini binder so you can reference them throughout the year. Inspire kids to reach their goals by breaking them down into achievable steps. Protect each family member's list of goals in a sheet protector and celebrate each goal achieved.
Create goal reminder artwork. Get everyone's creativity into gear by creating art depicting their goals for 2022. Draw, sculpt, paint, or construct a diorama – whatever you feel like doing. Display your artwork around the house or in a personal space as a visual reminder of what everyone is working toward.
Hello 2022! What to do when the festivities are over
The morning after the ball drops ushers in a new beginning and a perfect opportunity to reset and restart. Setting up your family's goals will hopefully prepare you for the success ahead. Continue to support each other and celebrate goals once they've been met.
There is so much to look forward to in the New Year when you stay positive and keep going. You have the whole year to take on everything you want to achieve, so make it amazing!
Products Used in This Article
Clean Edge® Business Cards (28878)
Notarial Seals, Metallic Gold, 2″ (5868)
Marks-A-Lot Permanent Markers, 8 Assorted Markers (9231)
TrueBlock® Shipping Labels, 3-1/3″ x 4″ (15264, 94215)
Invitation Cards, Matte White with Metallic Gold Borders, 5″ x 7″ (3325)
Mini Durable View Protect & Store™ Binder (23011)
Mini Diamond Clear Heavyweight Sheet Protectors, 5-1/2″ x 8-1/2″ (77007)