Everyone loves a good party. But just the thought of planning one can drive anyone crazy! So what's the trick to putting together a successful shindig while retaining your sanity at the same time? It's all in the organization.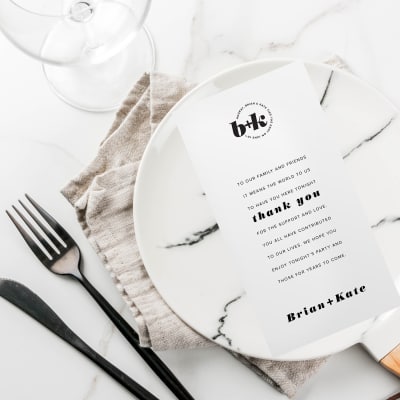 Whether you're coordinating an office event, setting up a kid's birthday bash, or celebrating a special occasion with family and friends, check out these simple tips to help you get the party planning started.
Step 1: The big one—we're talking budget.
Whether your budget is set by your boss or hammered out between you and your spouse, setting a dollar amount and making every decision work with that number is critical to your planning success. Once you decide on your maximum spending amount, make a list of projected expenses — food, party venue, entertainment, rentals, etc. — and start plugging in the costs, while keeping in mind your maximum allowance.
TIP: Work in a "cushion" for unexpected or incidental expenses to make sure your budget stays on track. One idea is to use a percentage of your total expenses, such as 10%, and add this as one of your expenses.
Step 2: Superpowers, unite—assembling your party-planning team.
Lighten your load by enlisting others to participate in the planning. If you're organizing a work function, create a team of compatible co-workers; and for a personal event, recruit a few family members and friends. Then, divvy up the work by assigning each team member a different area of responsibility.
TIP: Pull from people's strengths—artistic ones can contribute their creative skills to designing invitations and choosing decorations, while social butterflies can get the word about your party.
Step 3: Let the brainstorming begin!
With your team in place, get everyone together to discuss everything from party themes and colors, to menu items and entertainment. Each team member in charge of their area of responsibility will be able to collect a bunch of fresh ideas from their group. Make sure to establish upfront who will have the final say when it comes time for decision making.
TIP: As you gather ideas, prioritize your options from top choice on down. Flag vendors that are easy to work with, note sales and offerings at party supply stores, and review crowd-pleasing favorites from the past.
Step 4: Timing is everything—create a checklist with countdown.
Trying to tackle the to-do list all at once is a rookie mistake. Plan like the pros: the secret to a good checklist is prioritized list. One idea is to organize your to-do list by time. Write down what should be accomplished four weeks out, two weeks out, the week before, and even the day before the party. As time marches forward, you'll be able to see the progress you've made each week, and know what else you need to do until party time.
TIP: Set up checkpoints along the way to touch bases with your team members and make sure everyone is on track. A team member who is ahead of schedule can reach out to another who might need a little extra help.
Step 5: Organize info at "party central."
Putting all the party details, receipts, and information in one place will save you time and enable you to be so much more in control. A good way to keep all that stuff at your fingertips is on a shared drive online, with hard copies in a binder.
TIP: Don't forget your dividers! Customized dividers can turn your binder of information into a handy party-planning organizer. Just go to Avery Design & Print Online to create and print tabs to organize menu ideas, the invite list, potential venues, entertainment options, and more. With each aspect of planning clearly labeled, the clutter of planning a big event will disappear.
Even party planning time can be the start of all the fun and festivities. With these five organization tips, you'll be in charge of an event that's sure to impress—without the party-planning stress.