Spiders are creepy little critters. They sneak up on you. They spin their wicked webs. And they're exactly how you can turn up the ick factor on your Halloween treats! These spider goodies are fun to make, and easy to decorate with our most squeamish collection of Halloween designs and templates in Avery Design & Print. Check out these arachno-fabulous treat ideas before someone gets squished.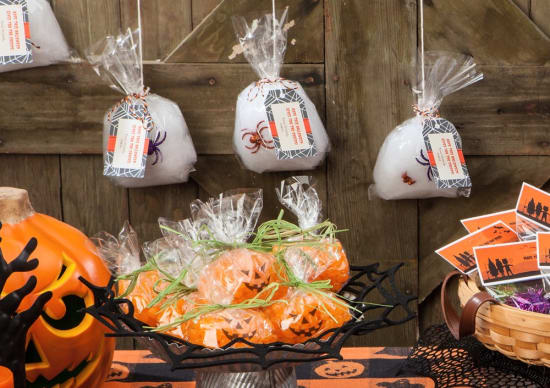 Edible Spider Webs
Walking through a real spider web is nasty. But when the web is made of cotton candy? Nice! Just gather gobs of this gossamer goodie and place into a clear bag. Throw in a large plastic spider inside (or gummy spider as a safer alternative for younger kiddos), and tie it closed with a personalized tag.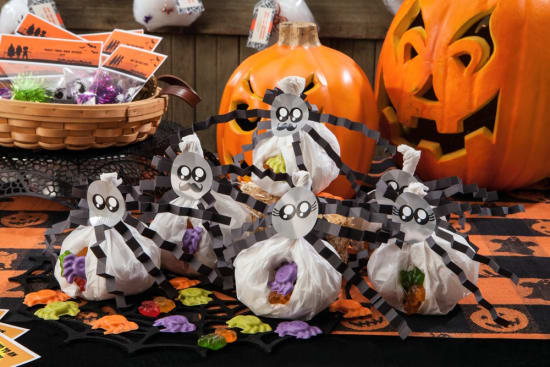 Spider Snack Sacks
Ick or eat? Definitely both! Peek inside these spider sacks made of tissue to find gobs of delightful goodies inside. Attach the mama spider on top using a round label for the head and crinkled black paper for the legs.
Make-Your-Own-Spider Kits
Hey kids—no need to worry about the mysterious itsy-bitsy spider when you can make one yourself! Our party favor bag kit comes with a set of clear bags and self-adhesive bag toppers you can customize on avery.com/print. Fill the bags with little Styrofoam™ balls, pompoms, googly eyes and pipe cleaners, seal with the bag toppers and you've got a nifty craft favor for parties and classrooms.