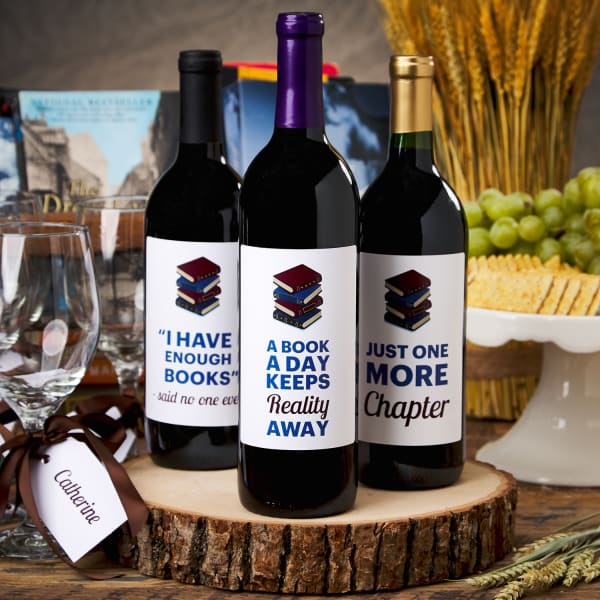 Pop open a new book and a bottle of wine with your friends by hosting a cozy book club party. While a good book is enough to hold everyone's attention, the right decorations and gifts can add extra flavor to any wine and cheese book club. Take a flip through these delightful templates and fun book club ideas that will give your next meeting an elegant finish.
Book Club Meeting Invites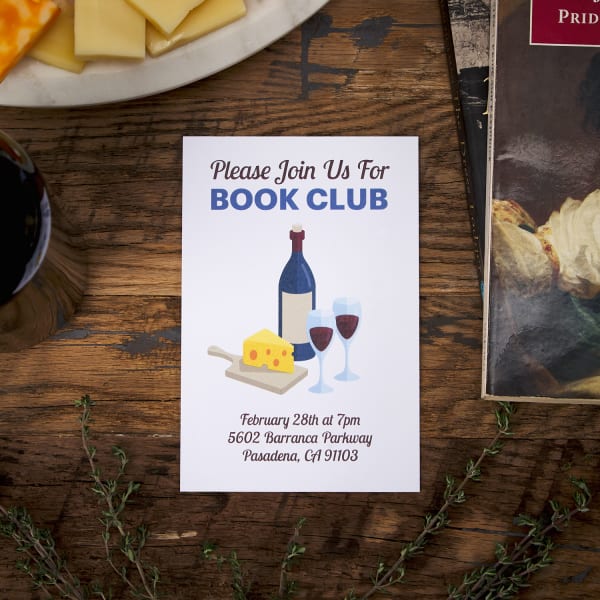 Create customized invites using postcards (5889)
Pique everyone's attention by sending out these splendid invites. Avery Design & Print Online lets you personalize our custom templates to include custom text, images and much more. These beautiful designs are certain to intrigue your guests.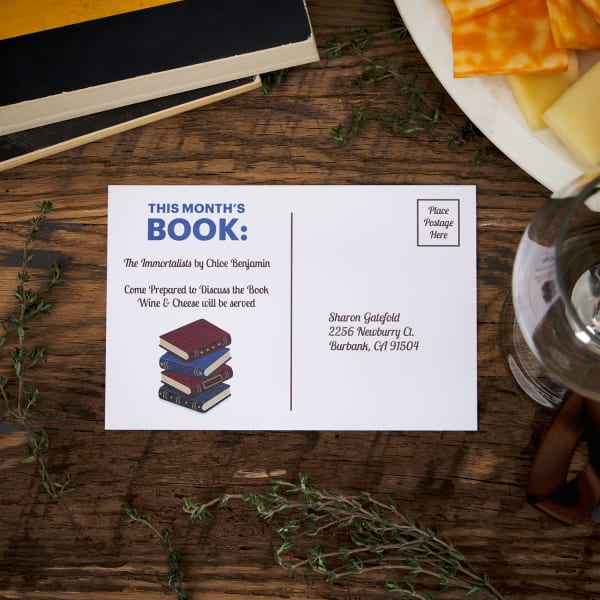 Flip the postcard over and you can add even more details about the book of the month and the refreshments that will be available. With Avery Design & Print Online you can also save this template and reuse it when it is time to send the next invite. All you need to do is open the saved project file and edit the book title, location and date.
Click here for the wine and cheese postcard template.
Book Club Snacks and Cheeses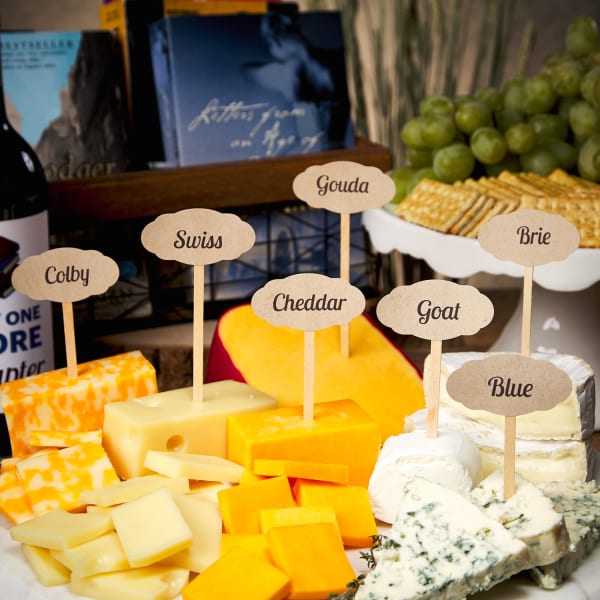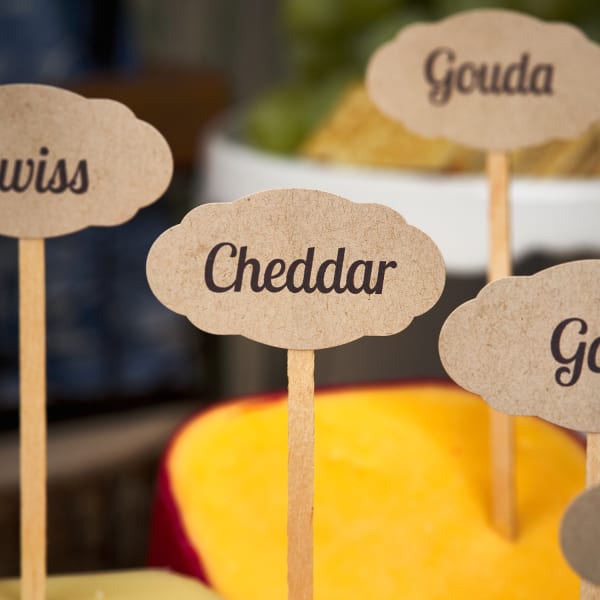 Craft elegant cheese markers using scalloped oval labels (22855)
Cheese and crackers are delectable book club snacks that pair perfectly with wine. Try to choose three to four options that cover a wide range to satisfy everyone's tastes. Classic sharp cheddar, goat cheese, blue cheese and brie are a great start.
Click here for the cheese marker label template.
Fun Book Club Wine Labels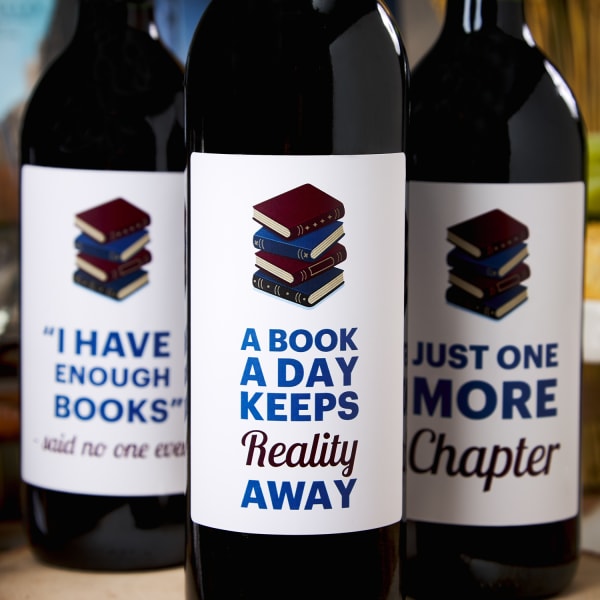 Print your very own wine bottle labels with removable, water-resistant labels (22827)
Give your wine bottles a story by covering them with your own customized wine bottle label. Customize each label to add references or quotes from the book or add your own favorite literary sayings. As a bonus, the print on these water resistant labels won't run if anybody happens to spill a few drops.
Click here for the book club wine bottle label template.
Personalized Wine Glass Tags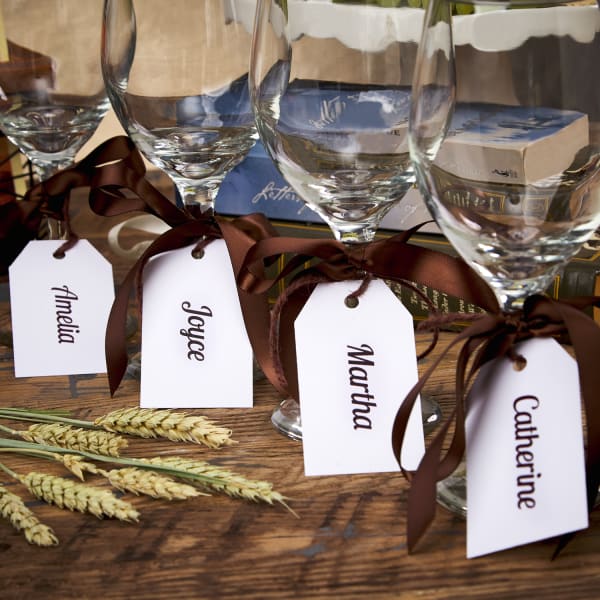 Mark wine glasses for your guests with printable tags (22802)
Save a glass for each of your guests by preparing unique wine glass markers. If you have a list of names you can import your file into Design & Print Online with the mail merge feature to instantly create a unique tag for each guest. You can also design each tag individually with our handy "Edit One" editing mode.
Click here for the wine glass marker template.
Book Club Party Favors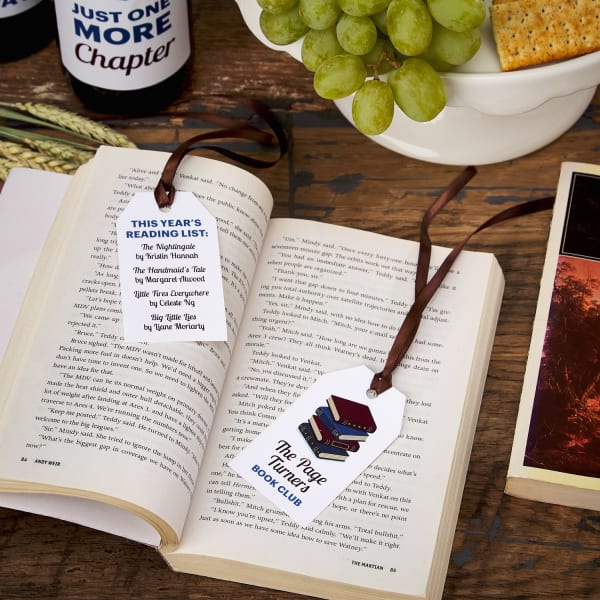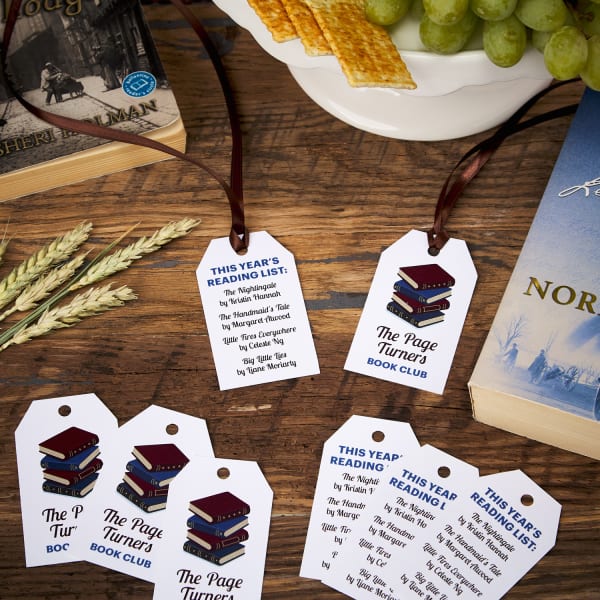 Make cute bookmarks with ribbons and tags (22802)
Bookmarks do more than just keep your place in a book, they can also be motivational and hilarious reminders when you need them most. Print custom bookmarks for each of your guests with helpful details such as the book club titles for the year, memorable quotes and more.
Click here for the bookmark tag template.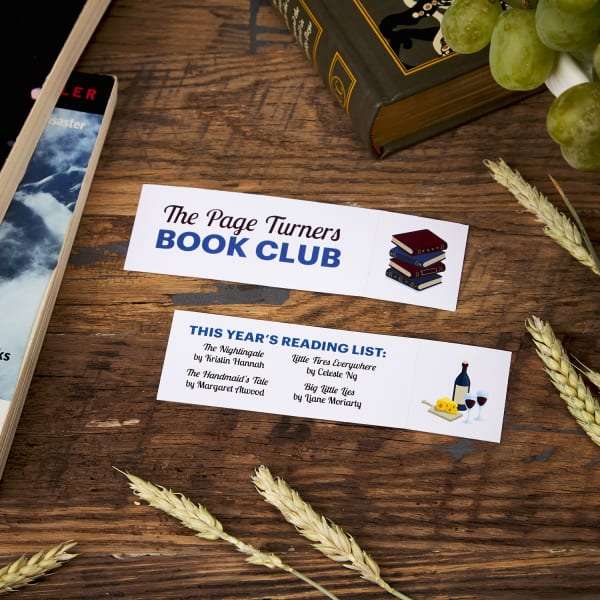 Create traditional bookmarks using tickets (16154)
For a more traditional look, you can also use tickets to maintain the classic rectangular bookmark shape. Both the ticket and the stub can be designed vertically or horizontally for the best look. If you're looking for more bookmark templates, you can pour over our article on bookmarks and bookplates for even more free designs.
Click here for the bookmark ticket template.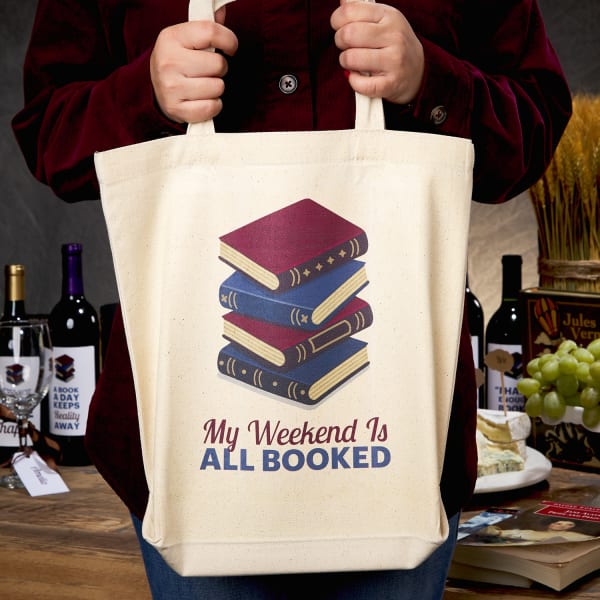 Personalize tote bags with iron-on fabric transfers (8938)
Fabric transfers are amazing for customizing tote bags, shirts and more with a professionally-printed look. Just iron on this delightful design onto tote bags for an easy gift that your book club will love. You can find even more designs for fabric transfers with our helpful article on fabric transfer ideas and tips.
Click here for the book club tote bag fabric transfer template.
Need some extra help preparing supplies for your next event? Try out WePrint printing service to have our team of experts print and align your projects for you. Or if you're looking for a specific type of label to print yourself, skim through our blank labels by the sheet to order exactly what you need.
Products used in this article:
4″ x 6″ Postcards (5889)
1-1/8″ x 2-1/4″ Scallop Edge Kraft Brown Oval Labels (22855)
3-1/2″ x 4-3/4″ Removable Durable Labels (22827)
2″ x 3-1/2″ Tags with Strings (22802)
1-3/4″ x 5-1/2″ Tickets with Stubs (16154)