What do colorful skulls, vibrant flowers and beautifully decorated treats have in common? They're all part of a long-standing Mexican tradition known as Day of the Dead (Día de los Muertos) that runs from October 31st through November 2nd every year, bringing people together to celebrate death.
But it's not a somber occasion. It's a time when family and friends warmly remember the dearly departed and hold festivities in their honor. Turn your get-together into a stunning celebration with these decorative Day of the Dead projects using Avery products and Avery Design & Print Online software. Just click the link under each description to access the template(s) and get started.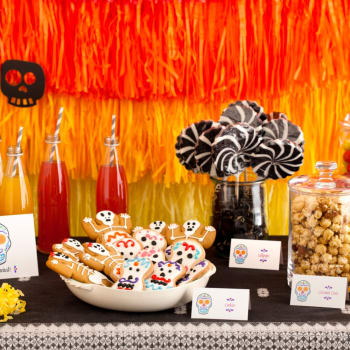 Day of the Dead Invitations
Create customized invites with Avery Postcards and our free template. The colorful skull design is shown on one side with room for an event title. Use the flip side to include the details such as the date, time and place—and don't forget to address each postcard to your guests.
Day of the Dead Buffet Cards
Whether you're hosting a potluck or serving up a buffet, Avery Tent Cards make it easy for guests to identify what's on the table. If you know what's on the menu, you can create the cards with the name of each dish. Or print just the design onto the cards, leaving room to write in the name of the dish later.
Day of the Dead Stickers
Your Day of the Dead celebration wouldn't be complete without offering some treats. Add the festive sugar skull design onto Avery Specialty Labels (available in a variety of shapes) to decorate your treat bags, boxes and even candles for your event. Sure, we've got round, oval, square and rectangular shapes, but our arched labels take the cake because they look just like tombstones!
Day of the Dead Tags and Bag Toppers
Another way to add a festive touch to the occasion is with attractive tags. The arty sugar skull design can be printed on Avery Printable Tags and then tied onto favors using the included string. Planning to make skull cake pops? Attach the Avery Square Tags with the skull design onto your treats. Or, you can bag and seal wrapped candies or small toys with our customized bag topper kits, which come with printable bag toppers and clear bags.
Add this design to any product!
Like the design but don't see your product listed? Avery Design & Print Online can add the design to the product of your choice! Just click through the original design in Avery Design & Print Online, click "Preview & Print" and you'll see the previewing sheet. In the lower-right-hand corner, look for the "Apply Design to Another Project" section, where you can check out three recommendations, or click the "Other Products" link to enter your product number.
Get images from the Avery Gallery
Looking for more images to design your project? Check out the Avery Gallery, located in the left bar of tools under "Images." You'll find a wide range of art to choose from for a variety of occasions.
Whether you're planning to host a Day of the Dead celebration or looking to create other projects, let Avery help you put together an event of remembrance.