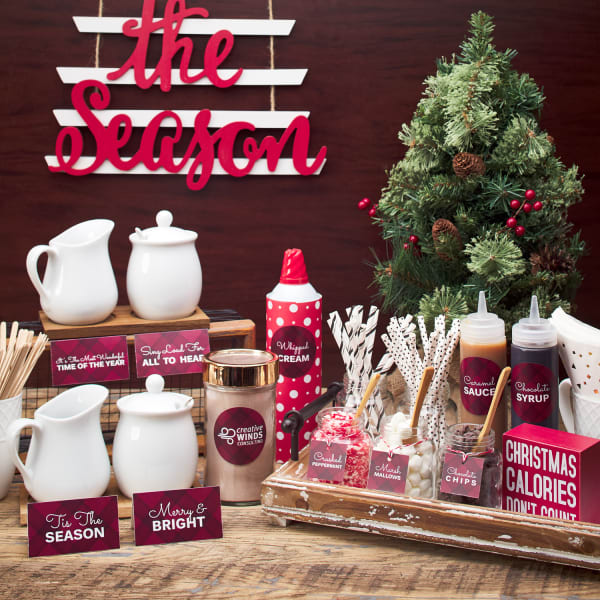 Looking for a fun, affordable way to spread some holiday cheer in your office? A hot chocolate bar is a fun and thoughtful way to show your coworkers you care. Set up a station where employees can treat themselves to a rich, warm cup of hot chocolate personalized with their favorite mixers and toppings.
Try these festive hot chocolate bar ideas to warm up the office and give employees a fun holiday treat.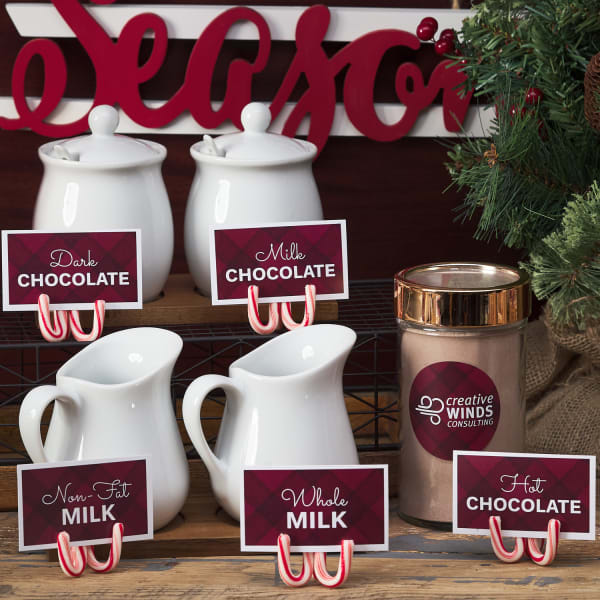 Cute candy cane stands & Avery 5871 business cards
Mixers & main ingredients for your hot chocolate bar
What do you put on a hot cocoa bar? The most important thing to start with are the main ingredients and mixers needed to make a traditional cup of hot cocoa.
Choose from a variety of rustic-chic themed design templates in festive red plaid and timeless white font to create accessories to give your hot chocolate bar a cohesive style. Use hot chocolate bar printable templates and mini candy canes to transform the business cards you use year-round into adorable ingredient cards.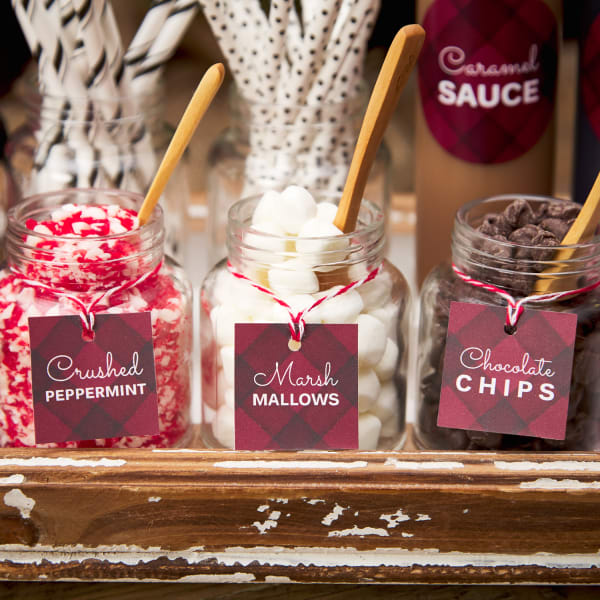 Create charming topping tags with Avery 22849 printable tags
Top 4 hot chocolate bar toppings
What makes a hot chocolate bar fun is the chance for employees to experiment and get creative. Encourage mixing and matching different flavors and textures with the most popular hot chocolate toppings.
For a more stylish spread, transfer your toppings from their packages to classy jars. Use printable tags with the square tag template pictured above to label toppings and tie together your hot cocoa bar theme.
1. MARSHMALLOWS!
Whether your go mini or jumbo, you can't have a hot chocolate bar without marshmallows.
2. Whipped Cream
Like marshmallows it's the perfect cap to a delightful cup of hot cocoa.
3. Crushed Peppermint
Add the perfect zing to your hot chocolate bar with crushed up candy canes for sprinkling on top.
4. Chocolate Chips
Sprinkled atop a pillowy cloud of whipped cream or gently melting into gooey goodness, you can't go wrong with giving the option to add more chocolate.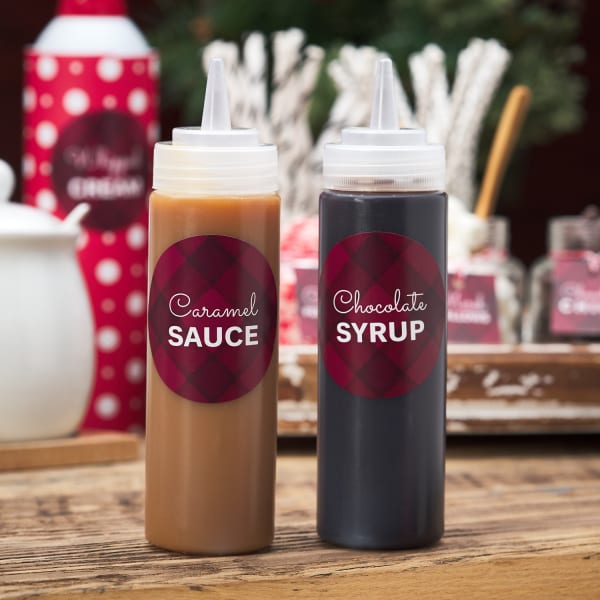 Label topping bottles & jars with Avery 22830 round labels
Next-level hot chocolate bar topping ideas
You can't have a hot chocolate bar without marshmallows— that's a necessity. But what about the extras that will make your hot chocolate bar truly memorable? Take a look at the list below.
Dress up topping bottles, jars and canisters with stylish round labels. Use our plaid round label template and customize to make it your own. Shop for blank labels by the sheet or in packages and order as many or as few labels as you need to make your hot chocolate bar a success.
Hot chocolate bar ingredients check list
Hot chocolate mix
Hot water source
Mixers (milk, cream, syrups etc.)
Marshmallows
Crushed peppermint
Whipped Cream
Chocolate Chips
Optional: Flavored marshmallows, holiday spice shakers, peppermint sticks, chocolate shavings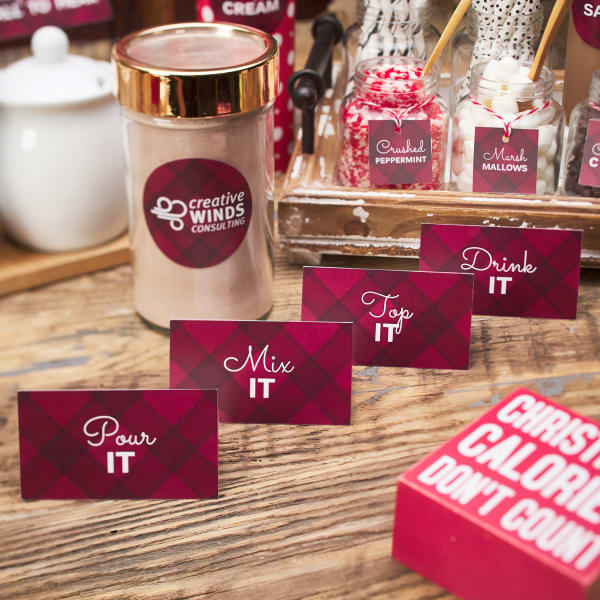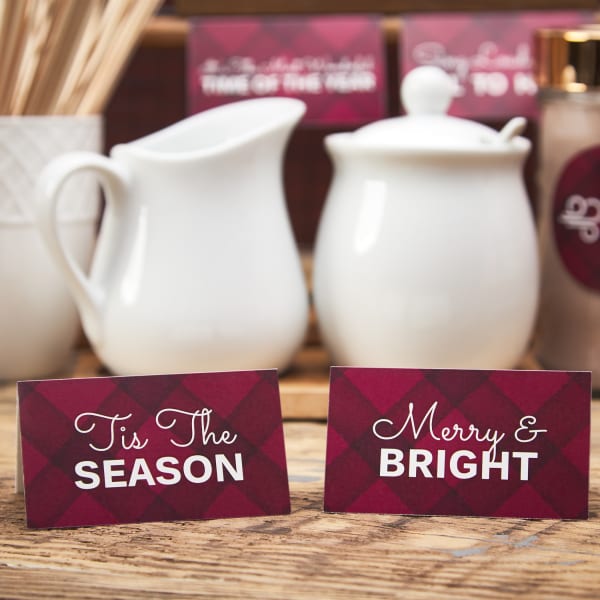 Adorable hot chocolate bar signs using Avery 5302 tent cards
Make your hot cocoa bar inviting with festive notes
Create a welcoming display that invites your coworkers to join in the fun. Tent cards displaying instructions and holiday-themed sayings help break the ice and encourage employees to help themselves.
Use our plaid holiday tent card template as-is or customize with your own text. Christmas songs, popular holiday greetings and quotes from Christmas movies are all great inspiration for dressing up your hot chocolate bar spread.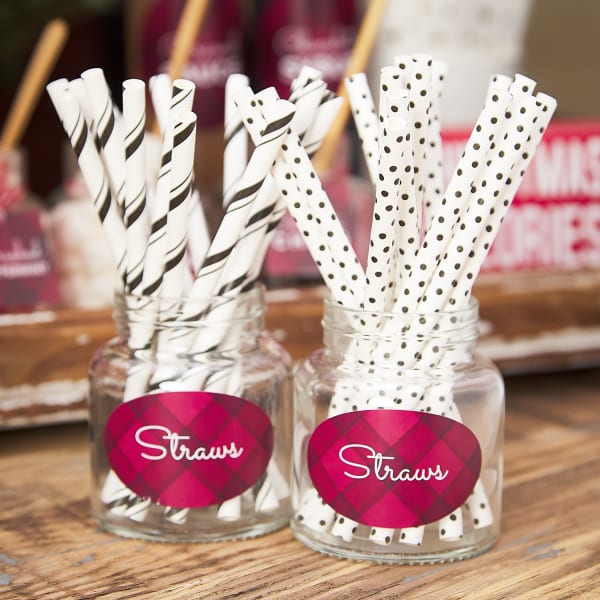 Organize hot chocolate bar supplies with Avery 22804 oval labels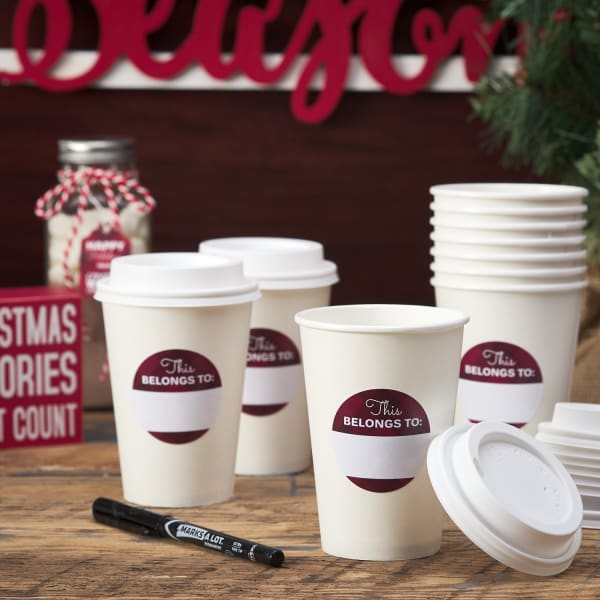 Keep everyone's drinks separate with Avery 22877 round labels
Think about the practical details for your hot chocolate bar
Organize hot chocolate bar supplies like paper straws and cups with customized labels. Use the matching red plaid theme for oval labels to spruce up jars for holding straws, spoons, stir sticks and other supplies.
Remind everyone to keep track of their perfectly crafted hot chocolates with a matching plaid label by adding a plain white field for writing names and "this belongs to" to text to a plaid 2″ round label template. Use a matte label for smooth writing with permanent markers and pens.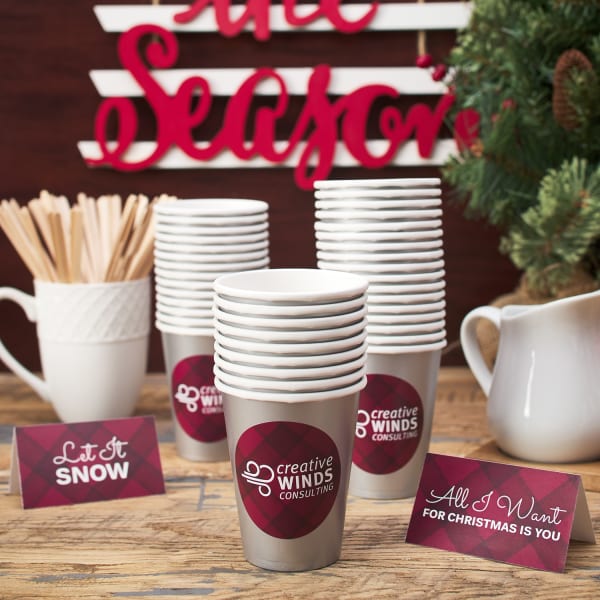 Dress up simple cups with branding using Avery 22830 round labels
Reinforce postitive company culture with branded elements
Embrace your company pride, reinforce positive workplace culture and help your coworkers feel like part of the team. Spruce up simple paper cups with branded labels showing off your company logo.
Easily customize the same label template you used for your hot chocolate bar toppings by adding your company logo, name or motto. Use your ADPO account to save your work and print as needed.
Or take advantage of our custom-printing services and have all your holiday labels professionally printed for you.
Items for hot chocolate bar checklist
Jars for ingredients and toppings
Squeeze bottles for syrups & sauces
Stir sticks
Spoons for scooping toppings
Paper cups (optional paper cups with lids)
Paper straws
Napkins
Optional: small jugs, pitchers and other fancy containers for supplies, ingredients or toppings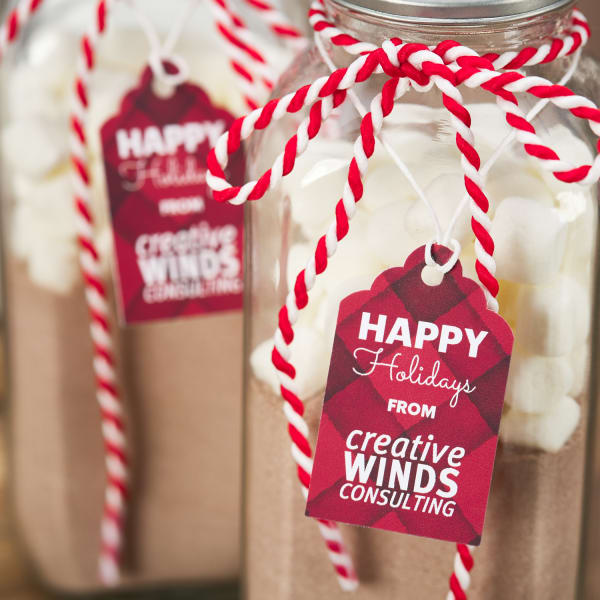 Personalized hot chocolate bar gifts to go with Avery 22848 scalloped tags
Send your coworkers home with a hot chocolate treat
What better way to cap off a great hot chocolate bar than to send your coworkers home with hot chocolate for later? Craft your own hot chocolate mix and add a tag with a holiday message from the company.
Products Used in This Article
2″ x 3-1/2″ Business Cards (5871)
1-1/2″ x 1-1/2″ Printable Tags (22849)
2-1/2″ Round Labels (22830/94502)
2″ x 3-1/2″ Small Tent Cards (5302)
1-1/2″ x 2-1/2″ Oval Labels (22804/94051)
2″ Round Labels (22877/94501)