Make custom-printed dividers in just minutes with Index Maker Dividers. Get free templates on Avery Design & Print Online to create label printables for your tabs. Then just print the labels, stick on your divider tabs and apply. For quicker application, use the Easy Apply™ label strips to perfectly align and apply the labels onto a set of tabs at once.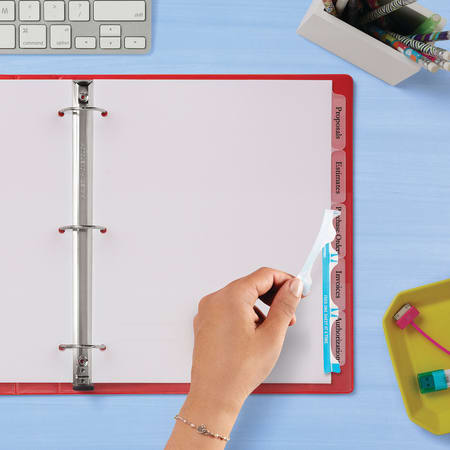 Here's how easy it is to create your own professional-looking dividers in a snap.
Step 1: Enter Product Number
Go to Avery Design & Print Online and start your project by entering the product number for your Index Maker Dividers and click GO.
Step 2: Choose a Format
Select a page orientation (portrait or landscape) for the label sheet you are printing. If you're using the Easy Apply™ label strips, select the landscape orientation.
Step 3: Choose a Design Template
Once you've selected your format, choose a design template. Use the menu on the left to browse the design categories.
Step 4: Select Number of Divider Sets
Select the number of sets you wish to create from the drop-down menu and choose whether you want your sets collated or grouped when printed. Click Next.
Step 5: Add Text and Graphics
Choose whether you want your image on the left or right of each tab. If you want different images on each tab, make sure you select Different image each tab. Enter your content. Click Finish.
Step 6: Customize Your Design
You can stick with the design in the template or create your own. To change the design, just click and delete the existing graphic. Click the Add Image box from the menu on the left, then browse to find the new image you wish to use.
To enter your text, click the text box in the template. To add a new text box, click the Add Text Box button from the menu on the left. Move your text boxes by clicking on the edge of the box and dragging it to just the right spot.
Use the navigator on the right hand side and choose Edit All to make changes to all your tickets, such as changing the overall text style and size. Choose Edit One to make changes to individual tickets.
Step 7: Preview & Print
Click Preview & Print to review your design. To make adjustments, click the Customize button to go back to the Customize screen. When your design is complete, click the Print button to create the PDF file. Open the file, and your custom labels for your dividers are ready to be printed.
Step 8: Save
To save your design template, click the Save button. In the pop-up window, create a file name and save to either your free MyAvery online account or to your computer. To go back and open your saved projects, just go to avery.com/print.