Welcome your guests with a fun party garland that can be draped across a doorway or on a wall. Customize the message on banner flags to match your party theme decorations and colors. It's easy to put together, whether you create your own with a party banner kit or make yours from scratch—we'll show you how.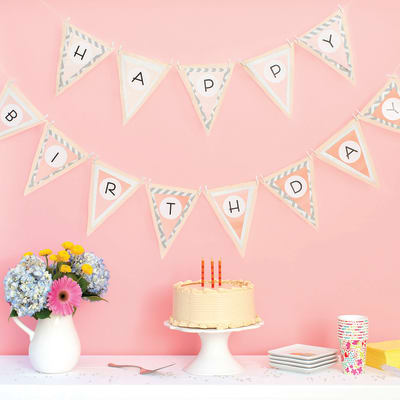 Step 1: Gather your supplies
You'll need colored paper and/or printed wrapping paper, burlap, small clothespins, scissors, twine, glue and Avery Glossy White Round Labels.
Step 2: Print letters to spell message
Decide what your banner message will be. Then add letters to this round label template with each letter on a separate Avery Round Label and print.
Step 3: Cut out flags
For each letter, cut one burlap triangle and same size paper triangle so they're large enough to fit the round label.
Step 4: Glue together
Use the burlap layer as a base and glue the paper layer on top. Add accents or trim using printed or colored paper. Affix your desired printed label letter to the front.
Step 5: Hang flags
Fasten each letter to the twine with clothespins. Hang on a wall or from the ceiling.