Looking for a delightful gift idea for a foodie friend, or want to send a tasty care package to a loved one away from home? Put together a fun food kit filled with the essentials (plus some extra goodies) they need to make their favorite treats and send a happy surprise their way.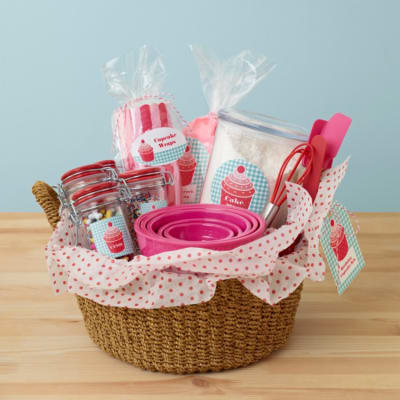 Here's an idea for a cupcake kit, and a checklist to help you create this scrumptious surprise.
1. Cake Ingredients
Do you know your friend's favorite cake flavor, or are they adventurous and open to new tastes? Find a recipe for something they'd like in a cookbook, or head online. Gather the ingredients, pre-measure them, and place them in an air-tight container.
2. Frosting, decorations and more
Include a container (or two) of frosting, and a fun assortment of toppings such as sprinkles, mini chocolate chips, nuts, etc. Package the toppings in food-safe bags or containers. Don't forget to include the cupcake liners!
3. Personalized toppers, labels, and tags
Add a charming personal touch by creating personalized labels and tags for your jars, containers, and bags with free design templates on Avery Design & Print Online. Other neat things you can create for the gift:
Recipe cards: Print the cupcake recipe on a tag, then tie onto the container holding the ingredients.
Cupcake toppers: print a personalized design on round labels. Place two labels back-to-back with a toothpick in between. Create enough based on the number of cupcakes the recipe makes to stick on the top of their cupcake creations.
Packaging: Make the kit fun on the outside and the inside! Coordinate the package by creating a shipping label that matches the design(s) used for the food kit.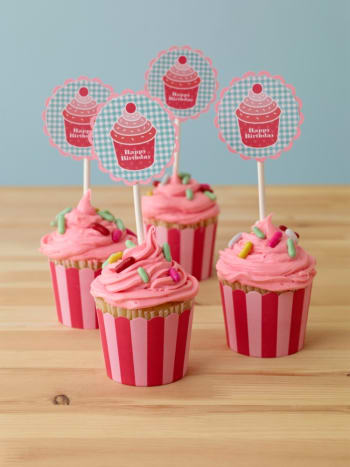 4. Additional supplies
Pop in colorful napkins and plates for the finishing touch to complete the kit.
5. Basket and shipping box
Carefully wrap any breakables, such as glass jars, in tissue paper or cloth napkins, or place in colorful sealable bags in case the container should leak. Place the items in a basket, add stuffing, and seal the box. Add your personalized labels and other decorative touches to the box to give your recipient a hint of all the fun stored inside!