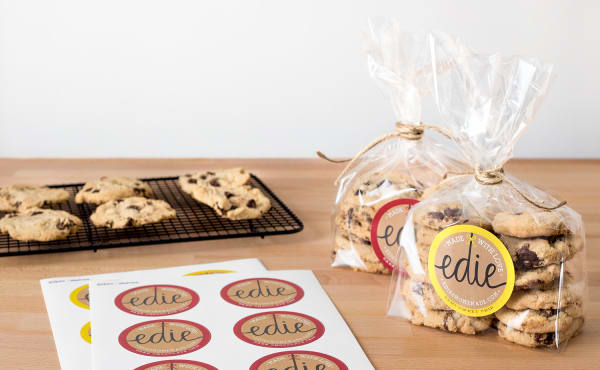 Back in 1930, a young bride and mother named Edie spent her time taking care of her family and baking homemade cookies. Times were hard, so each ingredient was carefully selected for each batch.
Inspired by her grandmother, Debi Chaloff carries on the tradition of baking homemade goodness, using the finest ingredients to create small batches of cookies from scratch. Nothing fancy, and no cutting corners. The result? Phenomenal! And to package her unique cookies, Debi keeps it simple with labels from Avery WePrint.
"WePrint is simple for me to do. I don't need to hire anyone to figure it all out. Plus, the prices are reasonable and the shipping is quick!
– Debi Chaloff, owner of Edie's Homemade Cookies
Avery WePrint makes it easy for small businesses like Edie's Homemade Cookies to create just the look they want on their labels and cards to market their business. Low minimum order quantities, delivery in as few as three business days and a 100% satisfaction guarantee. Creating professionally printed labels with a handcrafted look is sweet and simple.