Balancing business & community with a bullet journal
Successful makers don't just sell products. They tap into or cultivate a passionate community surrounding their handcrafted wares. Rather than attempt to cater to mainstream audiences, Etsy sellers for instance, often build their brand around a particularly passionate niche audience. For example, "nerd" or "geek chic" pop culture, gardening, specific aesthetics, or… (ahem) BuJos and personal planners.
As the owner of a small maker business, the Harry Potter fandom is a central part of the community I've created around my brand. So much so, that I founded a Harry Potter social club, which now includes over 500 members from all over the world.
Balancing my business and community is not easy, especially since I have an entirely separate full-time professional career. I make the magic happen by being extra-organized. My bullet journal helps me balance business activities while keeping a 500+ organization running and its members engaged.
Setting up bullet journal monthly spreads
For me, monthly spreads are the single most important part of my bullet journal. My business follows seasonal trends and our community social club hosts monthly events (online now, in-person pre-COVID) with coordinated monthly themes for online activities.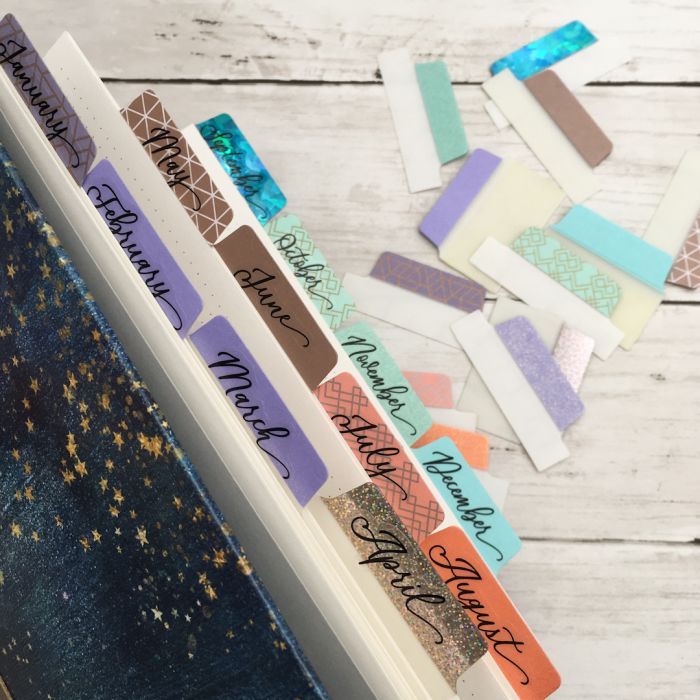 Aside from a writing implement, repositionable index tabs are truly the MVP of my bullet journal. I take them up a notch by using clear planner stickers or labels to add the months. I also color-coordinate Q1, 2, 3 and 4.
Additionally, I use clear blank labels to print small monthly spread labels for my bullet journal. I like to use my BuJo "unplugged," meaning all my devices are put away. Using a simple, small monthly spread label allows me to easily reference dates without needing to rely on my phone.
Creating a bullet journal index key
Personally, I like a simple index key, but that's the beauty of bullet journaling. It's so easy to customize individual elements to create a tool that really fits your needs. Again, I go back to tabs for indexing. I use them to index both down the side and across the top of my BuJo. Months go down the side; long-term projects, ideas/inspiration, and daily to-do lists go across the top.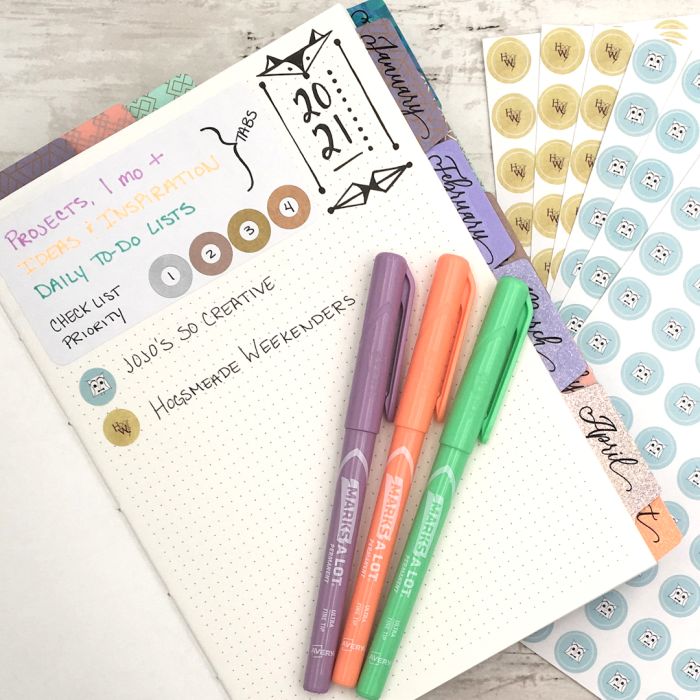 Color-coded markers indicate the tab uses on my bullet journal index page. I also include a key for using labels to visually track tasks. My favorite part is the tiny half-inch personalized labels that include branding for my business and the social club. It's much easier to balance my responsibilities when I can visually assess how I've budgeted my time with a simple glance.
Consider making custom planner stickers for your bullet journal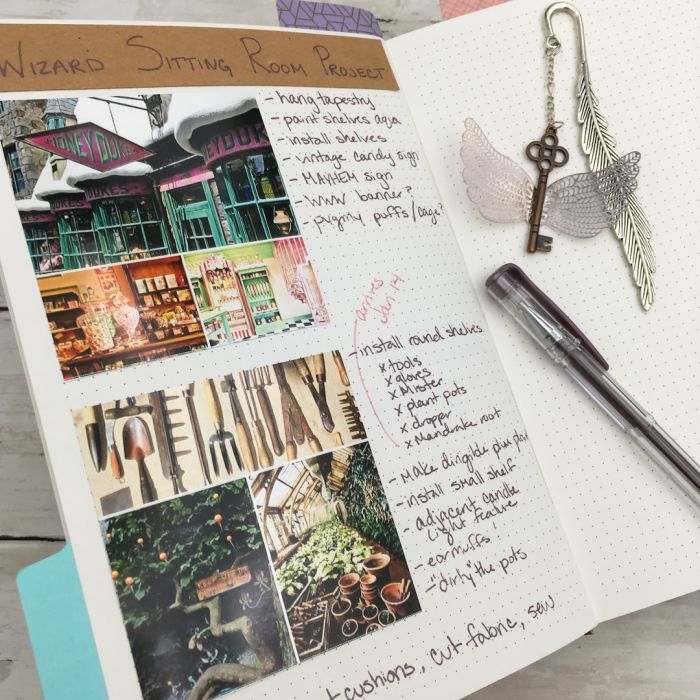 Sharing your bullet journal on social media is a great way to engage with your audience. Letting your community get to know you and see a glimpse of the planning and care that goes into your business makes them feel invited into your world. Your branding should be a part of that.
I am obsessed with making custom planner stickers for my bullet journal. It feels special, and incorporating branding elements like my logo makes my posts stand out. "Do it for the 'gram" may seem silly. However, for makers, social media is an essential part of creating community and building a brand.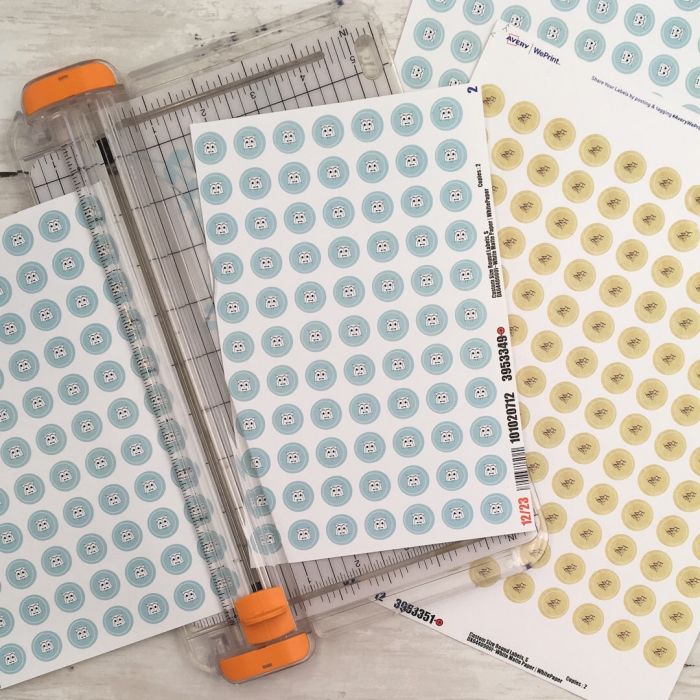 I made logo planner stickers for my bullet journal using the free templates and Custom Size option from Avery WePrint® custom printing service. The round labels with a half-inch diameter and matte white paper material worked best for me. After they arrived, I cut the 8-1/2″ x 11″ label sheets so that they fit in the pocket of my A5 bullet journal perfectly.
Pro Tip: In order to be able to cut and trim custom planner stickers to A5 size (and have them look like professional planner sticker sheets), rotate the images sideways on the template using the Edit All feature in the Avery design tool.
Surprising bullet journal supplies you never knew you needed
While these items may not be specifically designed for bullet journaling, each one either solves a common BuJo annoyance or elevates your experience.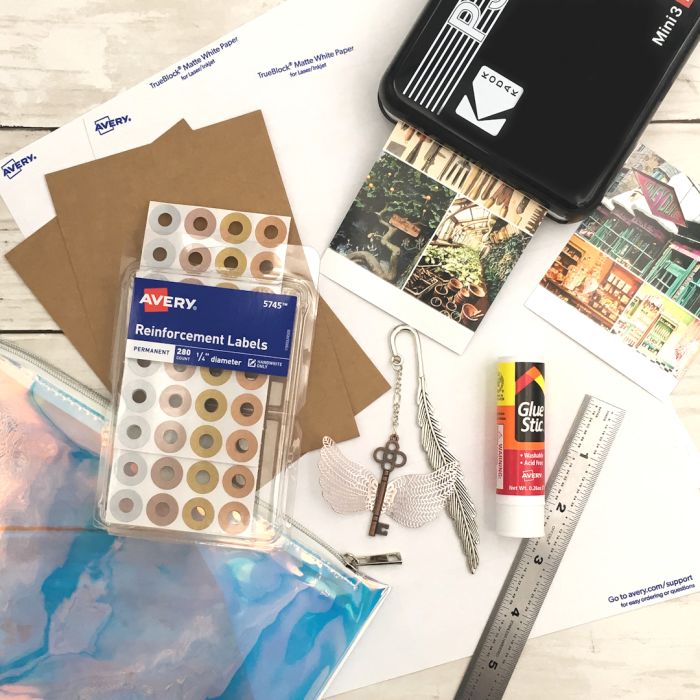 Let's start with the problem-solvers: 1) 4″ x 6″ index card, postcard, or piece of card stock, 2) a flat metal ruler and 3) full-coverage TrueBlock® blank labels. Use the index card to test pens for writing. I like the thicker card stock for blotting gel pens and avoiding unsightly splotches. A small ruler always comes in handy for drawing perfectly straight lines. Six-inch metal rulers are nice and flat, fitting easily into an A5 bullet journal pocket.
I swear by TrueBlock blank labels for covering mistakes in my bullet journal. In fact, I keep a few varied sizes from tiny 1/2″ x 1-3/4″ to 2″ x 4″ in my bullet journal pocket at all times. The backing hides everything underneath the label, even the darkest gel pens and permanent markers won't show through. You can write on top of it as if nothing happened.
To elevate your BuJo experience try using: 1) a special bookmark, 2) a Bluetooth pocket printer and 3) simple reinforcement labels (used in a clever way). I have a beautiful metal bookmark to mark my daily to-do list. It's almost like jewelry for my bullet journal, but useful. Pocket printers make it easy to add photos to your bullet journal for inspiration, reference, or even commemorating a moment.
Reinforcement labels in various colors are excellent for prioritizing tasks on a to-do list. I like them because you can color-code by priority, and then x or fill in the middle as you finish each task. You can even get them in fun donut designs!
Cultivate community and grow your small business
Bullet journaling is one way for makers to balance business and community by keeping ourselves organized and making sure our time is managed wisely. Try out different bullet journal ideas and see what works best for your personal organization style and your brand.
Maybe it's a simple sheet of TrueBlock labels for covering mistakes. Maybe it's a curated planner supply box, which is where I found many of the cool bullet journal supplies I used for my 2021 BuJo. For example, the pastel permanent markers, clear names of the month planner stickers, pretty index tabs, my new favorite holographic pencil case, and more.
Explore planner supplies and personal planning resources now and get a fresh start on a fresh new year. Excited to share your 2021 bullet journal? Tag us on Instagram to show off your brilliant BuJos.
To keep up to date on all our great small business ideas, subscribe to our newsletter above.