There's something about traditional baby showers that make some people feel… awkward. Maybe the new parent-to-be doesn't like being the center of attention. Who decided the invite list has to be so estrogen-heavy? And why do the decorations look like they're entertaining babies, instead of the adults actually attending the party?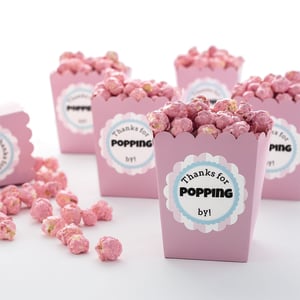 If you're planning a baby bash, we say go ahead and break those outdated rules. Let the guest-of-honor decide what format makes them feel the most comfortable, and decorate with any theme they want. Here are some ideas for a less-squeamish, more relaxed baby shower.
Create a munch-ready snack bar
Ever arrive at a party and wonder, "when will food be served?" Meanwhile, you and your growling stomach miserably regret not stopping at the local taco joint on your way over.
Don't be a food tease. Guide your guests to a tantalizing snack bar the minute they arrive, and let them help themselves. To decorate the buffet or dessert table and identify the grub, head over to Avery Design & Print Online to create your own labels and buffet tent cards. Choose from a variety of design templates such as these baby shower templates to match your theme.
Personalize the party favors
Don't have the time or patience to sweat the details? Avery Design & Print Online makes it easy to churn out personalized labels in a pinch. Customize your labels with each guest's name and attach to party favor boxes or bags. Who knew creating custom labels was so fast and easy?
Forget the cheesy baby shower games
For crying out loud, games should be fun—not cringeworthy or wasteful. Try these games that can be practical and useful for the parent-to-be:
Onesie Decorating game: each guest decorates a onesie using non-toxic fabric paints while the expectant parent is out of the room. The parent-to-be returns and has to guess who decorated which one. And, baby gets a ton of custom-made outfits to boot!
Baby advice game: a crowd favorite! Provide cards and ask guests to write down solid wisdom from their own moms (and dads) to pass on to the new mom- and dad-to-be. No advice is bad advice if it works!
Diaper raffle: Create raffle tickets to match the shower theme by applying the design in Avery Design & Print Online. You can also use the software to add sequential numbering to the tickets and stubs. Guests are given a raffle ticket for each bundle of diapers they bring for a chance to win prizes. When announcing the winners, use your best game show host voice to announce the 2nd and 1st runners up. Take five to build up the anticipation (and work in a timely potty break) before revealing the grand prize winner.
Put together a baby shower they'll all be raving about! Avery Design & Print Online makes it easy to create custom DIY decorations, favors and more—and all you have to do is pick a design, personalize and print.