Budget (and time) friendly ideas for elementary school teachers
Back to school is a special time of year, and it's important to provide a cheerful, organized space where students can focus on learning. In a perfect world, teachers would have endless resources, but we all know that if there's two things teachers never have enough of, it's time and money.
We've compiled a list of 7 budget and time-friendly things you can do with simple school labels to organize your classroom. From keeping supplies tidy and giving everything a place, to tips for using free labeling software to save you time, we'll help you get BTS ready.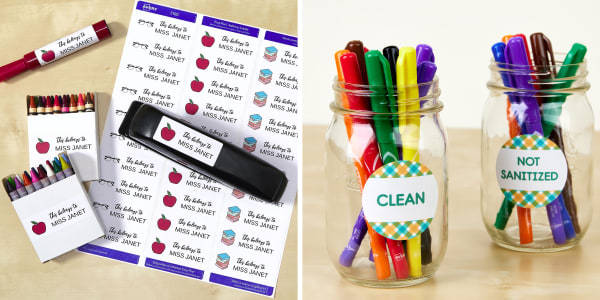 Reduce germ spread with separate supplies. Label your supplies with teacher labels and use labeled containers to separate shared supplies that need to be sanitized.
1) Design and print your own unique classroom labels
Avery Design and Print Online (ADPO) is free cloud-based label design software that allows you to design labels from scratch, modify pre-designed templates or upload your own designs. When you log in to your Avery account you can design, save and print your labels from any internet-enabled device.
You can even share links to your school label projects via email. Fellow teachers, parents or students can save the project and add information or modify your label designs as needed. ADPO allows users to add custom text, colors and images, as well as graphics from the gallery.
And if you get stuck, no problem. You can find tons of template support in our help center articles or browse a variety of label design how-to videos for different Avery Design and Print Online features.
Pro tip: Find templates for any Avery label using the product number to search, or browsing by category.
2) Keep track of your supplies with personalized teacher labels
Hands-on activities and excited students can make it difficult to keep track of supplies. Using personalized teacher labels for your supplies makes them easy to keep separate. Add themed graphics so that your supplies are easy for kids to spot, even if they're not reading yet.
Pro tip: 5160 address labels are the perfect size to use for labeling your personal school supplies. Use our cute "Apple for Teacher" label template, or browse pre-made designs for 5160 address labels.
3) Get creative with inexpensive kitchen items and school supply labels
Germs love little hands. Help reduce germs with separate containers for clean supplies and ones waiting to be sanitized. Labeled kitchen containers are easily washable and perfect to keep supplies neat and in order.
Plastic cups and Mason jars make excellent holders for school supplies. Plus you can usually find a good selection at the dollar store. Print your own custom labels using ADPO graphics or templates, or use blank labels you can write on with a marker.
Pro tip: A pack of 2" round labels is great to keep on hand for a variety of classroom labels.
Easily post COVID safety signs in your classroom with removable labels that stay put and remove cleanly. You can design your own from scratch or modify an existing design to print yourself, or order preprinted and custom printed signs ready to go.
4) Help students learn classroom rules with removable sign labels
Removable adhesive wall decals are amazing classroom labels for communicating with students and visitors. From COVID safety, to back-to-school night directions for parents, just print, apply, then remove when no longer needed or you want to shake things up with a new design.
Pro tip: Shop blank removable labels by the sheet in dozens of shapes and sizes to fit any classroom labeling project.
5) Import your class list to quickly make desk labels with mail merge
Mail merge is an amazing tool in Avery Design and Print Online (ADPO). Import student, PTA and faculty lists to your school label projects instead of manually typing in a name on each label. Turn your student list into desk labels in minutes, quickly create labels for student notebooks and address mail to parents with ease.
All you need is information in a spreadsheet format, then in ADPO choose the Import Data Mail Merge tool and follow the prompts provided. For help using mail merge to make school labels, check out our mail merge tutorial video or get step-by-step mail merge instructions with pictures.
Pro tip: Surface Safe™ 4" x 6" removable decals are perfect for making school desk labels. Use mail merge to quickly fill in students' names, then print, apply and remove when needed. No sticky residue to peel off and no damage.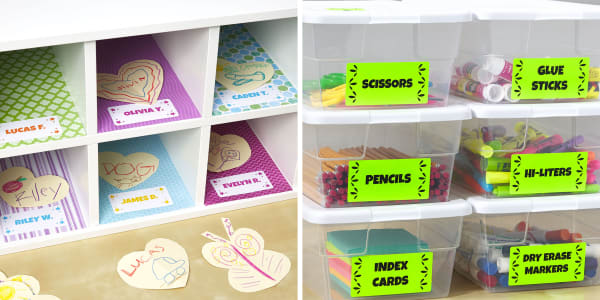 Get organized and add some color to your classroom. Super simple cubby inserts are easy to update and bright neon labels are perfect for color-coding classroom storage.
6) Make cheerful removable cubby labels that are easy to update
Colorful classroom organization details are a fun way to make your classroom welcoming and engaging for your students. Keep your cubby shelves in pristine condition with cubby inserts that you can easily remove, replace or reorganize as needed.
To make:
Trim colorful cardstock to the size of your cubby shelf
Design your own 2" x 4" cubby labels or use a pre-designed template
Add students names to labels and apply to each sheet of cardstock
Laminate cubby inserts if desired
Pro tip: 2" x4" labels with Trueblock® technology are ideal for cubby labels because they completely block out everything underneath. Easily cover old labels on your cubby inserts at the start of each year, or whenever new students arrive.
7) Organize classroom storage bins with color-coded labels
Plastic storage bins are essential for maximizing storage space in your classroom. The key to using bin storage effectively for organization is labeling each bin for easy access. Color-code bins for supplies, worksheets, crafting materials or anything else you need to store in your classroom.
Pro tip: Shop blank labels by the sheet to find the perfect classroom labels for any project. Enter size and shape, and choose from a variety of colors and materials. The combinations are virtually endless.
Explore more resources for back-to-school and school labels
Back to school is always an exciting fresh start, and maybe sometimes a whirlwind. Get ready to welcome your students back for an awesome school year with back-to-school supplies that help hold it all together.
Don't forget to make time to refresh and recharge too, because it's hard to give your students your best if you're feeling depleted. Try some fun ways to give your school binder a boost, or get organized with some creative ideas for your personal planner.
Have you tried our classroom label ideas or need help with ideas for getting back-to-school ready? Connect with us on Instagram or Facebook and let us know!