Teaching your kids the importance of practicing safety at home can be the difference between your daughter knowing how to escape during a fire, or your teenage son remembering what information to collect during a fender bender. It's a tough job planning for the worst, but a good family safety plan is the best way to help your family deal with whatever comes.
According to the National Safety Council, 53.6% of all preventable, medically consulted injuries happened in the home in 2017. This means that over twenty-five million accidents could have potentially been avoided with extra safeguards. Make sure your children are as safe as they can be with these simple family safety tips.
Print Your Own Family Safety Signs for Around the House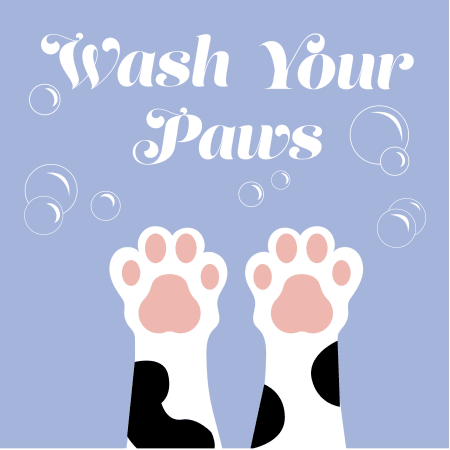 Whether you're protecting your workers on the job, or protecting your kids, you take safety seriously. As a parent of kids with food allergies, you're the first and last line of defense against dangerous (even potentially fatal) food mix-ups.
Avery® Industrial products are the safety labels you trust to get the job done at work—so let them protect you at home too. Industrial safety label solutions ensure your kids' allergen information is visible and easily available when you need it most.
The Basics: Allergy Safety Labels for Teachers & Caregivers
Why is food allergy labeling important?
The adults you trust to take care of your children are generally trained to be on the lookout for potential hazards such as food allergies. Yet, the more children a teacher or caregiver looks after, the greater the likelihood of allergy information being misplaced or mixed up.
Consider the facts presented by Food and Allergy Research & Education (FARE): in the U.S., an estimated 5.6 million kids under 18 have food allergies, and 40 percent of those kids are also allergic to multiple foods. The number of kids with food allergies has tripled over the last 20 to 30 years, and the number continues to grow.
Relying on a caregiver's memory, or the ability of your kids to communicate crucial allergen information, leaves too much to chance. Safety labels can help identify allergy-safe food for your kids, remind caregivers of your kids' food allergies and be used to quickly access emergency information for dealing with allergic reactions.
Using Safety Labels for Food Containers
The most tried-and-true method for protecting your kids from accidentally ingesting allergens is to label your children's food containers. When it comes to your kids' health, substandard safety stickers that fall off, or are easily rendered illegible from damage isn't the safest choice.
Heavy-duty labels designed for demanding environments stand up to everyday wear and tear—and then some. Avery self-laminating safety labels are resistant to water, UV rays and tears, and can help ensure your kids' food allergy labels stay put and do their job.
Allergy Communication Safety Labels

You know your children's needs better than anyone else. Providing teachers and caregivers with custom safety labels preprinted with the specific allergy information for your kids helps reduce the margin for error.
Does your sister watch your kids on Tuesdays? Do they head over to Grandpa's house after school every day until you get home? Provide a safety label sign that can be placed anywhere with your kids' allergy information, what to do if they accidentally eat something they shouldn't and medical contact numbers to help caregivers react quickly in an emergency.
It's also a good idea to provide teachers with safety labels they can use to label your children's desks and cubbies at school. Substitutes, teacher aids and parent volunteers visiting the classroom may not be familiar with your children's allergies. Desk safety labels can prevent mix-ups if snacks are passed out to the whole class.
Durable polyester Surface Safe® labels from Avery are strong enough to endure whatever your kids can throw at them, ensuring the information remains legible. They also stick to a variety of materials (including drywall) but can be removed cleanly without damaging surfaces or leaving residue behind.
How to Use Allergy Safety Labels at Home
Protecting your kids from known food allergies begins at home. Start with a safety label on the fridge with quick access to allergy information for babysitters, friends and visiting family. Follow up by implementing a reliable system for your kids to easily identify which foods are safe to eat and which foods are not.
Food allergy labels for kids should be simple to read, easy to clean and tough enough to stand up to spills, heat, steam and other kitchen factors. Avery Surface Safe products are made from durable polyester that is ideal for heavy-duty kitchen use and won't damage your home or appliances.
First, separate all the food in the house into "Safe" and "Not Safe" foods. Designate specific cabinets and/or shelves for dry goods that fall into each category and specific refrigerator/freezer shelves for perishables.
Next, use Surface Safe removable safety labels to identify cabinet doors and shelves as "Safe" or "Not Safe." Surface Safe Sign Labels remove cleanly from doors and walls when you need to reorganize. Surface Safe Durable ID labels for metal, plastic and glass should be used to designate Safe/Not Safe shelves in your refrigerator and freezer.
The American Psychological Association asserts that support from a child's family plays a significant factor in their recovery from a traumatic event, and in some cases makes them even more resilient to stress in the future. Practicing family home safety with your kids not only gives them the tools to help them survive in an emergency, but also the tools to cope with the stress associated with such a traumatic event.
Rehearsing emergency escape routes with your kids is a vital part of any family safety plan. Having escape route signs around the house can help your kids memorize the emergency routes, and the signs can also be used as guides in a real emergency if anyone begins to panic.
It's not difficult to imagine the fear and confusion a child might feel in an emergency such as a fire. Try creating your own emergency escape guides featuring your kids' favorite colors, cartoons and characters to naturally draw their attention and make them feel more at ease.
Family safety doesn't always have to be about emergencies or disasters. You can also create signs for more common safety reminders such as putting on sunblock before going outside, washing your hands, or never opening the door for strangers.
Surface Safe® sign labels from Avery are the ideal family safety product to use for posting important information in your home. The printable adhesive signs are made of a durable polyester material that's hard to damage and easy to wipe clean.
The sign labels also stick securely on a variety of surfaces including drywall, doors, glass and stainless steel, yet remove cleanly without damage or residue. With Surface Safe signs labels you can place family safety signs at your children's eye level and then easily remove them as the kids grow older.
Family Safety 101: Emergency Contacts & Allergy Information
The biggest benefit of creating a family safety plan is that it helps eliminate problems that can occur when events are left to chance. Printable adhesive sign labels and extra durable labels allow you to make sure your children, teachers, caregivers, friends and family always have access to vital safety information.
Your children might be able to remember your phone number if they get lost but wouldn't it be better to have it printed out for them to make sure? If you have kids with allergies, your family safety plan should also include how to deal with sharing allergy information at home and when they're out in the world.
On-the-Go Family Safety Information
Avery Easy Align® Self-Laminating ID Labels permanently affix important emergency contact information and allergy lists to your children's binders, lunch boxes and more. The extra layer of lamination makes sure that these vital details are printed clearly and won't smear or rub away.
How to Display Family Safety Information at Home
Of course, every family should have an emergency binder with important documents, emergency contact information and detailed medical information, including allergies. It's not reasonable to share your emergency binder with every visitor in your home. Yet, babysitters, friends and family should have access to your family safety plan information in case of emergency.
In the event you're incapacitated or unable to speak, it's crucial your kids or visiting adults have access to information like the nearest hospital or urgent care that accepts your insurance. It's also important to note if anyone has specific allergies, medical conditions or prescribed medications.
The best place to post this type of family safety information is on your refrigerator. The kitchen is the hub of the home. It's the first place anyone would look in an emergency and perfectly placed for anyone preparing a meal to easily consult.
Surface Safe sign labels are ideal for posting long-term information on your refrigerator. The adhesive stays put without damaging your appliance. The durable polyester material can be easily cleaned and stands up to kitchen conditions like splatters, spills and steam.
Family Safety Card for Every Vehicle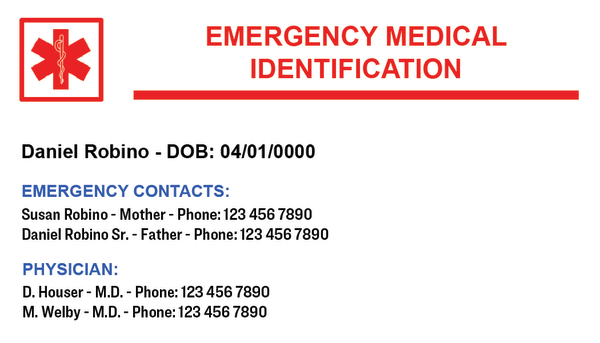 Providing a contingency for roadside emergencies should be part of your family safety plan as well. Every vehicle should have an emergency kit that includes a card with the following information:
Health insurance & vital medical information
Emergency contact numbers
Roadside assistance numbers & account information
Car insurance contact number & account information
Having teen drivers can be especially stressful when it comes to the safety of your family. Discussing what to do in case of an accident or a medical emergency away from home is an important part of preparing your teen driver for being safe on the road— but there's no guarantee they'll remember any of that in a real emergency.
Self-laminating ID cards that you can print and laminate at home are a perfect tool. Add family safety plan cards to everyone's vehicle and tuck them into wallets and purses just to be sure. Avery Self-Laminating ID Cards are very durable so they won't get destroyed with frequent use. They're also easy to customize and print at home, and they don't require a lamination machine.
Creating additional family safety cards to include in your teens' cars can help reassure them (and you) in case of emergency on the road. Cards with instructions for what to do if they run out of gas, feel sick while driving, get in an accident or need to change a flat tire are great ways to help you protect your kids, even when you're not with them.