Unplug Your Family Road Trip
Remember taking a family road trip when you were growing up? Sure, there would be skirmishes with your sibling in the back seat. Or long stares watching the endless scenery whipping by. And in the back of your mind, the longing to just get there, wherever you were going, already. But what stays with you are the memories of having fun with your family while on the road—without a single electronic gadget around.
Nowadays, if you're thinking about taking a family road trip unplugged you're about to take on an extreme challenge. No social media, no video games and no headphones—wha-?! But if you've done it before, your family can, too! Check out (or revisit) our favorite road trip activities where batteries aren't included—or even needed.
Activity Binder
When you need a little peace and quiet in the car, a road trip activity binder can help keep the kiddos busy. (Amount of quiet time can vary!) Here are some ideas of what to tuck inside the binder:
Coloring pages, word search puzzles and blank pages for drawing. Also include reusable dry erase sheets, markers and erasers—good for multiple games of tic-tac-toe or hangman with other backseat passengers.
Days-of-the-week dividers so your kids can create a journal. Sheet protectors work as pockets where they can collect things from their trip such as postcards and brochures.
Let kids soak up a little education with factoids, maps and travel guides covering each leg of the trip. Throw in some surprises with stops at curious roadside attractions they can learn more about from your printouts.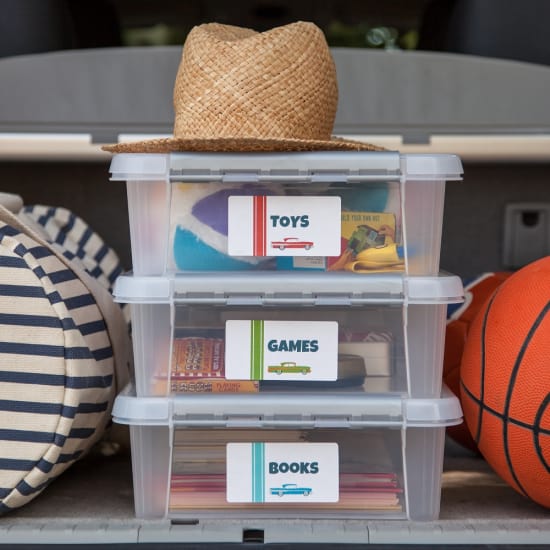 Entertainment bin
Books, small toys, card games and travel games are easy to take along on the trip. They can keep the kids busy during the ride or at your trip destination.
A labeled organizing bin in the car makes it easy to stash your family favorites and keep them from jostling about in the trunk. And even after the trip, keep the bin in the car so there's no need to lug the kiddos' stuff back and forth from the house.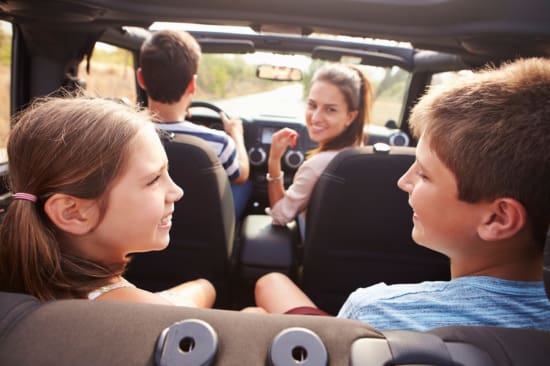 Interactive games
These games get the whole family involved. Even the driver can play—while keeping their eyes on the road, of course.
The alphabet game. Pick a category such as "fruits & vegetables," "places" or "animals." The first player starts by choosing a word that starts with the letter "A," then the next player has a turn with the letter "B'" etc.
State capitals. One person shouts out the state, and players name the state capital (or vice versa).
Storytelling. The first player starts the story with a line or two, then the next player has to continue telling the story.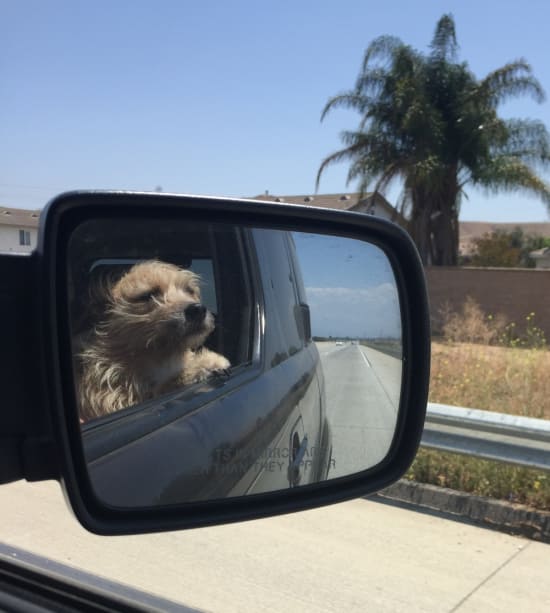 You might be surprised by all the activities you and your family can do when you're on the road. Pretend your family is on the air with your own radio show. Improvise song lyrics on the fly based on popular music hits. Act like a different member of your family, a celebrity or cartoon character and have everyone try and guess who you are. When you disconnect from your gadgets and reconnect with your family, you're in for an unforgettable family road trip.